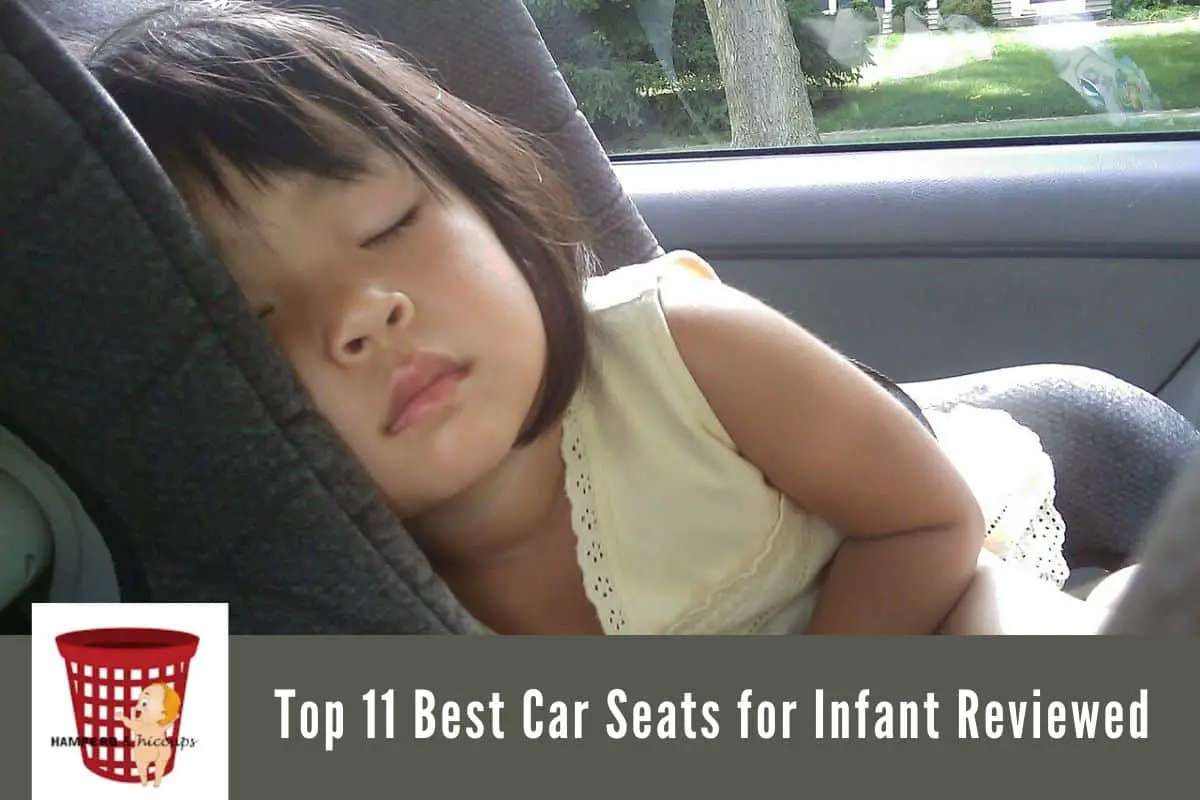 A car seat is a must-have for the care and protection of your infant. Parents are usually required to have a car seat when they leave the hospital after their baby's birth. This is a further testament to the necessity of a car seat. A child is safer in a car seat than your arms, especially in a car crash. With constant development, car seats have become quite safe and user/baby-friendly over the years.
With differences in specifications, mechanisms, state laws, as well as a broad range of prices choosing the ideal car seat, might be a bit confusing. Although most car seats are safe and meet the basic requirements, some excel while others struggle to meet the premium standard. When it comes to the safety of our children we as parents want nothing less than the best, therefore we have compiled a list of best car seats to help you make the perfect choice.
Best Car Seats: Top 11 Picks

When it comes to car seats you can't go wrong with the Chicco Keyfit 30. Though it's a bit pricy I can boldly say it's worth every penny. Safety, installation, ease of use Chicco seems to have every requirement checked on their keyfit30.
Spring-loaded leveling, latch connectors, positioner to accommodate newborn babies, one pull harness, etc. are all features that make the key fit 30 the ideal choice. Its stroller friendliness makes it quite easy to be used as more than a car seat. Its bespoke style is also a much-welcomed bonus. However, it's a bit heavy making it hard to carry around without a stroller weighing about 9 pounds without the base.
Pros
Easy to install
Very safe
Comfortable for a broad range of infant sizes
Cons
A bit pricy
Heavier than the average 
Customer sentiment: customers love this car seat because of how much it eases their stress when it comes to installation and strapping.       

When it comes to pure safety and durability the Graco extended2fit leads the pack with the best crash test results. It comes close to the Chicco key fit 30 missing the top spot slightly due mainly to its challenging installation and weight. There is also the difficulty in removing the cover for laundering and replacing it is even harder
However, it has an additional advantage of been equipped with two cute cup holders handy for food and drinks. In the end, the complicated and stressful installation is all holding back the Graco extended2fit
Pros
Best safety option
Good price
Multiple positions: 6 in total
Cons
Difficult to install
Difficult to launder 
Customer sentiment: a few customers who have been through a car crash with their babies in the back inside this car seat feel very strongly about it. testifying that it gives 100% protection in most crashes

In a perfect combination of affordability, strength, and style Evenflo is the perfect choice if you are on a budget. It might not be as fancy or comfortable as the more expensive car seats but it does get the job of safety done quite well.
Pros: 
Affordable
Easy to assemble and install
Cons:
Isn't very comfortable for kids of specific sizes
Customer sentiment: customers are confident that they made the right choice with this car seat both financial and safety-wise

This stands out as one of the most convertible car seats in the market. With the balance of strength and style that Graco is well known for the Graco 4ever4in 1 is a masterpiece. With a very broad age and size range as well as durability, this car seat is designed for intense use.
Pros
Safe and stable
Easy to wash   
Cons
The strap is sometimes too short
Price is a bit too high
Customer sentiment: some customers complain about it being a bit too technical.

Safety first finally got it right with the grow 3in1 convertible and when I say got it right I mean got it very right. This car seat is very strong and held up during crash tests. As a company named safety first they went the extra mile in putting safety first without leaving another factor far behind. However, like the Graco, it falls short in the installment and easy to use department. It is still good value for money but quite a hassle to use.
Pros
Easy to wash
Cute and takes up little car room
Not too pricy
Cons 
Installation is quite difficult
Harness and latch are a bit complicated.
Customer sentiment: customers seem to love this seat unconditionally and even go as far as recommending it to other parents.
6. Britax Romer Dual Fix: Most Expensive Pick
One key feature that makes the Britax Romer dual fix stand out is its ability to rotate 360. This makes it easy to change the car seat from rear to forward-facing without reinstalling. Of course, this would be useful to you if you have your car seat permanently installed and don't move it from one car to another, otherwise, the purpose is defeated. It is one of the most stylish car seats in the market. Be rest assured that the attention to style and swiveling doesn't compromise safety.
Pros
Ease to use and adjust
Flexible for all baby ages and sizes
Cons
Customer sentiment: the ability to swivel it makes it a very attractive car seat to mothers who like to keep an eye on their kids.
7.
No products found.
No products found.
No products found.
In a fine balance of safety, snugness and style he Maxi Cosa pria 70 convertible stands out among convertible car seats. With very thick and well-padded straps that are easy to buckle this car seat has the safety front well covered? It also has a nice, handy cup holder. It isn't a very common brand so it is sure to make your kid stand out among his peers in style while.
Pros
One-click latch system
Air cushion system for optimal protection
Cons
Very difficult to install
Price is on the high side
Customer sentiment: most parents over this stroller because it stands out. Customers feel confident that they cant have a mix up or take the wrong child home.
No products found.

The Britax B-safe special feature is its size. Its small size enables it to fit into compact vehicles. However, its size didn't stop it from earning one of the top scores in the crash test rating.
It is quite heavy to carry around and would quickly be outgrown by your infant. Simple latches and easy installation as well awesome comfort are all factors that make the Britax b safe35 a top-notch car seat
Pros:
Easy to install
Sturdy and safe
Comfortable
Cons:
Difficult to install without the base
Very heavy
Customer sentiment: some mothers complain about it being a serious hassle to carry or move. 

The Doona infant car seat has a special feature that makes it very easy to use. It doubles as a stroller and car seat converting at the click of a button. So if you are someone who uses public transport or loves taking your baby on walks or to the park then the Doona infant car seat is a must-have.
Pros:
Installation is a breeze
Stroller and car seat all in one
Con:
Both stroller and car seat can't be used once the baby outgrows it.
No compartment for diapers, toys e.t.c
Customer sentiment: no storage compartment or side bag to hold anything, not even a cup holder. Making it a real hassle on long trips.

One major problem faced in the use of car seats is cleaning and reinstalling the seat covers. A little spill on your car seat cover can send you on a 30-minute struggle looking for where to unhook or unbuckle. That isn't the case with the Maxi-Cosi mico max 30. With easy to remove the seat pad and self-wicking fabric, sanitation is as easy as a walk in the park
Keeping your baby from dirt and germs isn't all the maxi –Cosi mico car seat is known for. With its extra side impact protection and anti-rebound bars, your babe is safe and secured at all times
Pros
Easy to install
Easy to keep clean
Very safe
Cons:
Isn't suitable for compact cars
Only ideal for young babies
Customer sentiment: it has a very high-end bespoke style

With a nice appeal to babies' taste as well as a big corporate name behind t the Disney light and comfy luxe is a very popular choice and for good reason. Strong reliable structure to keep your child safe as well as easy to use latches and straps without forgetting the cute minimalist style the Disney light and comfy luxe is an all-rounder
Pros
Well-padded and comfortable interior
Very durable
Very safe
Cons
Very short age and size range: quickly outgrown
The material appears to be cheesy and of low quality
Customer sentiment: a lot of children and even parents love this car seat because of its bran, Disney. The design though minimalist excites kids of almost all ages
---
Car Seats Buying Guide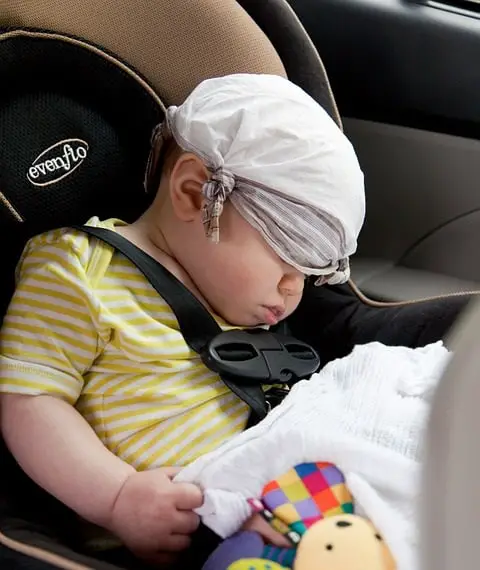 Here is a shortlist of factors to be considered when choosing the perfect car seat for your child. Some of these factors cut across the board while others are a bit more specific. However, all the following factors must be carefully considered when choosing the perfect car seat.
1) Safety
Top of the list for us and we believe for you too is child safety. The major goal while choosing a car seat isn't style, convenience or affordability but rather the protection and safety of your child. A car seat must be able to keep your child well protected through an impact or crash.
 Beyond your careful driving and caution, your baby's car seat is the last line of defense if a crash occurs. Therefore keep a keen eye out for the strength and length of the straps, safety bars, stay in the car base and all other features that contribute to the security of your child.
2) Ease of use
Ease of use is yet another crucial factor to look out for. Ease of use can be broadly divided into two
Installation: installing the car seat correctly into your car must be simple and seamless but yet secure and safe. Level indicator, latch tighter, latch connectors are all components that influence how easy it would be for you to install the car seat. When you have multiple vehicles moving your car seat from one car to another can be quite a hassle.
Day to day use: straps and safety bars must be easy to set up properly as you would be doing it every day. A very complicated system of straps can leave you doing it wrong or not at all thereby defeating the very purpose of the car seat.
3) Comfort
Your baby's comfort and safety are quite closely related. A car seat that keeps your baby cramped up or sleeping awkwardly can hurt his health. A car seat must be big enough to let your baby sit comfortably and even go in and out of sleep without discomfort. The recommended size and age for each car seat are usually written in the manual. However, purchasing a large and adjustable car seat is advised. A car seat that covers a broad range of ages and sizes wouldn't become obsolete shortly after purchase and can be used throughout your child's infant years. Now that's value.
4) State Law
Child safety laws differ across states including does regarding car seats. The legal baby weight and size for front-facing and rear-facing is a major source of discrepancy among states. Therefore it is advisable to check the laws of your state before choosing a car seat and ensuring that it complies fully. To confirm the safety laws of your state check www.safekids.org
5) Length of Use
Depending on how long you plan to use your car seat you must keep an eye out on the expiry date. Most car seats expire 7 years after manufacturing that's why it is advisable to buy your car seat new rather than fairly used. Depending on your family plan and the recommended years of use for your car seat you can use one car seat for all your kids. Of course, maintenance comes into play here. Also, the size and adjustability of the car seat hugely influence how many years your baby can use the car seat before it becomes too small.
---
FAQs on Baby Car Seats
What direction should my baby's car seat face?
Rear-facing is the safest, especially during a crash. However at age two when children become more adventurous and are likely to do something dangerous such as put inedible things in their mouth or injure themselves it is advisable to switch the car seat to front-facing for easy monitoring. As your child grows more legroom would be required therefore driving the need for your car seat to be front-facing room. A car seat mirror would also help you watch your child without taking your eyes off the road.
As a rule of thumb below 2 years: rare facing, above two years forward-facing. Note this rule applies to the average baby size and might need to be adjusted to suit your baby.
Is the car seat's base necessary?
It depends on the model. While some car seats require the base to be used some make it optional while others don't have a base at all. However, if there is a base you should use it irrespective of the cost to its ease of use.
How do I make my car seats last longer?
To get the best value for your money the longevity of your chosen car seat comes into play. Basic maintenance like washing regularly and installing with care is very important. Avoid washing with harsh chemicals. A thorough read of the user's manual will ensure you install the car seat correctly without breaking its delicate parts. Also, avoid being in a hurry when strapping and unstrapping your baby into the car seat.
Other than the obvious danger to the child clicking and unclicking the straps hurriedly and forcefully weakens the durability of the car seat. Note irrespective of maintenance the average expiry date of car seats is between 6-10 years beyond which it isn't viable for use.
What do I do if my child seat doesn't rest properly in my car
Although most car seats are built to be compatible with almost every car there are rare cases where your car seat model isn't fully compatible with your car. Sometimes forcing you to install the car seat awkwardly or loosely. In cases like this, it is advisable to return the car seat and purchase a different more compatible model. A loose car seat is a very dangerous risk to cultivate.
---
Head to Head Comparison of Car Seat Models
Their is a ton of information out there on car seats. We perform head to head comparisons of different car seat models to help you make a decision. Take a look at our comparisons:
---
Verdict
The baby car seats above are the best of the best. Selecting them amongst the hoard of baby car seats available required a lot of research as well as comparing and contrasting. Our top pick was even harder to come by as the gap between the top 5 was pretty tight. Nevertheless, the Chicco Keyfit 30 stands out by providing the hands-down best customer experience while scoring very high on safety. The Graco extended2fit comes in as a close second and though it scored the highest in terms of safety its poor customer experience had a very huge negative effect on its ranking. A car seat is only truly safe when installed correctly.
However, every car seat on the list is a top pick providing premium safety and comfort.
(Visited 241 times, 1 visits today)