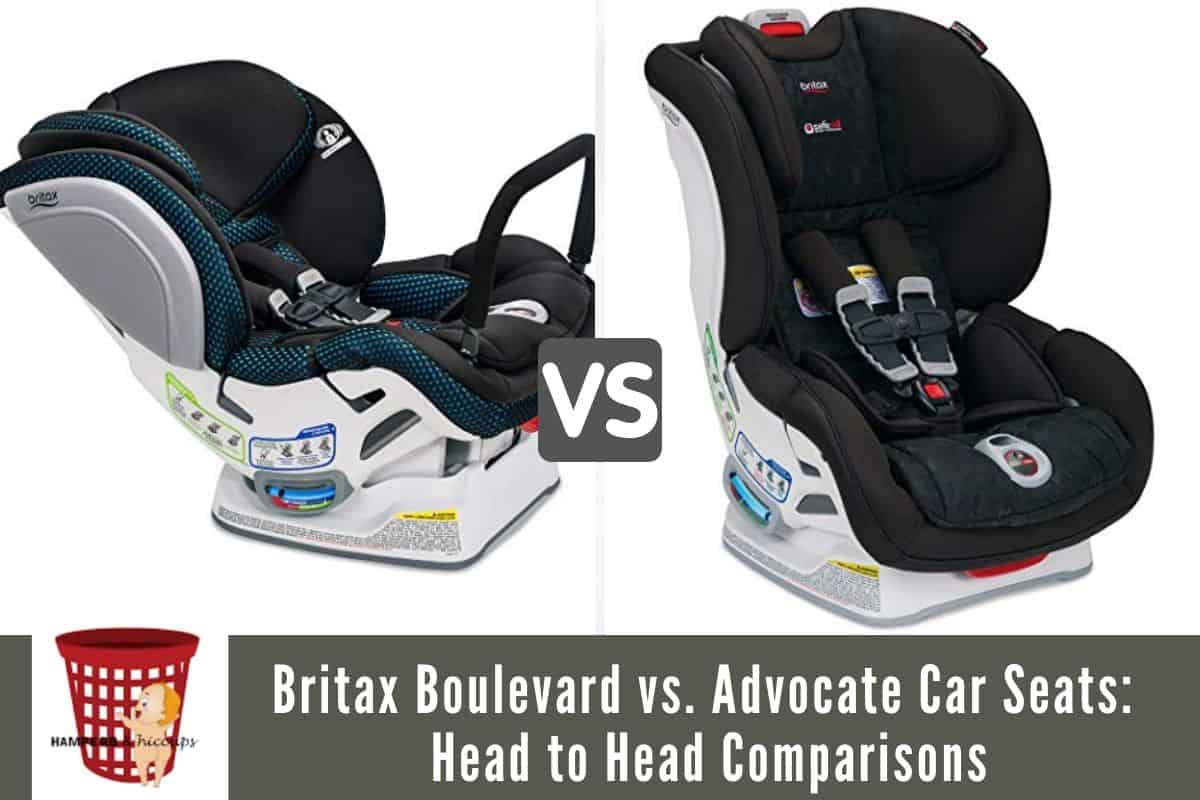 Selecting a car seat for your baby can be as difficult as the SATs, so many similar options. With numerous brands offering numerous products the choice becomes even more delicate. Choosing a brand to trust with your baby's safety is one thing, choosing which of the brand's product is best for you and your baby is yet another.
The same law holds with the Britax. Either as a veteran Britax fan or a new admirer, you would have come to realize that Britax has a lot of similar car seats each offering slightly distinct features. Therefore, it isn't just enough to choose a good car seat brand, you want to choose the best the brand has to offer.
In this article, we would be going through a detailed analysis of two of the leading car seats in the Britax product line and by extension in the car seat market. We shall be comparing the Britax Advocate vs Boulevard. Before we go into the detailed analysis of these car seats, lets first take a stroll through their differences.
---
Differences Between Britax Advocate vs Boulevard
At first glance, these two car seats look very similar and can easily be mistaken for one another. However, as you look closer and investigate further some differences would begin to show up
Safety/Protection
While the Britax Advocate has three layers of side impact protection the Britax Boulevard has only two layers.
Weight
The Britax Boulevard is lighter, weighing only 24.9 pounds. While the Britax Advocate weighs 30.6 pounds.
Price
The Britax Advocate is more expensive than the Britax Boulevard.
Comfort
The Britax Advocate has more padding for comfort than the Boulevard.
Now that we have pointed out the major differences, let's move on to the detailed analyses of this excellent car seats starting with the Britax Advocate.
---

When it comes to car seats nothing screams full package like the Britax Advocate. Safety, comfort, ease of use, installation, durability, and longevity. The Britax Advocate meets every criteria for the perfect car seat.
With not one, not two but three layers of side impact protection your baby's safety is well taken care of. Asides from the layers of protection the Britax advocate also has a steel frame beneath its stylish layer of plastic. With its strong design, it is no surprise that the Britax advocate blazed through numerous crash tests with flying colors.
With all that strength and protection, one would think such a sturdy seat would be hard and uncomfortable. That's not the case with the Britax advocate. With energy absorbing foam from the base all through its entire structure, the Advocate is as comfy as it is safe. The design is so great that sudden halts and rough roads would do little to disrupt your baby's peace.
The Britax Advocate accommodates a weight range of 6-65 lbs. With multiple recline levels and 14 different headrest positions, your baby would enjoy every minute in the Advocate in comfortable bliss. The Britax Advocate has a shelf life of 10 years, so you get to use it comfortably for your baby and might even get to use it for your next baby.
The Britax Advocate is One of Britax's most well designed and executed baby seats. In a fine blend of efficiency and style, the Britax Advocate stands out as one of the best car seats in the market.
Pros
Easy to install
Very safe and secure, offering excellent protection
Easy to use and maintain
Making adjustments as your child grows is highly simplified
Very durable with a wide weight range
Cons
Low rear-facing weight limit
Very expensive
A bit wide, therefore takes a lot of space in the car
Very heavy.
Customer sentiments
Parents loved the Britax Advocate for its Clicktight installation mechanism that made installation a breeze. The day to day use was also very easy and stressfree. Customers testified to feeling relaxed and at peace when their babies were strapped into the Britax Advocate.
---

The Britax Boulevard is one of the most popular car seats from Britax. When people talk about Britax car seats the image in their head is usually that of the Boulevard. The Britax Boulevard has a wide and loyal fan base, and for good reason too. With two layers of side impact protection, steel reinforcing frame and impact-absorbing base the Britax Boulevard has a solid track record of keeping babies safe.
The Britax Boulevard also makes use of the Click tight installation harness system. Once installed the Britax Boulevard is safe and wiggle free ensuring your baby's safety and comfort. There are seven different recline positions each suitable for different stages of your child's growth.
Apart from its excellent design, awesome comfort and impeccable protection the Boulevard is also very stylish. Its bearable weight makes it possible for you to carry your baby in it and flaunt your bundle of joy in style.
Pros
Very safe and secure
Provides optimum comfort
Not too heavy
Wide weight range
Very easy to install
Machine washable
Cons
A bit pricy
Shoulder straps aren't comfortable for large legs.
Customer Sentiments
Parents loved the Britax Boulevard for its extra comfy feel and excellent protection. They liked the fact that they could drive for hours with their baby in the and yet the ride would be comfy and enjoyable
---
Comparison Between the Britax Advocate vs Boulevard.
| | | |
| --- | --- | --- |
| Details | Britax Advocate | Britax Boulevard |
| Price | More Expensive | cheaper |
| Layers of Protection | 3 | 2 |
| Weight | 30.6 | 24.9 |
| Carrying Capacity | 4-65 pounds | 4-65 pounds |
| Product Dimensions | 24 x 20 x 25 inches | 23 x 18.5 x 23.5 inches |
| Material Type | Fabric and steel | Steel |
---
FAQ
How do I make sure my car seat is installed properly?
A thorough read through the manual would be most helpful in this case. However, a quick test which you should carry out regularly is to shake the car seat slightly with your weak arm. If it feels loose and wiggles over an inch then you must check every screw and latch to ensure that your child's car seat is tight and secure.
For the Boulevard and the Advocate, Britax has indicators to help you ensure that your car seat is installed in the right position and your baby is seated in properly
Is there a limit to how long I can carry my baby in a baby carrier?
No. Provided your baby is seated in a comfortable position there is no limit to how long your baby can sit in a carrier.
However, this only stands if your baby carrier is well structured and comfortable. For the Britax Advocate and Boulevard, you have nothing to worry about. As long as your child is within the weight limit there is a perfect position for him/her
Is it safe to install car seats in the middle?
Yes. Installing your car seat in the middle is the best option. During a crash your baby is safer as the seat does not get in touch with the airbags and your child is farther away from broken windows.
---
Verdict
Safety, comfort, and style. These are the three cardinal points on which Britax builds its car seats. The Britax Boulevard vs Advocate are no exception to this basic concept and direction. No doubt they are both excellent choices.
However, there can be only one winner and there can be only one top pick and in this case, the medal goes to the Britax Advocate. Although the Boulevard has a lot of features in common with the Advocate ranging from style to comfort and flexibility. It all came down to what the Boulevard lacks. The extra layer of protection cannot be overlooked. As parents, we would pay anything to give our kids another shell to protect them from any form of danger.
So although the Boulevard is slightly cheaper, the Extra layer of protection and padding makes the Advocate worth the extra cost.
(Visited 309 times, 1 visits today)