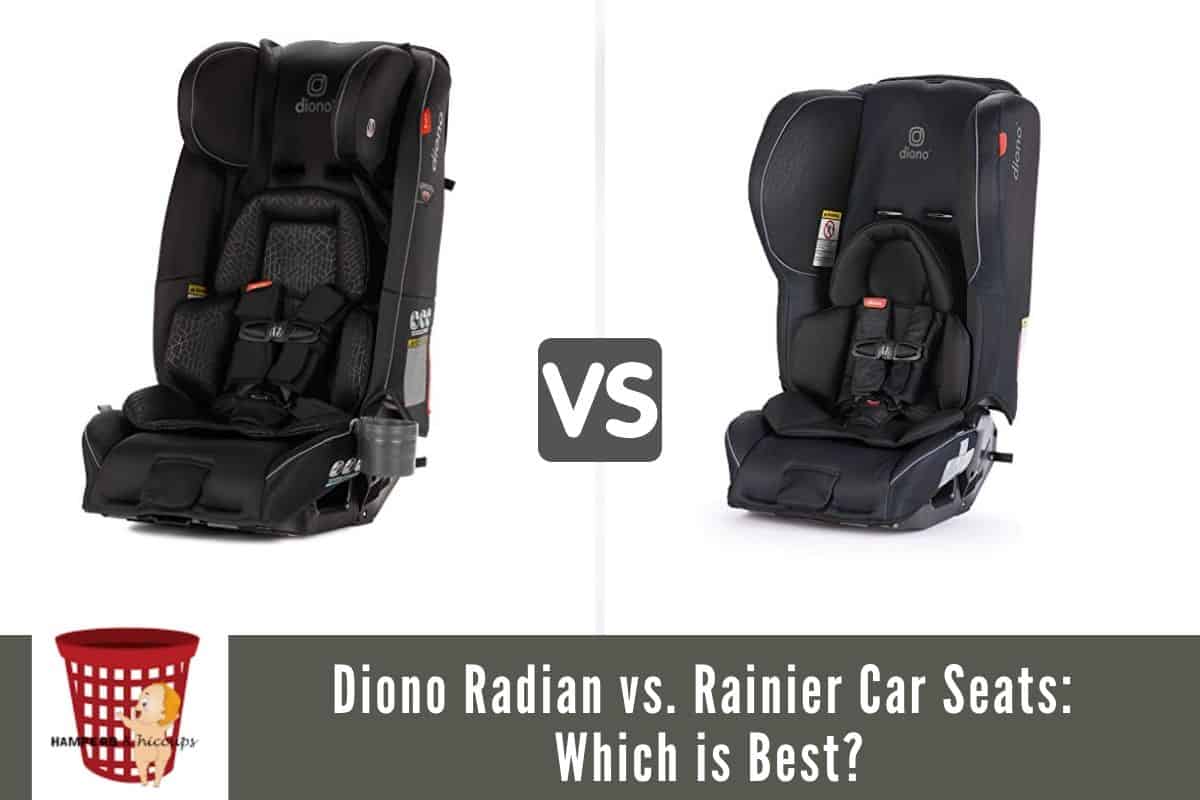 Diono has an outstanding reputation for high-quality car seats even though they might not be one of the most popular car seat brands on the market. They offer a wide range of child seat products and accessories. The good thing about Dinomo, founded in 1999, is that they produce safe, well-designed, and innovative car seats. This article places side-by-side two of Dinomo's car seats: The Radian and the Rainier.
These two car seats share a lot of similarities and a couple of differences too. As a result, choosing between the Diono Radian vs Rainier can be quite challenging. Both seats have one of the highest rear-facing limits currently available on the market. They both make use of a full steel frame and reinforced aluminum sides. With Side Impact Protection and EPS foam obtainable in both these car seats, safety is guaranteed.
Furthermore, the cover of both the Radian and Rainier are machine washable and drier compatible, which makes it easy for you to clean them. Another similarity between these two car seats is that they are foldable if the need arises, maybe in situations of traveling. Both seats can be converted from a set to a booster when the child is between 50 to 120 lbs and up to 57cm in height. To add to the impressive features that these two car seats have in common are Rear-facing Tether and Safe Stop energy absorbing harness.
To accommodate the child's increasing height, the Diono Radian and Diono Rainier have 12-position adjustable headrest with infant body support cushions. Diono makes the installation of these car seats quite easy by integrating the car seat with a SuperLATCH system. These seats also come with cup holders to give your children easy access to their favorite drink during the ride.
Even with all these similarities, the Radian and the Rainier still have their obvious differences.
Main Differences between the Diono Radian vs Rainier
Some of the few differences between the Diono Radian and Diono Rainier include:
Rear-facing and Forward-facing weight limits
While the Diono Rainier can be used for 5-50lbs infants, the Diono Radian can be used for 5-45 lbs. When the seats are used in forward-facing modes, the Radian can accommodate a child that weighs between 20-80 lbs, while the Rainier can accommodate a child that weighs between 20-90 lbs.
Fits-3-Across feature
Both seats have a 17-inch side base, but the additional sidewalls on the Rainier make it a bit wider than the Radian. As a result, while 3 Radian car seats will fit perfectly in most mid-sized vehicles, 3 Rainier car seats won't.
Lifespan of seats
Although both seats have, arguably, the longest seat lives on the market, the Rainier lasts two years longer than the Radian, which has a seat life of 10 years.
Price
Because of the extra features of the Rainier, it costs a few more dollars than the Radian.
---
Comparison Table for Diono Rainer vs Radion
| | | |
| --- | --- | --- |
| | Radian | Diono Rainier Car Seat |
| Car seat mode | 3-in-1 | 3-in-1 |
| Forward-facing harness limit | 20-65lbs | 20-65lbs |
| Booster weight limit | 50-120lbs | 50-120lbs |
| Steel alloy frame | Yes | Yes |
| Aluminum-reinforced sides | Yes | Yes |
| EPS Foam | Yes | Yes |
| Rear-facing Tether | Yes | Yes |
| SafeStop energy absorbing harness | Yes | Yes |
| Adjustable headrest | 12-position | 12-position |
| Infant body support cushions | Yes | Yes |
| Memory foam | Yes | Yes |
| SuperLatch SYSTEM | Yes | Yes |
| Shoulder and lap belt guides | Yes | Yes |
| Cup Holder | Included | Included |
| Machine washable cover | Yes | Yes |
| Rear-facing weight limit | 5-45lbs | 5-50lbs |
| Extra-deep side walls | Yes | No |
| Fit-3-across feature | No | No |
| | | |
---

The Diono Radian Car seat is one of those convertible car seats that offer extra room in its rear-facing position. One amazing feature of this seat is that it is 3-across friendly, that is 3 of the Radian can sit comfortably in a mid-sized car. It boasts high-comfort, memory foam padding, a steel-reinforced frame, and some other additional safety features.
The Radian's rear-facing capacity is between 5-45 pounds, and it has a maximum height of 44 inches. It has a booster mode for children ages six and seven, and while in booster mode, the seat uses a LATCH system for added safety.  The aluminum-reinforced side head protector comes with EPS foam.
Pros
It has a high rear-facing weight limit
It can be folded flat for easy travel and storage
It lasts up to 10 years before it expires
It has a sturdy steel frame
Its narrow profile makes it suitable for 3-across for families with 3 children.
The Radian has a proven safety record.
It comes in a variety of 13 colors and a cover for the back
Cons
The harness straps must be rethreaded to change height
Installation of the seat can be a bit difficult
It has only one rear-facing recline angle
It could be a bit heavier than most convertible car seats on the market
Customer Sentiments
Although feedback on this seat has been mainly positive, some customers are displeased at the fact that the harness needs to be rethreaded. Also, some say that their children outgrow the height of the harness straps and headrest well before the stated height limit.
---

The Diono Rainier car seat is one of the few seats on the market that can support and protect children till they reach a weight of 120 pounds. This seat grows with your child, as it can be adjusted to a child's height even as they grow. It is also one of the few convertible car seats that when in rear-facing mode can accommodate children up to 50 pounds.
It comes with a rear-facing tether and uses a SuperLATCH system that makes the seat easy to install. The seat has a rear-facing weight range of 5-50 pounds, a rear-facing height maximum of 44 inches, forward-facing weight range of 20-90 pounds, forward-facing height range of 57 inches, 50-120 pounds booster seat range, and 40-47 inches booster seat height range.
The Rainier's steel frame is sturdy and strong, and there is a SafeStop feature attached to the upper part of the seat. The seat protects your little one against side impact forces with its deep, aluminum-reinforced sidewalls lined with EPS foam.
Pros
The seat allows extended rear-facing limit
It provides good weight limits in each mode
The seat folds flat for easy storage and travel
It comes with 12-position headrest
Its narrow profile makes it fit well with other car seats
Cons
The seat can seem a bit heavy as a result of its sturdy steel frame
It doesn't come with built-in lock-offs
The seat may seem too difficult to install in some cars
The installation can also be confusing
Customer Sentiments
The feedback on this seat is mostly positive.
---
FAQs on Diono Car Seats
How many years does a Diono car seat last?
Most Diono car seats can last between 8-10 years. However, it should be noted that the seats would only last up to this time if they are well taken care of.
Are Diono car seats safe?
Absolutely! Diono is a brand that puts the safety of your child first when they introduce a car seat to the market. Their seats meet and pass Federal Safety Rules.
---
Verdict: Which Car Seat Is Better?
With the additional features that the Rainier has and the Radian doesn't have, the Rainier gets our vote as the better of these two well-designed, sturdy convertible car seats. The Rainier offers a higher weight limit in rear-facing harness mode, not to mention its deeper sidewalls that provide even better protection for children. It also has a wider top area for greater comfort.
Although the Radian cannot be easily dismissed, parents who do not mind spending those extra dollars on a car seat would mostly benefit greater from the Rainier.
(Visited 426 times, 1 visits today)