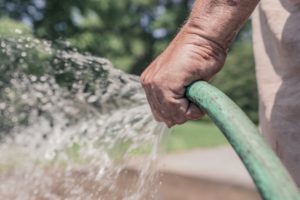 Thinking about starting a garden? Not only is gardening a way to spruce up your outdoor space, but it's also a great way to relax and spend some time outside.
The great thing about gardening is that you can start small, with a couple of plants in a planter box on your windowsill, or you can go all-in and transform your backyard in a weekend. Either way, you'll be getting your hands in the dirt and that's all that matters.
Gardening is something that everyone can enjoy, and it's particularly enjoyable when you have little helpers around the house to help out. There's nothing like watching your little girl trying to rake the leaves into a pile or watching your little boy gathering vegetables that he helped grow. Sharing the experience of gardening between generations is something that brings families closer together and will be something you'll all be able to share.
Getting Started
Patio Gardening, In-Ground Gardening and Raised Beds
Once you've made the decision to start gardening, the first step is to analyze your space. Do you have an apartment with a patio, or do you live in a house with a yard? Or are you looking for a hybrid of the two, with plants in pots on your deck instead of in your yard?
Patio or Container Gardening
Whether you're starting out with a planter full of herbs in your kitchen window or you want to create an oasis on your apartment's patio, container gardening (also called patio gardening) is a way to satisfy your green thumb when you can't grow things in the ground.
There are a variety of benefits to container gardening. It's easier to manage a small, contained space. You can always tell when your plants need water, and you can easily switch out plants each season without too much trouble.
Some people like having everything in pots. Part of the fun is choosing pots of different shapes and sizes for your patio or deck space, or you can opt for a more traditional planter box. It all depends on the look you're trying to create.
Yards
If you live in a house that has a yard, you might choose to dedicate a portion of the yard for a garden, or you can go nuts and plant the whole thing. It all depends on the size of the yard and the look you're hoping to create.
If your backyard is predominantly made of cement, then you can use pots and planters to introduce some color into the space. This is particularly true around a swimming pool where there is a lot of cement.
Transform your yard into a beautiful garden using the best decors from Happy Gardens online store. You can add birdhouses, garden statues, wall decor, rain chains, wind chimes, ornaments, rain gauges, and spinners in your yard to make it more appealing. Also, you can install outdoor wall decors in your patio or garden fence to make your outdoor living space more inviting.
If you live in an area with watering restrictions, consider installing a drip irrigation system that will provide water at a very low rate so that your plants receive water without the waste that comes from watering with a hose. It's also possible to create a beautiful drought tolerant garden with succulents.
Raised Beds
When thinking about growing vegetables in your yard, consider building raised beds. Instead of growing food in the ground, you can easily build raised beds and this will allow you the ability to put high-quality soil into the beds. This is particularly helpful if you're looking to grow organic fruits and vegetables.
Raised beds are also a great way to create a planting space in your yard without having to dig into the ground. Some people have dirt in their yards that resembles clay, making it tough to dig, or they might have trees with lots of roots that would prevent planting. A raised bed will resolve that issue by giving you a space to grow things without having to dig.
Basic raised beds can be made from wood or cinder blocks, or a combination of both. If you use wood, you can line the sides with plastic sheeting so that the wood doesn't rot as quickly, but be advised that eventually the wood will start to deteriorate over time.
Once you have built the structure, fill the bed with top quality organic planting mix if you're looking to grow vegetables, otherwise regular planting mix will work fine for regular flowers and plants. If the planting mix isn't fortified with nutrients, consider purchasing some fertilizer or a time-release fertilizer that you can mix into the soil to give your newly planted flowers and veggies a boost.
Know Your Zone
Now that you have identified where you want to start your garden, you need to know what kinds of plants will work for your area.
Here's a little secret about big box garden centers: Just because they sell plants there doesn't mean that those plants work for your area. They're looking for a sale, so what does it matter if the plant dies because it's too cold in your yard? They're counting on you buying another plant.
Nurseries are better than big box garden centers because the employees are usually gardeners themselves and they want you to succeed so they tend to only carry plants that will thrive in your area.
The best way to know what kinds of plants work for your area is to consult the USDA Hardiness Zone Map. This map will tell you what kinds of plants will work in your area based on your climate. Not only is this a useful tool for choosing plants, but it will help if you're looking to grow flowers and vegetables from seeds.
There are some temperate zones, like Southern California and Florida, where you can grow just about anything. Keep in mind, though, that some fruits and vegetables, like apples, require a period of time in freezing conditions to properly grow. So just because your plants are growing in your temperate area doesn't mean you're in the optimal area for them.
Once you have your zone, you can look at the tags on plants at the garden center or nursery to determine whether that plant really is good for your area or not.
Things to Know: Gardening Tips
Vegetables, Perennials and Annuals
Now that you have your space identified, it's time for the fun part: Choosing your plants!
Vegetables
When growing vegetables, make sure you understand a plant's needs. Tomatoes need cages in order to grow properly because the weight of the fruit will cause the plant to break. Beans need a place to climb while melons, pumpkins and squash need space to spread out. Corn will grow tall. Artichoke plants will only yield a few artichokes at a time.
When growing vegetables, consider the size of the crop. One tomato plant can produce a ton of fruit, but you might only get a few bell peppers or a dozen ears of corn. If you want to feed your family, then you need to plant enough plants to do just that. You might need one plant per person, at least. If you want the crops to last, then stagger when you plant them so they don't all produce at once.
Staggering is a good strategy when you have things like herbs or lettuce. Since you will clip them frequently to use them in salads and cooking, if you have seeds coming up regularly then you will have a constant supply of herbs and lettuce instead of having to wait between crops.
Here are some mistakes to avoid when you have a vegetable garden:
Planting Way Too Much: Don't plant more than you can eat because it is challenging to tend large crops. It's better to start simple with a few different plants in a small space.
Neglecting The Soil Quality: Start your vegetable garden with good soil because vegetables are heavy feeders, so take time to improve the soil to avoid your crops from suffering. Add rotted manure, compost, and shredded leaves on top.  
Choosing The Wrong Grow Spot: Before digging or planting, make sure to choose an area that works for you, preferably with plenty of sunlight and close to a water source.  
Neglecting Important Maintenance: Complete feeding, watering, and weeding regularly because plants tend to compete with water and nutrients, which can affect yield.
Not Harvesting As Needed: Don't hesitate to harvest when your crops are ready because waiting too will result into the slowing down of your garden operations.
Annuals and Perennials
If you want a garden full of beautiful flowers and plants, it's important to understand the difference between annuals and perennials. Annuals grow for a season and then die while perennials will keep growing all year.
Some annuals, or anything that grows from a bulb, will come back from year to year, but there will be a period of time (usually in the fall or winter) when they're dormant and that will leave an empty spot in your garden or pot.
Perennials refer to flowers and plants that can survive for several growing seasons right after blooming. Biennial flowers and plants survive for two growing seasons. As compared with perennials, annual counterparts are faster to grow. Generally, perennials start flowering in the second year.

You might find a giant pot of sunflowers at the local big box garden center. Sure, they're beautiful, but after they bloom the plant will die off. This is the case with lots of plants, so it's a good idea to incorporate a mix of annuals and perennials together so that your garden won't appear to be sparse when the annuals die off.
Check the following annual flowers you might want to consider for every season:
Summer: Marigold, Geranium, Vinca, Zinnia, Impatiens, Cornflower
Fall: Begonia, Petunia, Nasturtium, Celosia, Calendula
Winter: Stock, Primerose, Sweet Pea, Flowering Kale
Spring: SnapDragon, African Daisy, Sweet Alyssum, Pansy, Dianthus
Annual flowers provide lovely choices for fragrant and colorful bouquets you would love to have in your garden. No need to wait too long to get ahold of these beautiful blooms. Focus more on choosing the best flowers for your beautiful home as vase flowers or delicious edible flowers for your favorite desserts and dishes.
Seed and Plant Catalogs
Another great resource are seed and plant catalogs. Ordering seeds, bulbs and plant seedlings by mail is something that many people who live in cold climates do because the catalog companies won't ship your order until the seeds are ready to be planted in your hardiness zone.
Growing a garden from seeds can take patience, but it's a very rewarding experience. Growing vegetables from seed is much easier than growing flowers because when you grow flowers you're usually hoping to create a filled in look, which is hard to do when you start from seeds. With vegetables you usually want plants to be spaced out, so it's easier to cope with one seedling on a giant mound of dirt.
Bulbs can help you achieve a filled-in look quickly, because flower bulbs usually sprout very quickly once your region is ready to plant. The downfall to bulbs is that like annuals, they too will die off. The upside is that they will come back if you care for the bulb properly.
Seed and plant catalogs also sell seedlings, which are great for people who want to skip the seed phase and go directly to the next level. Most seedlings come in 1-3" pots that can be planted as soon as you get them in the mail.
For gardeners looking to create a specific look in their gardens, like hundreds of red and white tulips, seed and plant catalogs are the way to go because you can order exactly what you want (oftentimes with discounts for large orders) and it won't arrive until your area is ready for it.
Pest Control and Healthy Soil
Make your garden healthy by controlling nuisance pests. If you are hoping to grow organic vegetables, then you need to understand the ways you can keep pests off your plants without using harsh pesticides. In some cases, other plants can be used to keep pests away.
Marigolds and citronella scented geraniums will repel harmful insects, leaving the beneficial insects in peace. You can also release ladybugs (available at your local garden center) to take care of aphid infestations.
It's very important to care for your soil. Container gardens and raised beds don't have as many problems with soil because the soil that is used has already been fortified. If you're planting directly into the ground you might encounter acidity issues or clay-like soil, which means you need some supplements. You can buy a soil test kit or take a sample to your local nursery to be tested. One trick is to add eggshells to the soil to give your plants an extra boost of calcium, which is always helpful.
The best advice is to get to know the employees at your local nursery. They are experts and can help you fix soil problems and teach you how to prevent overwatering. Oftentimes you can bring a leaf or soil sample to them and they can diagnose the problem on the spot.
Must Have Items
Gloves
You always want to wear gardening gloves. If you're using non-organic soil there is usually a lot of compost in the mix, and that usually includes manure. (On that note, always wash your hands when you're not using organic soil!)
You can choose from leather gloves, waterproof rubber gloves or fabric gloves with rubberized grips. Leather gloves are great when you're digging or trimming branches. If you have a simple container garden then basic fabric gloves will work.
Basic tools
To get started, you'll need a hand shovel to dig holes for your plants. This is true for all kinds of gardening. If you have knee problems, a gardener's mat will provide extra support while also giving you something waterproof to kneel on.
If you're planting in your yard or in a raised bed, then a round point shovel will be very helpful. Unlike a flat-nosed shovel, the round point will get into the ground much easier and you can put your weight behind it when you're digging in solid earth.
A good set of garden clippers or shears are indispensable. You will need these to trim dead leaves, pick fruits and vegetables and to maintain the shape of your plants. For larger plants or trees you might need a set of loppers.
Invest in a good hose like one of these. There are cheap basic hoses on the market and these tend to get a lot of kinks in them. When you have a whole yard or a bunch of raised beds to cover, then you need a good hose to water everything.
It's always helpful to have a bucket handy. Whether you use it for trash or you fill it with water to give a good soak to new plants, it never hurts to have either a 2 gallon or 5 gallon bucket nearby.
Lastly, every gardener should have a sun hat. Not only will it help to keep the glare away, but it will protect you from the sun as well.
Have Fun
Gardening is meant to be an enjoyable hobby. Whether you're growing your own food or you just want to have a nice view, it's nice knowing that you can do it all when you're armed with the right knowledge and tools.
Don't be discouraged if your pansies aren't perky or your bell peppers look more like grapes. Gardening takes some practice, but when you take time to learn more about it, you'll find that it's a very rewarding experience.
(Visited 459 times, 1 visits today)