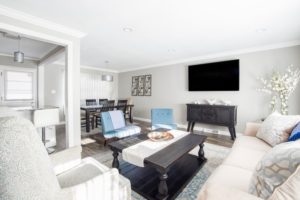 From the beginning of time people (women) have been cleaning.  Yet, somehow, there still seems to be new products, tips, tricks, hacks, gimmicks and alternatives coming out through the media, trying to get us to change our ways of doing things.
For me, it's all about simplicity and what works.  There are very few store-bought cleaners in our home, with the goal of eventually having none (send me your ideas!).  We strive to get back to our roots and do things that our grandparents and great-grandparents did in the earlier times when you had to make do with what you had.
And you know what?  Often times these practices are better, cheaper, and cleaner than the commercially-made version!  Reading through some of your grandmother's home magazines or tip books can grant you some awesome results.
Cleaning doesn't have to be strenuous, sweaty, backbreaking or dreadful.  Well, not every task.
No matter the circumstances, cleaning is something that everyone has to do and this helpful guide will help you get started with tips for finding the right tools for the job and establishing a cleaning routine, along with some helpful hints at how to get it all done or you might ask for cleaning service like Cleanzen Chicago to do the cleaning for you.
Getting Started on Cleaning
Essential Cleaning Supplies
Having the right supplies at your disposal will go a long way toward getting the job done. There's nothing worse than settling down to clean the house, only to find out that you don't have paper towels or disinfecting spray for the countertops.
In general, you should have cleaners for the bathroom and the kitchen. Some people prefer paper towels that can be tossed when done, or you can purchase reusable rags to wipe things clean.
If you have hardwood floors then a wet/dry mop will be helpful, along with a broom. For carpets you'll need a vacuum, and the size of your home should help determine whether you use a cordless stick vacuum or a more heavy-duty style. If you have pets, make sure you consider how much fur you pick up on a regular basis and use that to determine the kind of vacuum you purchase. You might also consider purchasing a robot vacuum cleaner. It might seem like a superfluous purchase at first, but coming home to clean floors every day is worth it.
Kitchen Supplies
You'll always want to have a basic disinfecting spray handy in the kitchen. It's what you'll want to use to wipe counters off at night, and it will be helpful when you spill food as well. Make sure you pay attention to whether the disinfectant can be used on your countertops if you have granite or marble counters, and you might need a separate cleaner for your appliances if you have special surfaces like stainless steel or glass.
When it comes to the dishes, if you don't have a dishwasher then you'll need a dish rack, a drying mat (when you don't want to keep the dish rack in the sink), a sponge and scrubber and dish washing detergent.
Bathroom
Keeping the bathroom clean can be a breeze with the right supplies. You'll need a toilet scrubbing brush (preferably one that comes with a holder) and toilet cleaner. Even if you use the tablets that go into the tank or the gel that adheres to the bowl and cleans the toilet with every flush, you'll still need a brush and cleaner on occasion.
For the sink and countertops, a good bleach-based cleaner is a good idea. If you're worried about the odor or that bleach is too abrasive, most companies also offer a hydrogen peroxide-based cleaner that is just as effective, and if you're in a pinch you can also use the disinfecting cleaner from the kitchen if you have to. You will also need glass cleaner for the mirrors and shower walls if you have glass shower doors to clean.
If your bathroom has a rub, then a good tub and tile cleaner will do the trick. If you have a tub and shower combination then you might need a tub and tile cleaner along with a glass cleaner. A squeegee is a good idea for when you need to get the excess water off of the shower glass quickly. In addition to the tile cleaner you might also need a grout cleaner and a scrub brush, but that will depend on the age and condition of your shower and tub.
Again, check to make sure that your cleaning products are compatible with the materials used in your bathroom so that you don't scrub away the finishes.
Establishing A Cleaning Routine
Cleaning is much easier when you establish a cleaning routine. If you don't want to spend an entire Saturday cleaning, then there are ways you can clean throughout the week so that you only have a few things to do on the weekend.
The easiest way to develop a routine is to go room by room. Start with the room you're in the most: the kitchen. Then comes the bathroom and bedroom. Go on from there. Spending 15 to 30 minutes per day keeping things tidy will come a long way when you're ready for a deep clean.
Kitchen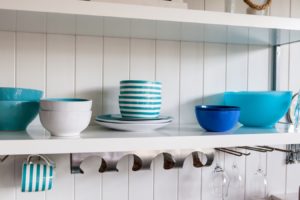 The kitchen is probably the most important area to keep tidy since that's where you keep, prepare and eat your food. It's easy to let the dishes stack up if you don't have a dishwasher, and sometimes you don't want to deal with clearing the takeout containers from the kitchen table at the end of a long night. Unfortunately, when you let these tasks go too long then you really have a mess on your hands.
The easiest way to avoid the buildup is to clean on a regular basis, but by "clean" we don't mean a deep clean. It's just a matter of establishing good habits, and it's about compromise and being realistic.
It's fine if you leave dishes from breakfast in the sink in the morning so you can get out the door and get to work. That's fine. Dump your lunch container in there when you get home. Again, fine. Make your dinner and enjoy it. But do the dishes before bed. Wipe the stove and counters down when you're done, and you have "cleaned" the kitchen for the day.
Keep that up, and at the end of the week all you will need to do is clean the floor. You won't have to stress about piles of dishes to wash because they will all be done, and likewise you don't have to force yourself to wash dishes after every meal unless you want to.
Washing dishes before bed is enough if that's all you can manage, and you might even find that with a glass of wine and some music playing in the background, washing dishes and cleaning the counters can be relaxing, too. It's a great way to get ready to go to sleep.
Bathroom
There are lots of life hacks for keeping the bathroom clean. Keep a hamper in the bathroom and toss your dirty clothes and towels there instead of on the floor. Use a drop-in tablet or toilet bowl gel to keep the toilet clean with every flush. Use a squeegee after you shower to keep water spots from forming on the glass, or spray some self-cleaning shower spray after your morning shower so the shower is clean when you get home.
If you practice these tips, you'll have a clean bathroom on a daily basis and you won't have to do much at the end of the week because it will already be done.
Bedroom
If you're like most people, it's so much easier to keep clean laundry in the basket instead of putting it away after washing it, especially if you have to utilize a laundromat or a washer and dryer that aren't located in your apartment. Try to make putting your clothes away something you do as part of your laundry routine. If you don't have room for a hamper in your bathroom, keep one in your bedroom so that dirty clothes don't have to end up on the floor.
Making the bed might not seem like a big deal, but there's a reason that hotels offer turn-down service. A made bed is so much more inviting, and even if you only sleep with a bottom sheet and a blanket at night, try to put your bed in order as soon as you wake up. You'll appreciate it when you get ready for bed every night.
Living Room
Though you spend a lot of time in the kitchen, bathroom and bedroom on a regular basis, it's usually the living room where you hang out and relax. Try to keep the mail in one place for when you sit down and pay bills.
If you have a coffee table, make sure you take mugs and glasses back to the kitchen when you're done using them. Don't leave food out, and if you eat in your living room make sure you clean up your space afterwards.
Hang jackets up instead of dropping them on the back of a chair, and have a dedicated spot for your laptop, purse or briefcase. And if you're the kind of person who kicks off your shoes when you walk in the front door, then be sure to have a spot for them, too.
If you have kids and they have toys in the living room, a great way to keep things organized is to have a big basket or trunk to store toys in so that when they're done playing, their toys can go right back inside.
Cleaning Day
If you have been good about following the daily cleaning routine, by the time you arrive on your designated cleaning day the only thing you'll have to do is to vacuum, sweep or mop the floor, and you can also do some deep cleaning if you want. The nice thing is that you won't have to start from scratch, and that's the key. You're saving time by doing a little bit of cleaning on a daily basis.
You might do a deep clean once a week or once a month. If you clean weekly, then this might be when you wash all of your sheets and towels. (For those of us who don't like washing sheets but appreciate a clean bed, consider buying multiple sets of sheets and keeping them in a linen closet so that you can swap out your sheets regularly and then wash them all once a month)
When you decide to do a deep clean, this is when your wet/dry mop will be useful to clean the floors if all you're doing is sweeping them every so often. Wash all of the mirrors in your home, and do the tedious things like cleaning the fridge and oven, too.
Getting It All Done
It might be daunting to think of cleaning your entire house. If you live by yourself, using our daily cleaning tips will help keep the job manageable. If you have roommates or a family at home, divide up the cleaning duties so that the job gets done faster.
Something to think about is that when you have your kids helping to clean the house, they can transfer those skills to their college dorms and their own apartments. There's nothing like watching a college student struggle with laundry while your son or daughter breezes through it. Teaching them early will help them later in life, and when they're young you can make cleaning a game so that they enjoy helping out.
Cleaning your house can be an enjoyable experience when you break it into smaller pieces and get them done before they get out of hand. When you can do that, it makes hosting surprise visitors or getting ready for the holidays a breeze!
(Visited 515 times, 1 visits today)