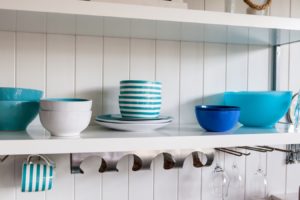 Kitchens, like bathrooms, are almost universal in terms of the basic items that can be found there. There are standard appliances that every kitchen should have, and from there you can fill a kitchen with all kinds of cookware, dishes and decorations.
A kitchen should reflect your personality and style. It's no coincidence that kitchens are known as the soul of the house; this is where families gather to enjoy their meals and friends congregate over shared meals. You make memories in the kitchen, and so the kitchen needs to be meet all of your needs.
Before we dive into the kitchen guide, check out all of our kitchen related articles below:
Are you a lifelong cook or just getting into cooking at home? Do you have a big family? Do you have a new baby and you want to make all of her meals at home? Are you looking to prepare your lunches for the whole week?
There are so many things to consider when making sure that you have a well-stocked kitchen that meets all of your needs.
You don't have to have everything from the start. You can begin with the bare essentials, and then build your collection as you go along.
Must Have Kitchen Items
There are certain things that should be in every family's kitchen. With cooking, it doesn't matter if you're a novice cook or seasoned gourmet chef – the tools of the trade are the same across the board.
Some of the variables to consider include the size of your family and the number of people you're cooking for. If you're a party of two then you probably don't really need a 6-quart stock pot, but you might need one if you're doing a lot of meal prep. That's why you need to know what kind of cooking you'll be doing when you set out to stock your kitchen.
Like so many other items in your kitchen and your house, you can actually have too many things that you'll never actually use, so when you're shopping for your kitchen always think about whether you need it.
Appliances
Most kitchens will have a stove or cooktop (including possibly a single hot plate or burner), an oven, a refrigerator and a microwave. Those are the basic appliances that are standard. The variation on that would be having a microwave and no stove in tiny apartments or studios.
The next wave of appliances include specialty items like coffee makers, blenders, crock pots, toasters and toaster ovens, rice cookers, wine fridges, air fryers and the ever-popular Instant Pots. You might even have a water filtration system connected to your sink. These are the items you want in your kitchen and that's why you have them there. They're not essential but they perform some function that you want or need.
Cookware
No matter the size of your household or your flair for cooking, there are certain cookware items that should be in every kitchen. When shopping for cookware think about the materials you want to use. There is stainless steel, glassware, cast iron, nonstick and aluminum, and what you choose is a matter of personal preference.
You can go out and buy a set of pots and pans and you'll have everything you need, and then some. On the other hand, you might find that buying individual pots and pans based on your needs makes more sense.
In general, you should have a frying pan (also called a skillet) and a sauce pan. From there you might add a stock pot, a saute pan and maybe a cast iron skillet. The cast iron skillet is ideal for people who live in apartments who want to cook steaks and other meats; the cast iron will provide a nice sear and can be a good replacement when a grill isn't available. If you have an oven, then a baking sheet is also crucial.
As you grow your collection and develop your cooking skills, you might add specialty cooking gear like a wok, a griddle, a pressure cooker or a roasting pan. Again, this will all depend on what you're cooking and how many people you're cooking for.
When it comes to storing all of your pots and pans, consider a cooking rack to hang your items over your stove if you don't have a lot of cupboards and counter space in your kitchen. Storage is always one of the biggest challenges for families so getting creative and utilizing every possible space is what you have to do, even if that means using your oven as a home for your pots and pans. (Just make sure you remember they're there when you need to use your oven!)
Dishes and Utensils
In addition to pots and pans, you'll need a big spoon, either wood or plastic, for stirring and scooping food. You should have a wire whisk, a spatula and a ladle. In fact, you should probably have at least two spoons and maybe two spatulas to start off because you might have multiple things cooking at the same time. A strainer is also essential, especially if you're a fan of pasta.
You should also have a set of utensils, and in this case it's ok to buy a set. Find a pattern you like and get a set. In general, you should have more utensils than you have people in your household or you'll be stuck doing dishes all the time. If you have a family of four, buy eight place settings. Same with cups. Cups and utensils are things that you use all the time, and unless you want to be constantly doing dishes then you should make sure you have plenty.
Food Storage
Back in the day, people had Tupperware parties so that they could buy new pieces of the popular food storage items to add to their collection.
These days there are lots of options for food storage, from permanent reusable pieces to disposable containers. You'll need a combination of containers and bags to store leftovers, but you will also need storage containers for the bulk foods that you buy. Whether you keep things like flour and sugar in containers or in their bags is a personal choice, but these are things to think about.
If you're doing meal prep, then you need enough containers to cook a week's worth of meals and store them so you can grab them and go in the morning. You need to have a set of storage containers for each of the people doing meal prep in your household.
Also think about different sized containers for your kids' lunches. You can pack little containers of nuts, cheese and crackers in their lunches each day.
Thankfully buying food storage containers is a lot easier now. You can buy by size, shape or even as a set. You can buy exactly what you think you'll need.
Food Staples
Just as there as certain cookware items that you need in your collection, there are things that should be in every well-stocked pantry. These will vary from kitchen to kitchen, taking into consideration things like food allergies and vegan and vegetarian diets.
You should always have dry goods like salt, pepper, flour, sugar, baking soda and baking powder around, especially if you're a baker. Some families like to keep supplies of dry pasta and pasta sauce for an easy last-minute dinner. It's also a good idea to keep some salad dressings around so that you can make a quick salad when the fancy suits you.
Your spice rack should reflect your tastes and the items that you tend to cook regularly. That might include rosemary, basil, oregano, garlic powder, cinnamon, thyme, cayenne pepper, cumin, seasoned salt and chili powder.
Refrigerated goods are perishable, but generally some of the items you should keep around are butter, milk and eggs. If you're vegan or vegetarian, these might be soy milk and margarine or vegan butter.
Decor
Finally, we've talked about how your kitchen should be a reflection of you and your family. There are no rules about what your kitchen has to look like. While there's nothing wrong with a traditional kitchen with muted colors, like these at JD Kitchens you should also choose bright and fun colors to reflect your style.
These days you can buy appliances in a rainbow of colors, so go crazy and get creative if that's what you want to do. You can get ceramic pots and pans in bright colors. You can have a motif built around a painting or your favorite flower. You might buy things in sets or choose individual pieces just so that you can have a variety of colors and looks.
Whether your personal style is traditional or whimsical, do what you love. Your kitchen really is the heart of the house so you should have a place where you feel comfortable.
Kitchen Tips
During the holidays, if you're entertaining a large group of people you might need more cookware than you currently have. There's an easy solution for this: Aluminum pans! You might see the foil bakeware in the baking aisle. It's there all the time but they really bring it out during the holiday season because it's a great way to expand your cooking collection without spending a fortune. Some of the items you might use are the roasters (for cooking meats like turkeys and hams in the oven), casserole dishes, pie tins and cake pans.
Aluminum pans are incredibly helpful when you're cooking for large numbers of people during the holidays or for a party, and they're also very handy when bringing food to an event like a picnic or BBQ.
Consider purchasing a food vacuum sealer so that you can buy in bulk and freeze foods. It's a great way to save money so that the food you buy doesn't go to waste, and food sealers can also be used to marinade meats as well. Not only can you extend the life of the food you buy, but you can also cook more food, freeze it and eat it later
If you don't have everything you need right away, make the most of what you have and collect new pieces along the way. You don't have to have it all right away, and part of the fun is building your collection as you go.
Bon Appetit!
Cooking is a lot of fun when you can enjoy the experience of making food, whether you're on your own or with your family. A huge part of making the experience enjoyable is being in a place that you love. Your kitchen should be a reflection of you and your family, so make it a fun environment and a place where memories are made along with some amazing meals. 
(Visited 444 times, 1 visits today)