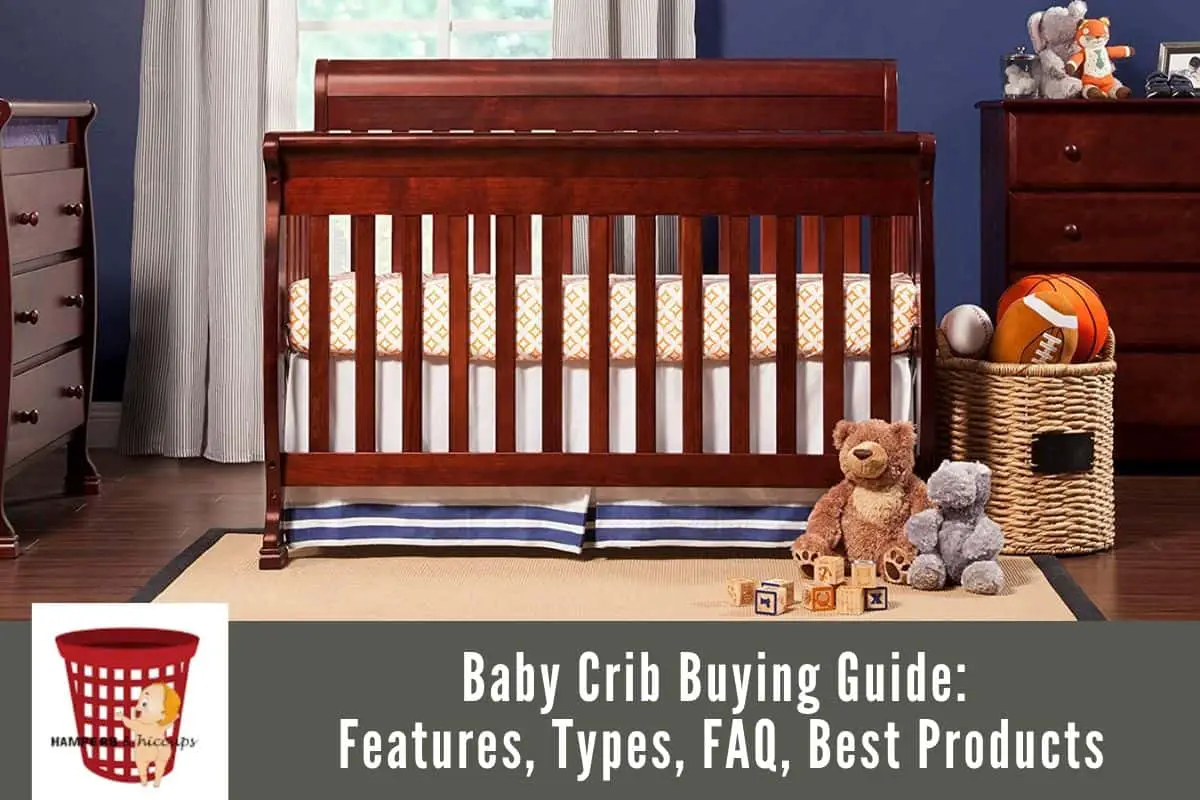 With a newborn baby, there is a long list of things to buy. Immediately you hear the pregnancy bells you start preparing. With a lot of things to purchase and set up 9 months fly by like a breeze. Next thing you know you are in the labor room and your baby is here. One of the major things we as parents usually get to is setting up the room. Painting toys, and most importantly the centerpiece. The Crib.
The crib asides from being the major furniture in your baby's room that brings the whole room together, it is also a safety precaution for your child. Cribs are the safest sleeping furniture for your baby. Bassinets, co-sleepers, pack & plays, etc. are all good options. However, when it comes to comfort and safety the crib is the clear winner.
Benefits of Baby Cribs
Baby cribs are the safest and most secure sleeping arrangements for babies
They improve your babies comfort during bedtime ensuring a good night sleep
Excellent play area for your baby. You can easily put his toys into the crib and your baby can play in a safe secured environment. 
With your baby in a crib, you don't have to worry about your child rolling out of bed or walking towards danger. In a crib, your baby wouldn't have access to exposed sockets or dangerous chemicals.
Baby cribs can be easily decorated to meet the general style of your baby's room
Most baby monitors are designed to be compatible with cribs.
---
Types of Baby Cribs
1) Classic Crib
This is probably the kind of crib you grew up in. when we hear the word crib, a good old classical crib comes to mind. However, with the classical crib old is not good. As of 2011, the Consumer Safety Product Regulations started setting up laws around cribs. So if you were thinking of using your old 20-year-old crib think again. 
But don't give up on the classical cribs. The new models are still leading the pack in baby sleeping comfort and safety. One major advantage bout the new classical cribs is that they have the longest life span. They are designed to be adjustable, thereby accommodating a wider age range. Your baby can use some of these classical models from infancy well into toddlerhood. Some cribs can serve your child till the age of six as they can be converted to bed by removing their bars.
Check out our article on Best Baby Crib Soother Reviews.
2) Portable Crib
As the name implies this cribs are very portable and can easily be moved from one room to another. They usually come with wheels making it easy for you to change the location of your baby's crib for easier monitoring. Imagine a stroller with a bed and you have a portable crib. Portable cribs combine some of the mobility of a stroller with the safety and comfort of a crib. Needless to say, portable cribs are only suitable for indoor use and short distances. A portable crib is not a stroller.
3) Convertible Crib
The main specialty of the convertible crib is flexibility. A convertible crib can transform into several things for you and your baby's comfort. By merely removing or adding parts, you can transform your convertible crib from a crib to a bed or a sofa. Whatever you want your convertible crib to be it probably can transform into.
However, with such a level of flexibility safety is sometimes an issue. Therefore, you must take extra care in choosing and using a convertible crib.
4) Travel Cots
Travel Cots are specially designed for travel. In all fairness, this can't be fully classified as a crib but it meets the necessary criteria to just pass into the club. Travel Cots are made of light material and can be easily collapsible. This is because they are meant to fit into a bag. If you travel with your baby a lot then a traveling cot is a necessity to secure your baby's safety. 
Although not as safe as a standard crib it is safer than co-sleeping or laying your baby on the floor. In a hotel room or other traveling destinations, travel cots have proven to be very handy. It is important to note that a travel cot should only serve as a temporary sleeping arrangement. It is no substitute for a crib as they have a narrow age range and wear out quickly.
---
Baby Crib Buying Guide
With the different types of Baby Cribs selecting what's best for your baby can be a bit confusing. The types of baby cribs are intertwined with some cribs sharing features of two or more types. In this jungle of numerous products with similar and yet different features, you need a guide and that's what we are. In this article, we would give you a breakdown of what to look for and what to run from.
There are numerous factors and criteria for judging a baby crib. For a baby crib to be deemed worthy it must have the following boxes checked.
1) Safety 
This is number one on every parent's list. The reason for buying a crib instead of a normal bed or opting for co-sleeping is safety. The entire purpose of spending so much on a crib and even going as far as equipping it with a baby monitor is safety. 
Safety is the most important factor in guiding your choice of a crib. However, with a crib, there is a long list of things to look out for.
i) General Structure 
One quick and easy way to test the structural integrity of your baby's crib is to give it a soft shake. If it feels loose and wobbly then there is a problem. Try tightening the knots. If with everything in place it still feels insecure then do not hesitate to return it and demand a refund. 
Another important thing to check for is the slat distance. Yes, I know, taking a measuring tape to the store to measure the distance between slats might look a little extra. But for your baby's safety, extra is just enough. The space between two slats should not be more than 2 anything more is a safety hazard. Wider slats have the tendency of getting your baby's arms and legs stuck and causing serious harm and injuries.
Finally, check for those unnecessary designs and details that can harm your baby. Sharp edges are a no as well as details that can hook your baby's clothing. That lovely carving of a mermaid might be the final piece of a dangerous hang rope.
ii) Materials
In the bid for style and finesse, some crib manufacturers overlook safety and toxicity. Some paints and materials are very toxic and harmful to your baby's health. There is a long list of chemicals that are harmful to us and even more harmful to babies. 
While crib manufacturers can afford to use any chemical or material for their cribs you can't afford to use any crib for your baby. There is no easy way to ascertain this other than in-depth research and inquiry. However, it is worth it. 
iii) Safety Standard and Certifications
While it is necessary to carry out your research and investigation one easy way to thin the herd is by checking for certified cribs. There is a shortlist of organizations that set up safety standards and give out certifications to deserving baby cribs. Certified cribs are generally more trustworthy than uncertified cribs.
Examples of such organizations are Juvenile Products Manufacturers Association (JPMA), American Society for Testing and Materials, Greenguard Gold Certification, The Consumer Safety Product Regulations.
2) Comfort
Next on our list is comfort. Your baby's comfort is very important. Good sleep helps proper growth and brain development. Needless to say, if your baby can't sleep, you probably won't either. For comfort, it is more about the mattress than the crib. However, you must be sure to select a mattress that fits perfectly into your baby's crib. It is advisable to buy them together to ensure a perfect comfy fit.
3) Portability
Depending on how mobile you want your crib to be a portable crib is always a useful advantage. A crib that isn't too big would fit better into your nursery without making your baby's room feel stuffy and clogged up. A crib with wheels is also an added advantage as it aids mobility and repositioning.
4) Flexibility and Longevity
Another awesome feature you would want your crib to have is to be able to have a life span of a few years. As parents and consumers, we want the full value for our money. A good sturdy crib that can be adjusted to grow and evolve with our babies is something we all wish for in our ideal crib.
With so many factors to check and countless hazards to avoid, selecting a baby crib might be a real hassle. And with a lot of products offering similar features selecting one isn't easy. Therefore, we have done the homework for you.
---
Best Baby Cribs: Top 5 Picks.

Safety, durability, comfort, style. The DaVinci Kalani is at the top of our list. Made out of Zealand Pine Wood and designed for safety and style this baby crib is a perfect fit for most parents.
Aside from the strength and sturdiness of this crib, it is fully convertible. By purchasing the conversion kit you can transform the DaVinci Kalani from a crib to a toddler bed and finally to a full-sized bed. Now that's a perfect example of longevity and durability. The DaVinci Kalani is perfectly designed to grow with your child.
Pros
Affordable
Wide weight range and highly convertible
Very safe
Cons
Assembling can be a hassle
Customer Sentiment
Customers love the DaVinci Kalani for its sturdy and safety-oriented design. It's beautiful and modern style also bought it a lot of goodwill from parents.

With a Greenguard Gold Certificate, your baby's safety is fully assured. It is one of the only cribs that come with the conversion kit upfront, this shows a willingness to stand by their product as they expect your baby to use it well into his/her toddler years.
Pros
Safe and secure
Durable
Stylish
Convertible
Cons
Poor customer service
Quite Expensive
Customer Sentiment
Customers love the Babyletto Hudson for its bespoke style and safety compliant design. However, the high price and subpar customer service was a turn-off

Brand Graco is a very popular household name, especially among baby products. The name Graco has become synonymous with safety and durability. The Graco Charleston Crib goes beyond the ordinary in the conversion section. Fully convertible from a crib to a toddler bed into a day bed and finally a full-sized bed. The Graco Charleston is the purest definition of growth with your child baby crib.
Pros
Affordable
Safe and sturdy
Highly convertible
 Cons
Difficult to install
Conversion kit sold separately
Customer Sentiment
Graco Charleston enjoys good reviews and feedback from customers. The classic style also inspired a feeling of nostalgia in most parents
No products found.
No products found.
No products found.
If you are on a budget then the Ikea Gulliver Crib is a perfect choice. Costing a chunk less than the average crib the Ikea Gulliver is still a very safe and sturdy option. Although the design is simple and minimalist you are sure to get the full value for your money.
However, it only converts to a minimal bed. Making it a highly limited option but when you factor in the fact that it comes with its conversion kit at such an affordable price, there is no downside.
Pros
Safe and sturdy
Affordable
 Con
Can only be converted to a toddler bed
Low weight limit
Customer Sentiment
Many parents loved this crib for its awesome quality. Customers were happy to see that its quality once botched due to its price.
No products found.

For our final pick, we decided to go with a crib with a foldable crib. This baby crib folds flat without requiring a disassemble, making it ideal for traveling. Flexible, portable and sturdy. The Dream on me is the crib of your dreams.
The only notable downside to this crib is its complicated assembling. However, you only have to assemble it once after which you are good to go.
Pros
Affordable
Safe and sturdy
Flexible and portable
Cons
Dangerous if not properly installed
Setting up after a fold can be tricky
Customer Sentiment
Customers loved the Dream On me as it protected their babies at home and away
---
FAQs about Baby Cribs
When should I Buy a Crib for My Baby?
It is advisable to set up your baby's nursery during your second trimester. This includes the purchase of your baby's crib, painting of the walls, etc. It is necessary to purchase and test your baby's crib early to ensure it is safe and give you enough time to get a replacement if otherwise. 
Is a crib necessary?
With a lot of safety regulations and continuous development, a crib is the safest environment for your child's safety. The American Academy of Pediatrics recommends sleeping in the same room with your baby for the first six months to ensure maximum monitoring. However, not on the same bed. Your baby is safer in a crib than on your bed.
Do Cribs Expire?
Technically no. However, with changes in safety regulations and rules cribs tend to become outdated and below standard, as time goes on. Cribs like every other equipment also suffer from wear and tear. Therefore, it is necessary to check the date of manufacture before purchasing. You should also avoid buying used cribs.
---
Verdict
Selecting a baby crib to suit your needs can be difficult. First, you need to select the type of baby crib you want, and then select the perfect member of that type that suits you. Safety and comfort are the two major factors to consider, once this is covered other factors can come in. 
Our picks are among the best of the best. Covering every factor necessary for your baby's safety and comfort. Within our picks, you can be sure to get the perfect crib for you and your baby.
(Visited 177 times, 1 visits today)