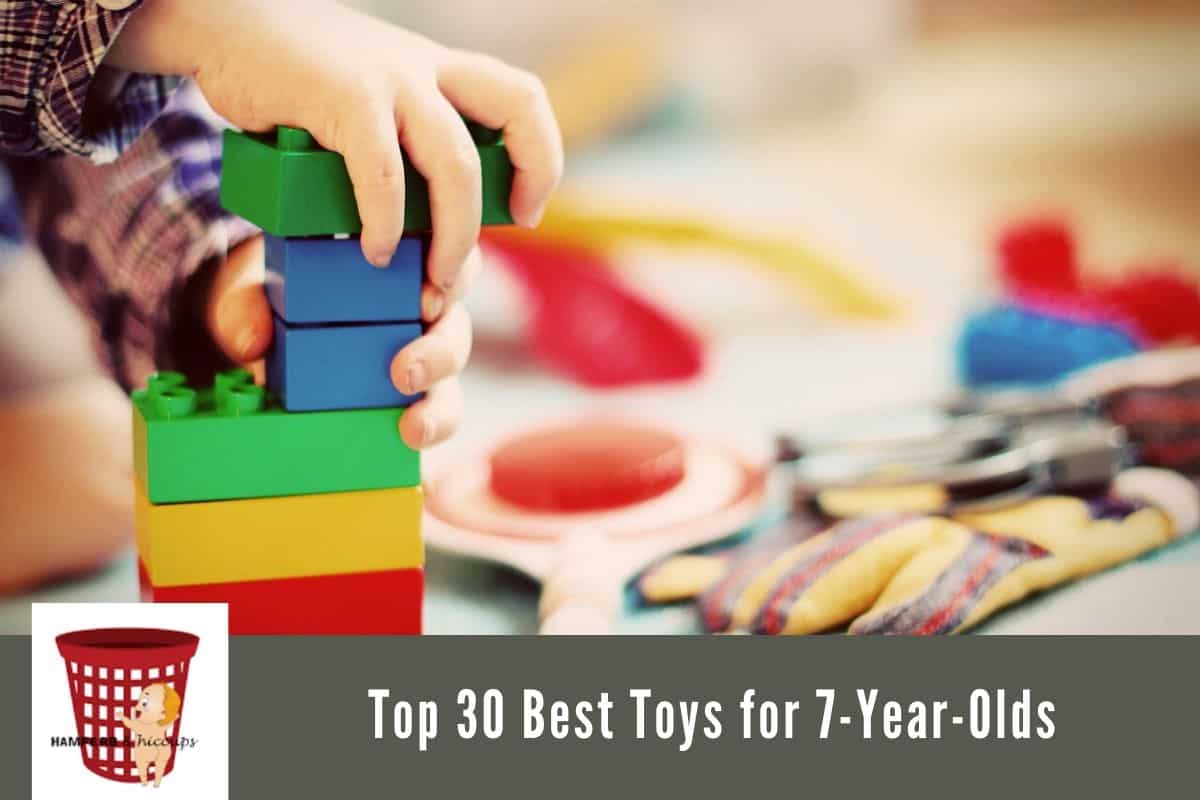 As a parent, you will have to buy toys for your children. This can turn out to be a difficult task, especially if your child is a 7 year old boy. At this age, boys become aware, and they begin to like some things and dislike others.
The kinds of toys that they would want at this stage will depend largely on what they like. So as a parent trying to buy your 7 year old son toys, this must be considered.
They love everything from sports and video games to creative and fun imaginative games they can play with older kids.
Also, toys shouldn't be just for entertainment; they should be educative too. This way, your kids learn while playing. Whatever toy that you would buy for your kids should be one that will help in their development as they grow older.
To save you the trouble of having to rack your brain on what toy to buy, as there are thousands of fun toys on the market, here is a list of the best toys fpr 7 year old boys that would not only entertain your kids but also help them develop better.
Best Toys for 7 Year Old Boys: Top Picks
The View-Master is a collaboration between Mattel and Google, which aims to bring virtual reality to children. It integrates technology and learning into one device. With a classic design, this device supports android and iOS
Most 7-year-old kids will absolutely love this gadget because of its ease of operation and its decent design.

This is one of the few games that can be enjoyed by the whole family, not only the kids. It comes with 60 beginner to expert level cards that are perfect for helping your kids learn something new every day. The goal of the game is to set up towers on the grid as displayed on a challenge card.
All components of this game are made with high-quality materials, making it a perfect gift for young children who are ready to take on daring tasks.

This game from Think Fun incorporates logic skills with roller coaster building. It comes with 39 tracks and 40 challenge cards, which range from easy to super hard, and a roller coaster car. In the game, there are more than 100,000 unique building possibilities. For a child who loves solving puzzles, this is the perfect toy.

The Kanoodle Gravity is the perfect toy for solo play or an epic battle for two. The game includes 10 colourful puzzle pieces and 40 solo-play puzzles. It contains 40 different puzzle challenges that would help your kids develop critical thinking skills as well as problem-solving skills. Asides from these benefits, the Kanoodle Gravity toy would also encourage your kids to develop healthy competition skills.
No products found.
No products found.
No products found.
The OffBits combines familiar parts, a sleek design, and a 21st-century approach to collaboration. It comes with a unique new twist to classic construction fun. It has four different robot kits, and each robot has its own description and personality. The kits contain all the components your son needs to make the robot. The idea of this toy is to help your kid become innovative.

The Razor A5 Lux is an excellent choice for your 7-year-old son. It is equipped with large wheels, and as such offers your son smooth rides all the time. In addition, the sturdy aluminium-tube ensures that the unit will be able to endure all the daily wear for a long time. The kickstand is also designed in a way that scratches and scrapes your son would get from falling is minimized.

The Boost Creative Toolbox enables kids to learn how to program a robot. This toy comes with 847 pieces that can be used to build five different types of robots — including a guitar and cat. Using the free LEGO Boost app, they can code in order to make cool things happen. It is child-friendly featuring bright colours cartoon / artistic renditions of the BOOST models, and Vernie, the anthropomorphic robot.

The Wonder Workshop Dash helps promote STEM skills and keep kids busy for hours using the five free apps that it comes with. It builds your kid's creative skills and gives them increased confidence. Amazingly, your kids will easily get comfortable with all of Dash's functions, and then they can explore various levels of robotics and coding. It is compatible with both Apple and Android systems, and it is currently used in about 200,000 schools.

The Nintendo Switch is unique it can be played at home or on the go. The handheld mode also allows your kid to carry on with the game wherever they leave it, so there'll be no worries if you need them to get something done in the middle of their gameplay. It comes with a hybrid console that offers an exceptional level of handheld graphical quality. Your kid would absolutely love this toy.

Almost every 7-year-old boy would absolutely love this toy. With 4 different modes, your kid has the best edge on his playmate. You can remove the stock with the flip of a switch or use it to steady your shot. It comes with a barrel extension to help your shots become more accurate over the age.
Your kid would love the Nerf N-Strike Elite Retaliator Blaster for its unique on the move shooting. They also have the option to shoot clear across the battle area. The 12 darts quick reload clip is amazing for getting shots off and slamming another clip in.

If your son doesn't already have this toy, now is the time to get it for him. Minecraft is a popular game with young children as they are offered the opportunity to create their own worlds. This LEGO set shows just a small piece of the Minecraft world complete with Steve, mum and a baby zombie, and a little bat too.

If you want to gift your 7-year-old son a stylish, fast scooter to ease his everyday life just a bit more, the Razor E100 electric scooter is one of the best options for you. It comes with  24 volt sealed lead rechargeable battery, 8-inch pneumatic front and back urethane wheels, a light-weight frame equaling 120 pounds, a kick start motor that can cruise at a speed of 10mph and a super-quiet motor that is by default chain-driven. There is also a front brake so your child can slow himself down when he needs to.

LEGO is one of the best gifts for 7-year-old boys, and this kit allows them to build a full T-Rex with an opening mouth. The model isn't just a T-Rex design. In fact, the T-Rex can also be turned into a Triceratops or Pterodactyl. Inside the bag, you'll find two bags, and three instruction booklets, one for each model.

The LEGO City ATV Race Team sets are perfect for younger kids who want to play with their LEGO, as these sets are a bit more durable than the standard ones. This set features two ATVs, a pickup truck, a trailer hitch, a pickup bed with adjustable ramp, and a detachable trailer with adjustable ramp. It also comes with helmets, fuel barrel and a spare tire.  In addition to these, this set includes two ATV rider mini-figures. This one allows you to build a pickup truck, complete with ta railer to put the quad bike on.

The Nerf Walkie-Talkie allows your kids to keep in contact with their teammates during a Nerf battle. The product features a sporty design and functions at a 10-mile range under optimal conditions. These walkie-talkies have some pretty cool features that make them stand out from other toy walkie-talkies. They come with an LCD screen on the front of each that displays the battery level, and the volume level. Your kids would absolutely love the excellent range and sound quality of these walkie-talkies.

Blokus is a simple game to learn but has a lot of depth to it. Players are given a set of colored Tetris-esque pieces and in turn, place them on the board in the hopes that they can get rid of all of them before the game ends. This game forces players to think ahead and to adapt to the current situation, and as such your kids develop critical thinking skills as they are being forced to think outside the box. It is also good for the family.

The Roaring Ice Dragon from Robo alive is one of the hottest toys of the holiday season. It would make a great gift for your 7-year-old son because of its realistic actions that include roaring and walking. It also features cool LED lights that your son would find appealing.

The K'NEX – 35 Model Building Set allows your kid to develop his creative and imaginative skills. It helps them develop a great connection between their eyes and their hand, as they construct interactive models, such as trucks, helicopters, and airplanes. It comes with a handy treasure set that ensures convenient storage.

The Hidden Side Graveyard Mystery is quite impressive because it's interactive. It combines traditional LEGO play with augmented reality (a.k.a. AR) using an app. With it, your 7-year-old boy can unlock even cooler ghost-hunting features. However, it should be noted that you'll need a phone or tablet for kids to take advantage of the AR feature.

This is an excellent board game for family game nights, which can be played anywhere from two to four players. With three categories (food, animal, or thing), it's easy to start narrowing down the possibilities—but it's the accurate details that will waste a lot of time. You have to be clever with your questions and quick with your clues to win. You try to guess what cartoon is on your headband (so you can't see what it is) and get one minute on the timer to figure out what it is. You can only ask your teammates yes or no questions. This is an excellent game for kids that want to improve their critical thinking skills.

With this, your kid can have fun even inside the house. It is compact enough to fit perfectly over most doors, and it comes with a mini rubber basketball that you'll just need to inflate. A quarter-scale replica of the official NBA backboard, it has a clear, durable board and steel breakaway rim.
No products found.
No products found.
No products found.
This interactive game tests your child's spy skills by challenging a team to work together. They must complete three exciting tasks in order to set the captured player free before time runs out. Players only have a certain amount of time to set free whoever was captured. The set comes with everything you need to transform your home into an escape room, like handcuffs, mazes, locks, and more. Your kids will absolutely love to play with their friends with this.
No products found.
No products found.
No products found.
These durable soccer goals come in sets of two, and as such, your kid can play with his friends. They come in three different sizes and six different colors. The pop-up design makes them easy to store and transport, and you will only need to expand them when it's game time.

The classic Jengawood game will challenge your son's mental and physical skill. He needs to be the last player to remove a block without destroying the tower. He can play alone or with other players, but either way, it's a fun game that involves strategic thinking. It would also improve their confidence while growing.

Wits & Wagers Family is the family version of the most award-winning party game in history. This edition is simple, has less downtime and is more portable than the original Wits & Wagers.  It comes with 125 cards filled with family-friendly questions. You need at least three players to start, which makes it appropriate for playdates and family game nights.
No products found.
No products found.
No products found.
If your kid likes to experiment with things, this is the toy for him. This fun science set will teach your kids how electricity works. Using the snap-together pieces, they'll be able to design and build working electronic circuits which can power sirens, lightbulbs and more.
No products found.
No products found.
No products found.
Hamper Hoops by Wham-o is a basketball hoop and hamper that can be attached to any door. It provides kids with a fun way to keep their dirty clothes off the floor. Simply attach the hoop over the top of the basket and encourage your children to throw their clothes into the basket through the hoop. This way, they have fun while keeping their rooms tidy.

If your 7-year-old son has a thing for  robotics, this 3 in 1 robot model from LEGO is a must-have. The robot has working tracks and arms but that's not all. You can rebuild him into a robot dog with a jetpack or a robotic bird with light-eyes.  The robot is propelled by using some technical parts to link two sets of cogs that are in turn covered in track, which means the robot explorer can move about quite smoothly as well as move over uneven surfaces without major incident.

Bunkers by Blaster Boards is an exciting option for your son and his friends. Set these up anywhere and you'll instantly have a battlefield for them. Whether you choose inside or outside, they're guaranteed to have a good time. With these Lego-like building blocks, your son and his friends can spend endless hours building bunkers and targets for their Nerf play, building practically any structure. It can be used during hot weather with water guns or in cooler weather by playing laser tag.

The Nerf Sports Dude Perfect Smash Football set is the perfect way to pass time on a warm afternoon with friends and family. This set is designed to make it easier for kids to perform "trick shots" like the ones they see online. In addition, it comes with a football that is weighted really well. Your kid simply hits the target with the ball to score points or you can also try and perfect ball skills. Just make sure someone is counting scores so you know who is winning. If your kid loves soccer, he'll absolutely love this one.
---
Toy Buying Guide
Many of the toys on the list do not only keep your kids entertained, but they also educate them, help them develop critical thinking skills and ensure that they grow up knowing what it means to have a healthy competition. Other than this, these toys help your kids develop social interaction skills that they would need even as they grow older.
To these ends, buying a toy for your 7-year-old son shouldn't be for entertainment alone, they should be able to pick up one or two educational benefits.
---
FAQs on Toys for 7-Year-Old Boys
What toys can help my son's development?
Lego, board games, activity books, soccer, robotics, child-sized vehicles, and ride-on toys help build strength, confidence, balance, and creativity.
What is the most popular toy for a 7-year-old boy?
There are so many amazing toys to select for your 7-year-old son, but LEGO is probably the best. The good thing is they come in different sets with various things to build.
(Visited 42 times, 1 visits today)