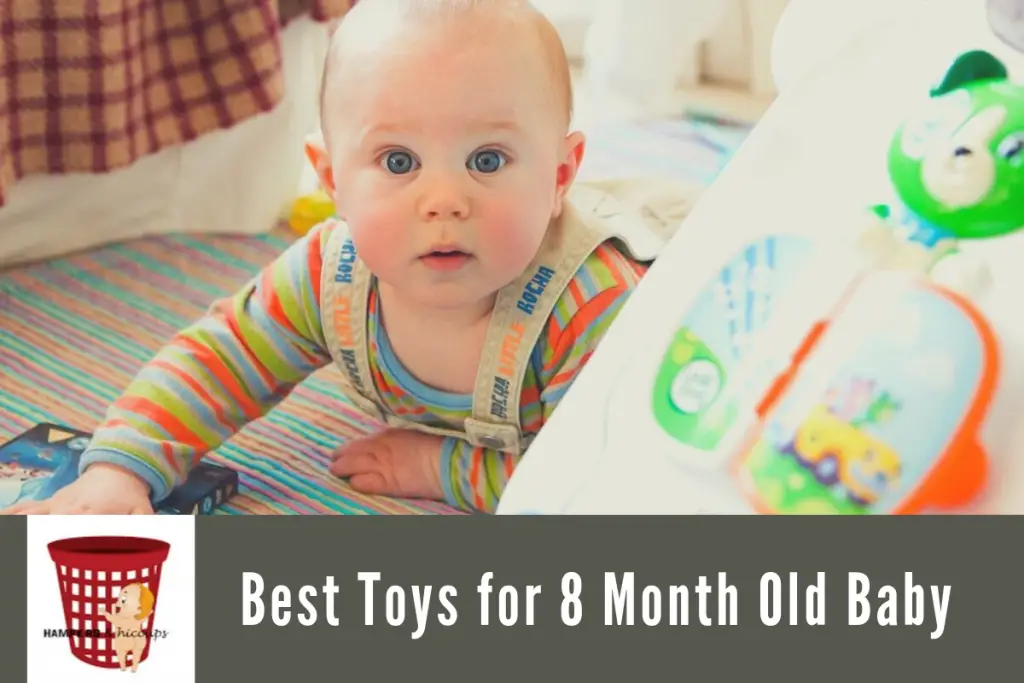 You love your sweet little bundle of joy more than anything in this world, and you'll do anything to keep him/her happy and content! However, babies of all shapes, sizes and colors are different in many ways, including their happiness and level of content. Newborns pretty much sleep, cry, eat and poop, and 1 month old to 6 month olds do basically the same, but they're more alert and have begun trying to be mobile. By 8 months, most kids are crawling, babbling and even eating some solid foods– therefore, they begin requiring more entertainment than just playing peekaboo! In this case, you'll want to invest in the best toys for 8 month old to play with so that he/she can be a little more self-entertained, and maybe even learn a little along the way, too!
Obviously, you wouldn't be leaving towards action figures, skateboards or Barbies, like you would with an older child; younger babies rely on more stimulating, noise making gadgets to help develop brain growth, reflexes and dexterity. There are literally hundreds, if not thousands of options to choose from, so you may be at a loss as to where you should start your search of baby toys, which is where we come in to save the day!
Today, we will explore different types of toys you can potentially pick for your child, so you can decide which is best for your unique baby. No kid is alike, so not every toy will keep their attention; you'll need to keep in mind your child's developmental progress he or she has already achieved to know what toy(s) will best suit them!
---
Top 9 Best Toys for 8 Month Old Babies: Our Picks

Features
This multifunctional, educational toy has tons of features and amenities perfect for your little one! This cube has 5 sides, with 14 unique features, including twist and spin toys, musical instrument names and sounds, animal names and sounds, light up buttons and colors, and MUCH more! Also, whenever your baby touches or moves the cube, it starts playing music and making noise to attract your baby's attention. This is Amazon's Choice, and could be the perfect option for your baby!
Pros:
Great for a wider range of ages (6 months-3 years)
Tons of features including music, shapes, colors and sounds
Very educational
Stimulating visually, by touch and by sound
Cons:
The toy itself is hard, so you'll need to watch closely so your baby does not injure themselves. It is unlikely, but still a possibility
Not the most convenient to bring on the go

Features
Your baby will love these little stackable cups, and they don't even come close to breaking the bank! While this is the cheapest of all the options, they are still versatile and have a few different purposes. They're super easy to play with and although they may seem simple, they are very fun for a young baby!
Pros:
Easy to take with you on the go
For use during regular play or bathtime; they have holes in the bottom, so your baby can fill them with water, then watch it trickle out of the holes!
They are colorful and help develop hand-eye coordination and problem solving skills
They are numbered on the bottom, for counting and number practice
Cons:
They are small and not connected, so they can be lost easily
There are no noise-making qualities, so they may not hold your baby's attention for extended periods of time
The cups are small (not small enough for your baby to choke on, but still small)

Features
Used as a stand-alone table, or a floor toy, this neat gadget is perfect for kids from age 6 months to 3 years old! VTech is one of the leading brands for baby and kid toys, and this is one of their best by far. If your baby has already started pulling up by themselves, you can keep the legs on to have it sit like a table; if your child hasn't quite hit that milestone yet, then you can detach the legs and use it as a floor toy until your baby is ready to pull up.
Pros:
There is a wide variety of sounds and music to not only entertain your baby, but educate them as well
Some properties of the toy are: an interactive book that tells nursery rhymes, a steering wheel, toy phone, gears, music and tons of lights and colors!
When used as a table, it can encourage and support pulling up and standing independently
Grows with your baby
Has an English and Spanish setting
Cons:
While the toy comes with batteries, they will need to be replaced with new batteries after purchase
The table is known to not be incredibly sturdy
Younger babies that use the table as support may tip the table over, so only allow your baby to play under supervision

Features
Your baby will be inspired to love music for their whole lives with toys like this! This neat little toy packs a punch with all sorts of classical music options to get your baby's brain going strong, and it also has benefits for cognitive skills and a little hand-eye coordination. This is one of the cheaper options, but not quite as cheap as the stackable cups, but it won't hurt your wallet one bit! Compared the reviews of the other products we've visited, these are some of the best.
Pros:
Includes songs from big names in classical music, such as Mozart, Rossini, Chopin and Vivaldi
Helps with grasping and teething
Acts as sort of a "baby MP3 player"
Volume control and high-quality sound are great for both baby and parents!
Great for traveling and long car rides
Cons:
While this isn't really negative, you may be looking for a toy that provides a bit more variety, and this one is strictly music based
Comes with batteries, but will need to be replaced when purchased

Features
The design is simple, but the potential is great! This award-winning gadget is perfect for kids aged 6 months-3 years, and is built to last just that long. With all sorts of features like colored LED lights, music, animal sounds, numbers and the alphabet, and different musical instruments, your baby won't get enough of this toy!
Pros:
Tons of different entertaining yet educational features listed above
Sleek, versatile and simply designed
Easy to bring on the go, or play with at home
Wide variety of different sounds, songs and instrumental sounds
Engaging, stimulating and curiosity-peaking
Shuts off automatically after 2 minutes of no play
Engages a large span of age groups, from 3 months to 3 years!
Cons:
Only has an English setting

Features
Mrs. Toaster may be pink and cute, but she is for anyone and everyone ages 8 months to 2 years! Your son or daughter can practice helping out in the kitchen by making "toast" for everyone. Comes equipped with your choice of jam, honey or peanut butter, and a setting for either light or dark toast. Your child will feel like they are really making food with this fun toy!
Pros:
Endlessly fun to play with
Fun little buttons and different "settings" for your toast
Plays cheerful music, sound effects and other noises
Has a timer knob and an LED light
Easy to use for even the littlest of toast makers!
Cons:
Not technically "gender neutral", since it's pink– but really either gender of kids can play with it
Only a couple of different features available, mostly relating to toast

Features
Roll around with this ball of fun, made by KiddoLab! Your baby will have four different cute little jungle animals they can interact with, along with other different interesting and stimulating activities. There are many different educational and entertaining experiences with this toy!
Pros:
Your child can set it on the floor and roll it around
Several different settings, with sounds and music that provide an understanding of animals, colors and shapes
Promotes, develops and supports baby's fine motor skills
Cons:
Not really entertaining for children over 12 months old
No batteries included

Features
This set of 10 has a wide array of different individual toys so your baby has plenty of options to choose from! They all range from rattles, teethers, music makers and more!
Pros:
Lots of toys instead of just one
Bright and colorful
All rattles and teethers are each uniquely shaped, with different grips and tasks to help develop motor skills
Cons:
There are several pieces so it may be difficult to keep them all together

Features
Some babies start showing signs of wanting to walk around 8-10 months, so if you're wanting to speed up that process, you can try out this sit-to-stand walker! It converts from a walker to a ride on toy, and your child can both play with all of the fun buttons on the front, or hold onto the handles on the back so they can learn to walk!
Pros:
Convertible, so it grows right alongside your baby!
Lots of different fun games and features on the front, with a handle up top so your baby can practice walking with support
Kids can use for a long time; after they learn to walk, they can use it as a ride on toy
Cons:
Your baby may not be ready to walk, even with support, BUT you can still let him/her play with the games and toys on the front of the walker
---
Need to Know About Toys for 8 Month Old Babies
As you probably already know, not every toy is perfectly suitable for every baby. Some babies respond more positively to sound, some to touch, and others like the visual effects of certain gadgets. You know your baby better than anyone in the world, so it's ideal that you pay attention to what type of stimulation your baby prefers before deciding which toy to go with.
Another thing you may be concerned with is your baby's gender. Realistically, whether your baby is a boy or girl, they likely won't care if their toys are pink or blue or yellow, or whatever! Sure, they have those color options for a lot of toys, but there are also a ton of toys that are "gender neutral", if you are really that worried about your kid playing with toys that are the colors that conform to their gender. Your baby doesn't care, I can assure you!
One last thing to keep in mind is whether or not you travel a lot, and if you're looking for toys that are ideal for frequent travel, as well as playing at home. Some toys are made of felt or fabric, or come apart conveniently so you can bring them with you on the go. Others are larger, heavier and are not fit to be taken with you everywhere you bring your baby. Definitely consider how often you travel, and choose your toys accordingly!
---
Verdict
After looking through all of these best toys for 8 month old babies, there are a few that are most ideal for different babies of all ages, not just 8 months– but these types of toys are ones your child is most likely to respond to at that age. Out of them all, we believe the most beneficial toy for an 8 month old baby would likely be VTech's Magic Star Learning Table!
This product has the most variety of different things to both keep your baby's attention and entertain them at the same time– with all the lights, sounds, music and other features available on this toy, your child won't ever want to stop playing!
Sale
VTech Magic Star Learning Table (Frustration Free Packaging), Yellow
Activity table has 6 fun activities in English and Spanish encourage your child to explore and learn
Learning table has a turning steering wheel to drive the bear around the activity table; flip the included electronic learning book pages to hear nursery rhymes
Press the light-up music buttons on the gear toy to play music and learn about colors; pick up the pretend baby phone and press the number buttons to call animal friends
Last update on 2022-09-27 / Affiliate links / Images from Amazon Product Advertising API
(Visited 317 times, 1 visits today)