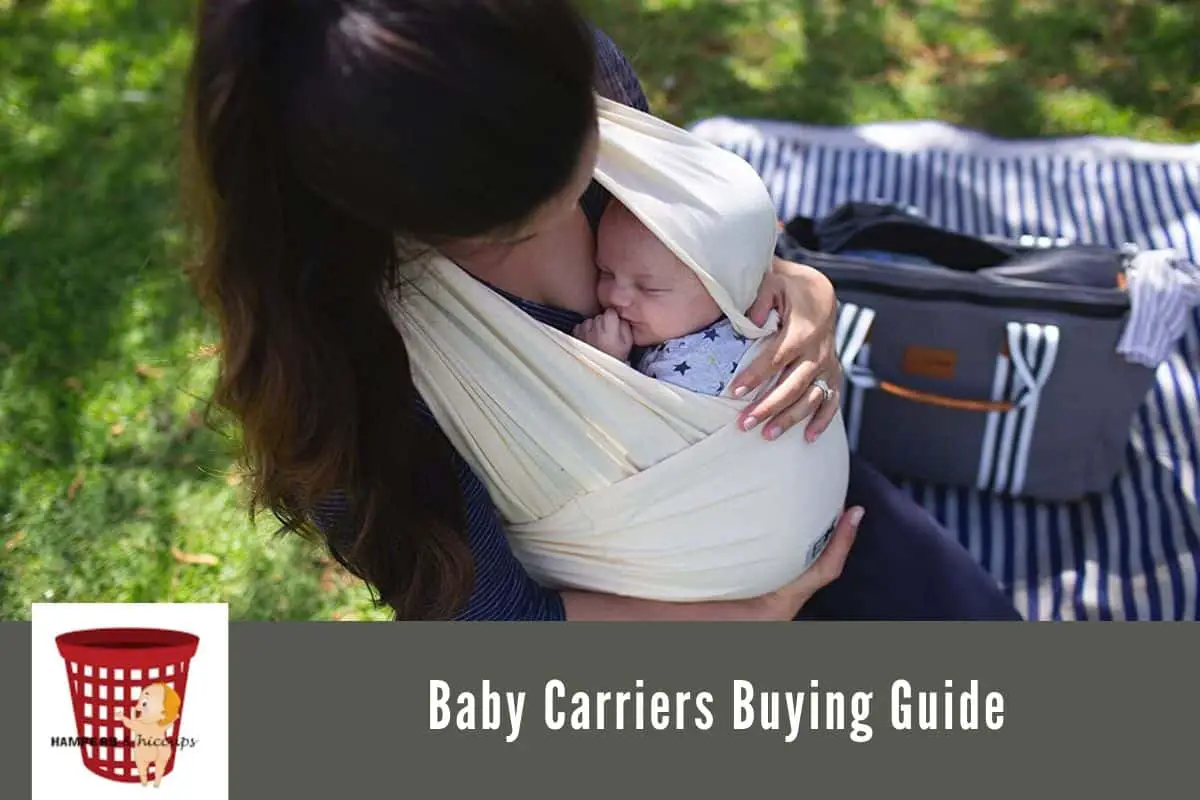 Ever seen a Mom using a baby carrier? You watch as her baby sleeps comfy and happy in an effortless cuddle. And mom's hands are free to do anything she wants. No pushing or carrying with both hands, just a perfect bonding synergy. It's probably that cool mom who always seems to have it all under control.
Well, with a baby carrier you can also enjoy the many benefits of carrying your child without actually carrying your child. With a baby carrier, you get to keep your baby close to you while you get things done. Sounds too good to be true, yeah? Well, it is true, and that's not all. The baby carrier comes with a lot of extra benefits and features that make it a perfect asset in the care of your child. Some parents have gone as far as referring to their baby carrier as companion or lifesaver. Now, I'm not saying you have to name your baby carrier but after a few months of use, I can bet you would share in their sentiments.
Benefits of Baby Carriers
Baby carriers come with numerous perks and benefits, some enjoyed by certain parents than others. How well you enjoy your baby carrier depends on, the carrier you choose and how much you know about your baby carrier. Reading the owner's manual on your baby carrier would go a long way in helping you cash in all its benefits. But before you go into the market with your precious cash let's take a quick walk through the benefits.
A baby carrier frees your hand up to do other things while keeping your baby close and comfortable.
Baby carriers are lighter than strollers and car seats. With a baby carrier, you feel like you are carrying your baby, not your baby and extra pounds of plastic and fabric.
Moving through crowds, public places, tight corridors e.tc is a million times easier with a baby carrier.
The closeness and physical contact a baby carrier provides help you create a stronger bond with your child.
Carrying your baby regularly improves their comfort and lowers their stress level. Studies have shown that carried babies tend to cry less than babies who aren't carried
Check out the benefits when using baby carriers for plus size moms.
---
Types of Baby Carriers
There are three types of baby carriers, each with their pros and cons. Each type of baby carrier has its area of specialty and what sets it apart from the rest. However, all three types offer the same service except for a little twist. Whichever type of baby carrier you choose you can be sure to find good products in that line.
The three types of baby carriers are
1. Wraps
You have probably seen this on a few mothers. Like their name implies they look like wraps, simply carrying your baby in a snug comfortable womblike wrap. There is no better word to describe this baby carrier other than "wrap".
It is a wide rectangular piece of fabric worn around your body and over both shoulders to accommodate your baby. Its swaddle-like designs are loved by newborn babies as it mimics the womb-like feel they are used to. It is the perfect choice for your newborn baby and infant. Most babies sleep off after five minutes in the wrap. So asides from being a baby carrier and pacifier wraps come in very handy when you want to put your baby to sleep. The warm comfort of your body and the wrap is a watertight recipe to induce sleep in your baby.
However, the wrap has a few shortcomings. First, you need to learn the proper origami folding patterns. With a few YouTube tutorials and reading the manual, you would easily become a pro but until then, it's a gymnastic level struggle.
Another major disadvantage of the wrap is its short term longevity. Though the wrap is excellent for infants, as your baby grows the wrap changes from comforting to confining. Toddlers like to explore and feel free in their carrier, this isn't offered by wraps.
Check out our guide on the best Mei Tei carriers, which are essentially wraps.
2. Ring Sling
A sling is a wide swath of fabric worn across your torso and loops through two rings on your shoulders. The major advantage of the sling over other baby carriers is its simplicity and ease of use. You just wear it over your shoulder and sit your baby in the pouch.
You can easily adjust the capacity by reducing or increasing the fabric that goes through the ring.
The sling also comes with an awesome feeding perk. It is the only type of baby carrier that permits you to breastfeed while carrying your baby.
Like the wrap, the string has its shortcomings, one of which is its low capacity. Although, excellent for infants and newborns the sling isn't comfortable for toddlers. It's a bit confining for their legs and their weight becomes too much for one shoulder. Therefore. as your baby grows out of infancy into toddlerhood the sling becomes uncomfortable for both you and your baby.
3. Structured Carriers
In a fine combination of safety, ease of use and comfort the Structure Carriers are the most popular type of baby carriers. This Structured Carriers are usually designed with toddlers in mind. Some Structured Carriers come with an infant fit allowing you to use them from your child's birth to toddlerhood.
With padded straps and waistbands, the structured carriers give more support to help you cash in on that high weight capacity comfortably. Although, not as comfy as the straps and the strings, Structured Carriers have extra padding ensuring your baby's comfort.
Make sure to check out our article on the best baby carriers for flying.
---
Baby Carrier Buying Guide
Now that we had run through the benefits and explained the different types of carriers, you are probably thinking of buying your baby carrier. So, the question becomes how do I choose the right baby carrier for me and my baby? With a lot of brands and a lot of products selecting a baby carrier that checks all the boxes can be a real hassle. Like walking through a maze with countless similar baby carriers hanging on the bushes.
Therefore we have deemed it necessary to point out the major factors to look out for. With these major factors in mind, you would find it easy to sieve out the quality baby carriers from the subpar ones.
Safety
This is the most crucial factor to keep an eye out for. Before selecting your baby carrier, be sure to check if it's fabric and straps are of top quality. You must also clarify the weight capacity as well as its age limit. If your baby carrier is made out of weak fabric or you exceed its weight limit you might end up putting your baby in harm's way.
Constantly check for wear and tear. Baby carriers don't just suddenly get damaged, it's a gradual process. Once you start noticing tears and holes it's time to change your baby carrier or stop carrying altogether.
Comfort
Comfort is super important. Its what determines if your baby carrying experience would be a blissful walk in the park or a back-breaking torture session. The softness of the fabrics, shoulder pads, seating positions, arable fabric e.t.c when it comes to comfort there is a lot to look out for.
The fabric must be comfy and arable but yet strong and easy to wash. The baby carrier should allow numerous seating positions that ensure that weight is evenly distributed and your baby is sitting in a healthy M-shaped position. The straps should be well padded to avoid strap marks and unnecessary neck and shoulder pain.
Durability and Longevity
This comes down to two things quality and weight limit. When selecting a baby carrier it is best to go for a carrier that would grow with your baby. A carrier with a low weight limit can only be used for a month before becoming uncomfortable. Another thing to look out for is the quality of its design and the strength of its fabric. A baby carrier with a wide age range is only useful if it's durable. Weak materials depreciate fast. What use is a baby carrier with a 4-year age limit if it wears out in 2 years.
Ease of Use
Straps, slings, knots. Different baby carriers work on different systems. While searching for a baby carrier always look out for one that wouldn't be a hassle to put on every day. Spending 20 minutes tying and strapping a baby carrier is a frustrating way to spend your morning. The ideal baby carrier can easily be worn or adjusted without stress or physical strain.
You should also look out for how easy it is to wash the baby carrier. Some baby carriers are machine washable while others can only be dry cleaned. Some wraps have been known to shrink when thrown into the washing machine. Therefore, always read the wash and dry instructions. Ensure that the instructions suit you perfectly before buying your baby carrier.
---
Best Baby Carriers: Top 5 Picks
There are over 250 different baby carriers in the US market. Each of them with a different and sometimes very similar package to offer. With this in mind, we have gone the extra mile to select 5 baby carriers that are at the top of the baby carrying pyramid.
Each of these baby carriers are market leaders and offer a lot in terms of safety, comfort, ease of use, etc. To sum it all up they check all our boxes and have earned the position of top pick.

At the top of our list is the Baby K'tan Original. This baby carrier stands tall as one of the most easy to use baby wraps. While most wraps are a bit of a hassle to set up for use the Baby K'tan slips on like a tee-shirt.
The baby K'tan has a double loop that ensures that your baby is secure and sitting in the right position. Made out of 100% cotton the Baby Ktan is both soft and snuggly keeping your baby in a comfortable and peaceful wrap.
Another lovely feature of the baby K'tan is its wide weight range. The weight limit of the Baby K'tan is 35lbs. With that, you can use this carrier for your baby from birth till age 3. Despite all these awesome features, the Baby Ktan is still one of the most affordable Baby carriers in the market.
Pros 
Very comfortable
Easy to use and maintain
Multiple baby carrying positions
Simple design
Cons
Fabrics tend to loosen with time
Very expensive
Customer Sentiments
Customers have nothing but total love for the K'tan. With an impeccable rating, no bad word has been said about this baby carrier.

Coming in as a close second is the Lillebaby complete All Season Baby Carrier. This baby carrier like the name implies is truly suitable for all seasons. The secret to this awesome perk is in its back panel. The Back Panel of the Lillebaby has two layers of fabric. In hot weather, you can easily unzip the first layer revealing the second arable layer for air to flow in and keep your baby cold. On the other hand, when the weather seems too chilly for your baby you can easily zip the back panel covering your baby up with a thick layer. This would create a thick double layer cocoon for your baby, keeping him warm and safe.
Asides being adjustable to any temperature the Lillebaby is also very comfortable. With a wide weight range and well-padded straps, the Lillebaby is comfortable for both you and your baby irrespective of age or size.
The Lillebaby has a weight limit of a whopping 45 pound, therefore you can carry your baby comfortably in this baby carrier from birth till age 5
Pros
Very light
Soft and comfortable fabric
Affordable
Six carrying positions available
Cons
Slightly difficult to strap on
Customer Sentiments
Customers loved the Lillebaby for its unmatched comfort. Some parents confessed to sleeping with the Lillebaby on as it was very comfortable and weightless

The Ergobaby is yet another baby carrier that stands out in the wide mountain of wraps, slings and structured carriers. This soft structured carrier is all about comfort and ergonomics. The Ergobaby ensures that your baby is always comfortably seated in the right position while keeping you pain-free and happy. With a backstrap as well as a waistband the Ergobaby is designed to share your baby's weight evenly.
The straps of the Ergo baby are easy to wear and even easy to adjust making it one of the most comfortable easy to use Baby Carriers in the market. If you would be doing a lot of walking and commuting with your baby in a baby carrier then the Ergobaby is hands down your best choice.
Pros
Six carrying positions available
Machine washable
100% cotton
Very comfortable
Cons
Requires baby insert for infants
Customer Sentiment
Most parents didn't mind having to buy the baby insert. Parents loved the Ergobaby as it assured them of their baby's health and comfort.

 When it comes to thoughtful perfectly executed design the Infantino Flip 4 in 1 Convertible is in a class of its own. While other carriers are fine with increasing their carrying capacity by making use of stronger materials, the Infantino went the extra mile and made a baby carrier that is as comfortable as well and accommodating.
Instead of the usual purchase of a baby fit to make a baby carrier comfortable for your newborn, baby the Infantino design allows you to adjust the carrier to suit your child's carrier weight. By adjust I don't mean straps and buckles, the Infantino flip allows you to adjust the seat to cater to your baby's size. At a young age, you want your baby's legs to be ticked in and save. However, as they grow you would want their legs out and free with enough room to wiggle. The Infantino Flip is designed to make this transition easy and painless
Parents aren't left out in the pampering of comfort, with extra padded waist and shoulder straps you wouldn't. The shoulder straps are also adjustable to accommodate any body type. With the Infantino Flip 4 In 1, you and your baby's comfort is a given.
Pros
Wide weight carrying capacity
Ease to use
Very comfortable
Multiple carrying positions
Cons
Customer Sentiments
Isolated reports of back pain
Customer Sentiments
With its adjustable design, this baby carrier has warmed its way into the hearts of countless parents. Parents find it easy to use this baby carrier from their child's birth until toddlerhood and even use it for more than one child at a time

For our final pick, we felt it was only right we went back in time. Well, not really back in time more like back in tradition. The Infantino Sash Wrap and Tie offers a traditional design from the sash ages. In a bespoke combination of modern and traditional, the Infantino Sash is both flexible and secure. If you like the old school baby carrying style then this is your best bet.
This baby carrier asides its soft and arable polyester fabric also has a detachable hood. Therefore, your baby's heat is always in check.
Pros
100% cotton
Machine washable
Very flexible
Cons
Strap may be too thick
Unsafe if straps are not properly tied
Customers Sentiment
Customers love the Infantino Sash for its style and comfort. The ability to firmly tie the straps went a long way in making parents feel secured.
---
FAQ
Can I carry my newborn baby in a baby carrier?
Yes. Most baby carriers are designed to meet the needs of newborn babies. However, you must remember that the muscles of a baby's neck aren't strong enough to fully hold the weight of its head. Therefore, for a newborn baby be sure to pick a baby carrier that provides neck and head support. Sometimes this might require you to buy an additional item.
Are baby Carriers bad for Babies?
No. However, like most child care equipment, a good baby carrier is excellent for your baby's comfort and safety while a bad one can damage your baby's posture and joints. Therefore, you must select the baby carrier that keeps your baby's legs in the recommended M-shaped position.
Is it safe for my baby to sleep in his/her carrier?
Yes. It is perfectly safe for your baby to sleep while attached to you in his/her carrier. However, make sure to read the manufacturer's instructions on how to keep your baby safe and which positions are most advisable for sleep.
---
Comparisons of Baby Carriers
There are a TON of products out on the market. It is difficult to figure out which one is right when comparing similar features. We do the hard work of comaring some of the best products on the market in individual and head to head reviews. Check them out below:
---
Verdict
Selecting the best baby carrier that fits all your dreams and wants might be hard to find. However, it is worth it. With the right baby carrier, you can enjoy all the awesome benefits of a bay carrier while keeping your baby safe and happy.
Any of our top picks would surely provide an excellent customer experience. However, only you can choose what's best for you. So while our picks are good it's left to you to select what fits you perfectly. Turning a good pick into a perfect pick.
It is advisable to consult with your doctor before selecting a baby carrier, especially if you have any back or otherwise related medical history. It is better to be safe than sorry. Therefore, don't hesitate to make that call and be sure of you and your baby's safety as regards a baby carrier.
(Visited 118 times, 1 visits today)