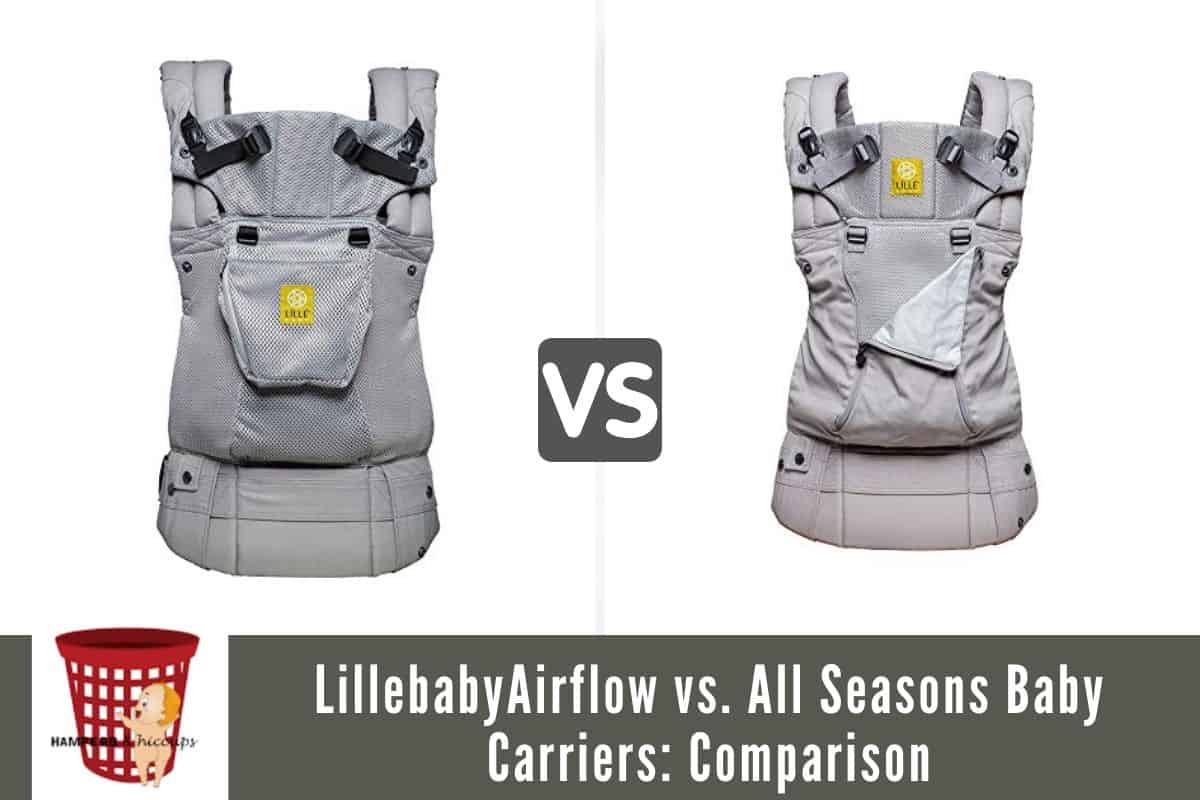 Baby carriers are important to parents of newborns as they provide a convenient means of having your baby close by, without having to carry them in your arms. There are various shapes and sizes of baby carriers available on the market. Thus, if you're looking to get a baby carrier for your infant today, you'd be glad to know that there are a good variety of options to pick from. It is also important for parents to know that the choice selection of a baby carrier is almost entirely dependent on the baby – it is most reasonable to get a carrier that best complements the weight and size of your newborn. This article features a detailed comparison between two products from the same manufacturer.
A renowned company in the baby gear industry, Lillebaby has an impressive assortment of baby carriers on the market. The focus here is on the Lillebaby Airflow vs All Seasons baby carrier. Despite both products coming from the same brand, we look at the contrast in their ergonomics and distinct features.
---
Main Differences Between Lillebaby Airflow vs All Seasons
Material Design
The main emphasis on the difference between the two products lies predictably in the design. The Air Flow Baby Carrier is made of a soft 3D mesh which is constructed in a way that is easily penetrable by air, to help keep your baby cool. This makes it the more preferred option when the weather conditions are relatively warm. As its name implies, the All Seasons Baby Carrier, on the other hand, allows you to freely regulate your baby's temperature with the help of a zip-down panel in front of the carrier.
Pocket Storage
They both have pockets where you can store a few items on-the-go. That of the Air Flow Baby carrier is sizable and allows you enough room to fit in most of your handy baby items while the All Seasons Baby Carrier has a slimmer zip pocket that wouldn't hold quite as much.
---

The Lillebaby Airflow has a fully breathable and well-ventilated body, made from soft 3D mesh to provide maximum comfort for you and your baby as you move around. It has an oversized zippered pocket that allows you just enough space to store some of your important baby items, ensuring that your hands are left free most of the time.
Offering six carrying positions for your baby, the Airflow is very easily adjustable – possessing straps that adapt seamlessly into any of these positions. It has openings that allow your baby's legs hang freely while providing adequate hip support and healthy spine posture; and also includes a head and neck support. It's most distinctive feature, however, remains extreme breathability which promises maximum cooling effect for you and your little one, even in summerlike weather conditions.
Pros
The premium breathability characteristic of the Airflow allows easy air ventilation
The 3D mesh is very soft and ensures comfort for your baby in long carrying periods
It can be used in six ergonomic positions
Its firmly designed waist belt helps ease backaches for the mother or carrier
It comes in up to 14 different wonderful color options
Highly adjustable
It can be used without an insert
Cons
Not very convenient for use in the frontal facing out position
Might feel somewhat chunky for some parents
Customer sentiments 
Parents and caregivers loved the breathability and comfort of the Airflow. There were only a few complaints of some inconvenience experienced in the frontal facing out position.
---

If you'd previously used the Airflow and enjoyed the breathability of the 3D mesh, you'd be delighted to know that the All Seasons retains the feature and interestingly packs even more. It possesses a unique feature that enables parents to easily regulate the temperature of the carrier by zipping up on a control panel for warmth and zipping down to expose the soft mesh material that provides a cooling effect for your infant.
The All Seasons also employs the two-way adjustable straps, neck support for babies and adaptable back panel that parents loved from the Airflow. Made from 100% cotton, it is soft, lightweight and easily washable.
Pros
With its temperature regulation quality, it is ideal for both warm and cool weather conditions
It can be used in six convenient positions
It also has 14 deluxe color options
Very easily adjustable
It requires no extra purchases as it is geared up for use right out of the packaging
Cons
Neck support could be clumsy when not in use
Numerous adjustable straps might feel cumbersome for some parents to deal with
Customer sentiments 
Amidst a few complaints of its chunkiness, the majority of the customer reviews for the All Seasons were positive.
---
Features and Specifications of Lillebaby All Seasons vs Airflow 
| | | |
| --- | --- | --- |
|   | Lillebaby Airflow | Lillebaby All Seasons |
| Product Weight | 2.25 pounds | 1.6 pounds |
| Product Dimensions | 14 x 4 x 11 inches | 11 x 4 14 inches |
| Recommended Weight limit | 7 – 45 pounds | 7 – 45 pounds |
| Carrying positions | 6 | 6 |
| Outer Fabric | 3D mesh | 100% cotton |
| Unique Quality | Breathable 3D mesh for cooling effect | Zip-down front panel for temperature regulation |
| Machine Washable | Yes | Yes |
---
FAQs 
Are these a good fit for petite moms?
Both the Airflow and All Seasons Baby Carriers can easily be worn by mothers with smaller stature as the two-way adjustable straps can alternatively be crossed to give a more suitable fit.
On other note, you can check out our article on the Best Baby Carriers for Plus Size Moms.
What are the weight specifications of these baby carriers?
The weight specifications for both products are the same. It is between 7 to 45 pounds as recommended by the manufacturer.
How can they be properly cleaned?
Cleaning of the baby carriers is quite easy as they are both machine washable.
---
Verdict: LilleBaby Airflow vs All Seasons?
The Lillebaby Airflow and All Seasons share a lot of features. There are also a few differences between them, but they can both be considered as great options for you and your baby.
The Airflow fabric is constructed to support proper ventilation both for you and your child. This unique feature makes it a purposeful acquisition in hot weather.
The All Seasons design slightly differs in that it is crafted to allow you to control the temperature level of the carrier. Easily adapting for either cold or warmer climate, the All Seasons outdoes the Airflow with its distinct characteristic. Nonetheless, the Airflow baby carrier will make for a top-notch purchase – however, if you're willing to shell out just a little more cash, be rest assured of a superior purchase in the All Seasons baby carriers.
(Visited 561 times, 1 visits today)