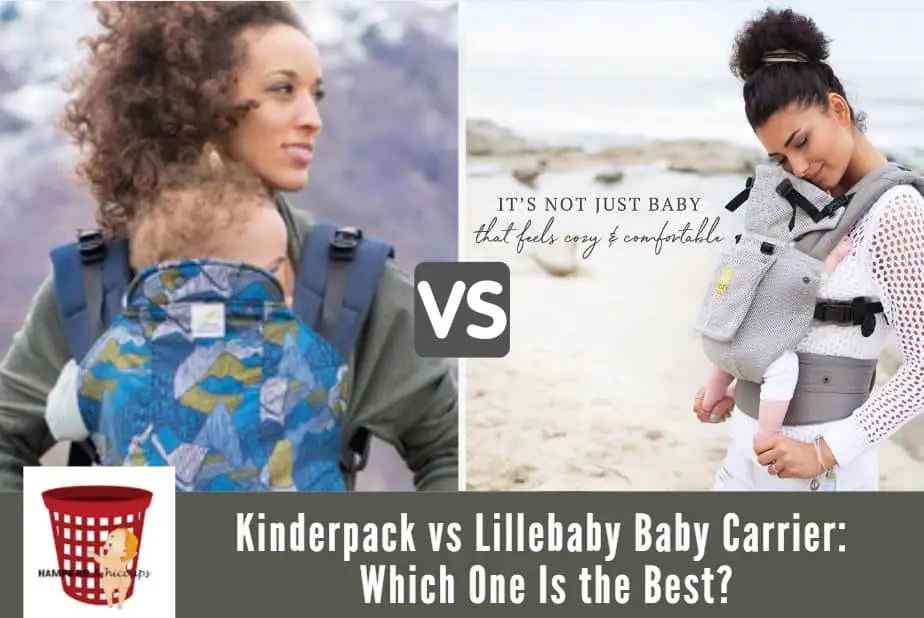 Baby carriers, we want them, babies love them. If you are tired of the stroller and arm-carrying then a baby carrier is the next best thing. Comfort, flexibility and of course safety. All these and many more are offered by baby carriers.
With countless baby carriers available on the market, selecting the perfect baby carrier goes a long way in determining how your baby carrying experience goes.
In this article, we would be looking at two of the top baby carriers available. The Kinderpack vs Lillebaby. Strong contenders that they are, they come toe to toe in this head to head comparison.
Before we go into their differences and give our verdict, we must first run through a detailed description and analysis. You would be the one making the final choice therefore it only makes sense for you to have all the details and information.
Differences between The Kinderpack vs Lillebaby Baby Carrier
Price
The kinderpack is a more expensive bespoke baby carrier than the Lillebaby
Ease of use and adjustability
The Kinder pack is much easier to use and adjust than the Lillebaby. While the Kinderpack carrier has a perfect fit strap readjusting system the Lillebaby leaves you to do all the work.
Comfort
The Lillebaby is the more comfortable baby carrier with more carrying positions and extra padding to keep you and your baby safe and comfy. The Kinderpack is also safe and comfortable but with fewer carrying positions and less padding especially along the shoulder and waist straps.
---
Kinderpack Preschool Baby Carrier Review
The Kinderpack is one of the top picks of most parents. With an excellent brand image and flawless product, the Kinderpack offers both safety and trust. Parents feel safer using the Kinderpack. You might be wondering what makes the Kinderpack so special. It can't just be safe, most baby carriers are safe and secure. What makes the Kinderpack special and lead the pack is its ease of use and comfort.
The Kinderpack invented the "perfect fit" strap adjusters. This places the Kinderpack in a class of its own. With the Perfect Fit automatic adjusters, the Kinderpack tops the chart on the ease of use billboard. The straps on the Kinderpack are easily adjustable so you don't have to struggle to strap up. This comes in very handy if you have multiple infants, you can use the same carrier without having to go through the stress of adjusting and readjusting.
The next special selling point of the Kinderpack Baby Carrier is comfort. When it comes to baby carriers comfort comes in two forms. Comfort for you the parent and comfort for your baby. The Kinderpack baby carrier covered all basis in this section. With multiple sized straps to accommodate nearly everyone irrespective of size, the Kinderpack baby carrier doesn't feel like a noose tying you and your baby in a crunched embrace.
It has a thick waistband to keep your baby in a comfortable, safe and secure position. In the end, your baby is well situated in the Kinderpack and snuggled in a warm comforting embrace.
Pros
Very safe and secure
Comfortable
Easy to use 
Cons
Expensive
Few carrying options available 
Customer sentiments
Parents loved the Kinderpack for its ease of use. Most parents praise the Kinderpack from freeing them of the hassle of readjusting straps. Anytime they needed to use their baby carrier for a different child or let another adult wear the baby carrier the Perfect Fit Strap Adjuster made it as easy as a short walk in the park. With the easy to adjust straps, the Kinderpack accommodates a broad range of infants. Therefore, you don't need to change your baby carrier as your child grows. The Kinderpack is quite capable of accommodating your baby from eight months to three years old. You can also purchase the small fit so your baby can start using it at an even younger age.
---

Safety, comfort, ease of use, and affordability the Lillebaby seems to have it all. With a lot of features targeted at comfort, the Lillebaby Carrier is sure to give you a joyous baby carrying experience. The Lillie baby is made from comfy breathable materials, making it as the name implies an All Season Baby Carrier.
With six (6) different carrying positions available the Lillebaby provides a lot of comfortable options for you and your baby. This affords you to carry your baby through different perspectives of seeing the world. It might not make him a genius but it surely can't hurt. The many carrying positions available also ensures that your baby doesn't quickly outgrow the baby carrier. As your baby's weight increases, some carrying positions would become less comfortable for you and your child. However, with the Lillebaby you can easily switch to a more comfortable carrying position that evenly distributes your baby's weight without sacrificing comfort.
Pros
Affordable
Safe and secure
Very flexible: multiple carrying positions available
Made from Breathable 3D mesh material
Cons
Slightly difficult to use
Material is sometimes scratchy
Customer sentiments
Customers love the high degree of flexibility that the Lillebaby provides. The ability to switch to a different carrying position when one feels too uncomfortable is a major source of joy and relief to most mothers.
---
Compariso Between The Kinderpack vs Lillebaby Baby Carrier
| | | |
| --- | --- | --- |
| Detail | Kinderpack | Lillebaby |
| Positions | 2 | 6 |
| Materials used | Comfy Canvas and Twill | Breathable 3D mesh material |
| Price | Expensive | Cheap |
| Safe | Yes | yes |
| Weight range | 9-47 pounds | 7-45 pounds |
---
FAQs
What is the recommended age for baby carrying?
For maximum safety and comfort, the recommended age for carrying your baby in a baby carrier is between 5 months and 3years of age. Although many baby carriers support a lower or higher age limit, this age range is most optimum in terms of comfort and safety.
Is there a limit to how long I can carry my baby in a baby carrier?
No. Provided your baby is seated in a comfortable position there is no limit to how long your baby can sit in a carrier. Of course, this only stands if your baby carrier is well structured and comfortable. There is also the issue of back and shoulder pain after prolonged carrying. However, as long as you and your bay are comfortable feel free to enjoy the benefits of baby carrying.
Is front-facing baby carrying dangerous
No. wearing your baby in a front-facing position as its advantages. It allows your baby to see the world and explore with his eyes. It isn't dangerous in itself. However, certain situations can make it slightly unsafe.
To be on a safer side do not carry a newborn or infant in the front-facing position. Also, avoid letting your baby sleep in the front-facing position as this can be bad for his neck. As long as your baby is a toddler and is awake, the front-facing position would most likely be his favorite carrying experience
---
Verdict
Both the Kinderpack vs Lillebaby are excellent baby carriers. Your baby's safety and comfort would be secured in any of them. The Kinderpack takes the cake in ease of use and multi-size accommodation. The Lillebaby, on the other hand, reigns supreme in affordability and comfort.
In the end, it all depends on which factors are higher on your scale of preference. If you have one or two caregivers aside yourself who would like to carry your baby in the baby carrier, then the Kinderpack is your sure bet. The Perfect Fit Strap Adjusters would make life easy for you.
However, if you are looking for something affordable while giving you the best comfort then the Lillebaby is your perfect match.
However, in most cases, the Lillebaby is the top pick. Multiple positions, comfort safety, and let's not forget affordability, this is what a baby carrier is all about and the Lillebaby fits the bill perfectly.
(Visited 447 times, 1 visits today)