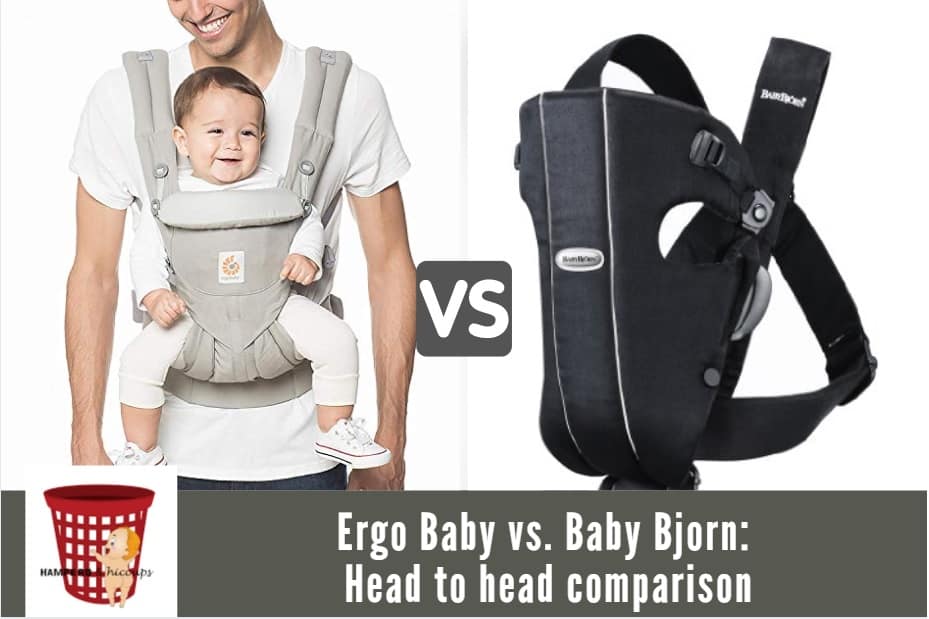 A baby carrier is one super helpful aide to invest in as far as baby care is concerned. It allows you to carry your baby around, keeping them in close contact while your hands are free to carry out any other activity you want to do.
Some parents even prefer it to the use of a stroller as your baby is always in close contact with you, thus it allows you to bond with your baby and also keep a close eye on them easily. However, picking the right carrier for you and your baby could prove overwhelming as there are many great products in the market with a lot of similarities and one could easily get caught in deciding between them.
This article offers an unbiased comparison of two carriers in the market, the Ergo Baby vs Baby Bjorn, perusing their features, similarities, and differences to make your search for an appropriate carrier less daunting.
Differences between the Ergo Baby vs Baby Bjorn carriers
The Ergo Baby and the Baby Bjorn are both great carriers and parents who have used both attested to this. They are similar in various ways, but they also have stark differences that might be deal-breakers for some parents and dissuade them from buying either of them. The differences between them are as follows.
Material: One notable difference between them is that the Baby Bjorn is made of 100% polyester except its leg position zip guard, which is made of 100% cotton, while the Ergo Baby is made of 100% cotton all-round.
Lumbar support: The Ergo baby sports the inclusion of padded lumbar support, which makes it ideal for prolonged babywearing, the Baby Bjorn, on the other hand, does not have lumbar support.
Babyhood: The Ergo baby also has babyhood to protect your baby from the sun, while the Baby Bjorn does not have babyhood.
Variety: The Ergo baby has seventeen different designs available to pick from, while the Baby Bjorn, on the other hand, has just five.
Comparison Table Between Baby Bjorn vs Ergo
| | | |
| --- | --- | --- |
| Features | Ergo Baby | Baby Bjorn |
| Weight Limit | 8-45 pounds | 8-33 pounds |
| Carrying Positions | Front inward/front outward/hip carry/back carry | Front inward/front outward |
| Material | Cotton | Polyester |
| Weight | 1.7 pounds | 1.2 pounds |
| Dimensions | 6.2" ×9.1" ×10.4" | 11.4" ×10.3" ×3.2" |
| Lumbar support | Yes | No |
| Baby hood | Yes | No |
---

The ergo baby is no doubt one of the best carriers in the market as it offers a lot in terms of comfort, safety, and convenience. It has an ergonomic seat that keeps your baby seated in the recommended "M" shape position, which is healthy for your baby, allowing them to grow correctly and not develop any skeletal problems.
The seat also offers up to four carrying positions (front inward facing, front-outward facing, hip carry and back carry) and its width is adjustable, to ensure that it fits well and your baby sits comfortably. This feature also allows it to be adjustable to accommodate the growth of your baby.
Other pertinent features include a lumbar support waist belt that provides maximum support for your back while using the carrier and prevents lower back pain and babyhood to protect your baby from the sun, serve as a headrest and also provide privacy. This carrier is particularly well renowned among parents for its exceptional age range. It can carry up to 45 pounds of baby weight and is therefore usable up to the age of 4, which is far beyond the range of most carriers.
Pros
The babyhood present protects the baby and also ensures privacy. It makes discreet breastfeeding with this carrier possible.
It has exceptional Lumbar support that prevents low back pain as a consequence of babywearing.
It can be used for an infant without an infant insert.
It has a wide age range of 0-4 years.
Cons
It is not very intuitive to use.
Some parents might find it challenging to put on and remove without assistance.
Customer sentiments
Customers were satisfied with this baby carrier some even claim it is hands down the best carrier available in the market. It would be difficult to see any negative reviews on this carrier.
---

The Baby Bjorn is undoubtedly one of the elite products in the market as far as baby carriers are concerned. With its adjustable head support, it is very safe for children of all ages and can be used from birth. It is a small carrier and it is very easy to operate.
Other features of this carrier include a two-part design which allows you to easily unbuckle and lift your baby out should they fall asleep without waking them, mesh fabric that dries easily and is breathable to prevent you and your baby from getting too hot, and adjustable seat width which can be varied to provide maximum comfort for your baby while guaranteeing optimum safety, and to accommodate babies as they grow.
Pros
It has adjustable head support, which is important for infants less than 4 months that do not have neck control.
Cons
The lack of babyhood might be a deal-breaker for some parents.
It has a lower weight limit of 33 pounds compared to the 45 pounds of the Ergo baby.
Customer sentiments
A lot of customers applauded this carrier for its simplicity and ease of use.
---
FAQs on Baby Carriers
Is it safe to use baby carriers with newborns?
To use a baby carrier with a newborn, the carrier must have neck support. This is because children below the age of 4 months do not have neck control, therefore they are very susceptible to neck injuries while in a carrier. It is also essential that an infant insert is used with the carriers for added safety.
Is it safe for my baby to sleep in a carrier?
While it is not wrong to let your baby sleep in a carrier, it is not very safe, and as parents, we should take precautions to eliminate any possible cause of injuries to our babies no matter how unlikely it is. Therefore, it is recommended that you put your baby in a crib as soon as you can if they fall asleep in a carrier.
---
Verdict
The two carriers, Ergo Baby vs Baby Bjorn, discussed in this article are both great carriers as they were both designed with the utmost convenience and comfort of mother and baby in mind.
It is therefore not wrong to say you would derive satisfaction from any of them you end up picking. However, the Ergo Baby just about surpasses the Baby Bjorn for us. With the inclusion of lumbar support, it mitigates one of the major side effects of prolonged babywearing, not to mention the babyhood and several other features that have earned it the love of many parents. The Baby Bjorn, on the other hand, has adjustable neck support, which makes it safer for children below four months of age.
(Visited 819 times, 1 visits today)