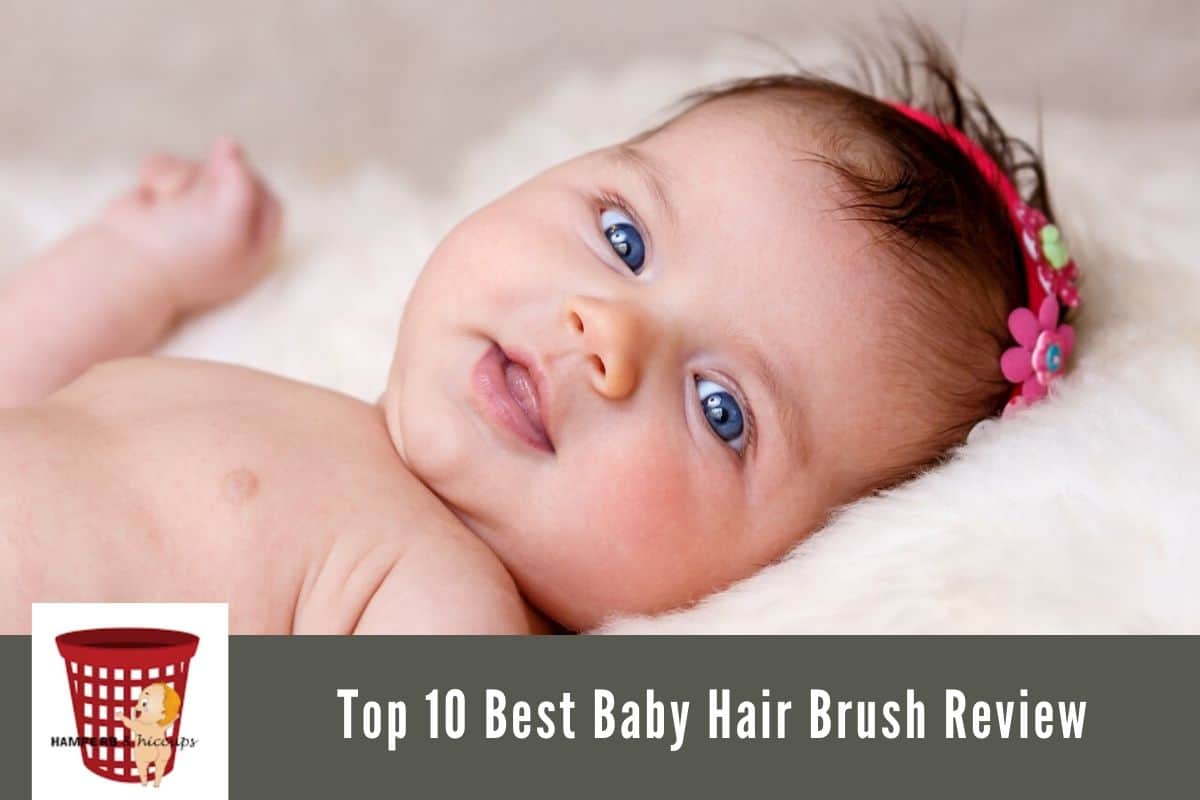 As parents, we always want to make sure that our babies get all the care that they need. We ensure that all the baby products that we use are the best on the market. However, it is very possible for parents to trivialise the hair of their babies.
Most babies are born with full hair while some others grow their hairs slowly. Whichever category your baby falls into, there is a need to take care of it. It should be noted that you are not dealing with just the hair but with the scalp. This is where brushing your baby's hair comes into play. You must, however, buy the right hair brush for your baby.
Choosing the right brush for the job is important to keep your baby's hair healthy and prevent it from hurting the tender skin on their head. Below is a selection of the best baby hair brushes on the market.
Best Baby Hair Brushes: Overall Top Picks

The Fridababy Skinsoother Baby Hair Brush is our top pick for quite a number of reasons. Designed to be soft enough to brush and clean your baby's skin as well as their scalp, this comb affords you the opportunity to keep your baby's scalp and skin healthy without the need to purchase multiple baby hair care products.
The brush is super sensitive to the baby's skin, and as such, does no harm to your baby's soft scalp. The Fridababy Skinsoother Baby Hair Brush is a 100% antibacterial silicone brush, so it will help in eventually boosting the treatment for various conditions like cradle cap, eczema, dry scalp.
Another amazing feature of this product is the built-in baby massage that helps to exfoliate the skin and stimulate blood flow. The manufacturers of this brush have you and your baby in mind in that while your baby enjoys the massage they get in the process of brushing their hair, you also feel comfortable using it because it fits between your fingers.
Pros
It is antibacterial
It has a Built-in baby massage
Comes in a set of 2 brushes
Cons
It is one of the most expensive baby hair brushes
Customer Sentiments
It would take a while to get one bad review on this product because customers give positive feedback on how good their babies feel when their hair is being taken care of using this brush.

Natemia Quality Wooden Baby Hair Brush for Newborns & Toddlers is made from natural goat hair, which makes its bristles very soft and perfect your baby's hair. Not only will this baby hair brush make your experience of grooming a lot easier, it will also help redistribute natural oils throughout the hair without pulling or damaging their scalp.
The handle of Natemia Quality Wooden Baby Brush is made from natural beech wood, which makes it durable and sturdy so you can use it comfortably, without worry of it breaking.
Also, this brush is quite effective in preventing cradle cap while massaging your scalp appropriately and protecting the soft spot. Since the brush is extra soft, it will provide maximum care to the scalp of your baby.
Pros
Good quality product that is easy to clean
Durable and sturdy handle
Fine bristles made from natural goat hair
Prevents cradle cap
Quite inexpensive
Cons
Might not be strong enough for a toddler's hair
Customer Sentiments
The feedbacks on this product have been 100% positive.

The Safety 1st Cradle Cap Baby Hair Brush is an all-in-one brush and it is the best baby brush available for cradle cap since it is made specifically to help combat the condition. This brush fits easily into the palm of your hand, and this makes it easy for you to easily control the angle of the baby hair brush, keeping it from hitting sensitive areas.
This product comes with soft rubber bristles that work to loosen scales while the fine-toothed features help remove every last bit of scales from your baby's head. It is safe, gentle, and effective. One amazing thing about the Safety 1st Cradle Cap Baby Hair Brush is that it comes at a cost-friendly price.
Pros
It is a fine-tooth comb that gently remove tough flakes
Coms with soft rubber bristles are made to help loosen flakes
Easy to hold and manoeuvre
Cost-friendly
Cons
probably too technical for everyday use
Customer Sentiments
Customers absolutely love this baby hair brush and they even recommend it to other mothers.

Not essentially designed for cradle cap, the Summer Infant Comb and Baby Hair Brush is a simple product available at a highly affordable price. This brush and baby comb set comes in an adorable, gender-neutral mint color. The brush has a longer handle than many other baby brushes on the market, and this makes it easier for you to use comfortably. The brush is also very soft.
The comb comes with a variety of teeth, along with a wide-tooth section with features that will aid in detangling your baby's hair. To these ends, the comb may continue to be useful to you even when your baby grows into a toddler.
Furthermore, the smooth and round teeth on the comb helps in gently combing the hair and to give massage while the baby is in the shower. Since the set is made of plastic, it can be used in the shower.
Pros
It helps in massaging and relaxing the baby to sleep peacefully
Soft bristles are ideal for fine baby hair
The round and smooth design ensures that the baby's skin is not irritated
It is inexpensive
Cons
Parents need to check for allergic reactions
Customer Sentiments
Some customers feel that the plastic design is a turn off for them. Other than this, there have been good feedbacks on this product.

Very much like the Natemia Quality Wooden Brush, the Royal Infant Natural Goat Hair Brush is made from all-natural materials. The wooden handle is made from beech wood and the soft-bristles are made from goat hair, and the combination of both forms a premium brush that detangles hair, stimulates the scalp, and increases circulation.
The natural materials ensure your baby's skin and scalp are irritant-free. The Royal Infant Natural Goat Hair Brush is also quite effective at treating cradle cap.
Pros
Helps with cradle cap.
The company makes a charitable donation with each purchase.
Makes use of all-natural ingredients that prevent irritation.
Cons
Bristles may shed as a result of the material.
Customer Sentiments
Some moms rate this product poorly as a result of the shedding of bristles, but this could be avoided by simply rubbing the brush on your hand or a towel to remove any loose bristles.

Brushing your baby's hair cannot get any cuter. The Disney Minnie Brush and Comb set is decorated with every little girl's favorite mouse, the pink-with-white-polka-dot design will capture their attention while you take care of their hair. This brush set includes a pink comb with fine and larger teeth and a Minnie hair brush with soft bristles that are gentle enough for your child's fine hair.
The Disney Minnie Brush is made out of plastic, which makes it easy to clean and ensures that it doesn't harbor bacteria. Also, it has a thick handle so it will be easy for your baby to grip if they want to play with it, without worrying about them getting hurt.
Pros
Easy to grip handles giving you better control.
It can be used as a toy for older kids.
It is made of plastic.
The brush comes with extra soft bristles
Cons
The design may not appeal to all kids.
Customer Sentiments
Customers absolutely love this baby hair brush and they even recommend it to other mothers. The only drawback some customers noted is the fact that it doesn't appeal to some of their other children.

OCCObaby 3-Piece Wooden Baby Hair Brush and Comb Set suit perfectly for toddlers and newborns because of its softness. It has 3 different brush and comb options to help keep your baby's head and hair healthy.
The first brush has soft, thick goat hair bristles, designed to smooth baby's hair and help distribute the natural hair oils away from the scalp. The second brush has wooden bristles that are perfect for detangling longer hair. Also, the massage effect of the solid wooden bristles is calming to baby and increases blood flow to the scalp, which can stimulate hair growth. Finally the comb easily makes coming out your baby's hair when wet, and it helps in getting out tiny tangles.
One amazing feature of these baby brushes is that they are made from natural materials and are 100% hypoallergenic. The wood is an all-natural beech wood, the goat hair is natural, and glues is used to hold it all together.
Pros
The soft bristles prevent static and are very gentle on the baby's soft scalp
Safe to clean every time it is used
The wooden brush helps detangle your baby's hair gently
Cons
The bristles on the brush do shed
Customer Sentiments
Customers absolutely love this baby hair brush and they even recommend it to other mothers. However, some customers complain that they find light-colored strays stuck in their babies' hair from time to time as a result of the shedding bristles.

Unlike the other baby hair brushes on this list, the Scalp Scrubbie Cradle Cap Baby Hair Brush is a gentle foam scrub brush with an attached soft foam sponge consisting of over 800 bristles. This helps in making the foam and making it easy for you to massage your baby's hair and scalp perfectly.
The brush is gentle, soft, completely latex-free, and disposable. Amazingly, it is safe for all kinds of skin types. The brush is also effective for treating cradle cap, which is a common skin condition with the infants. The combination of sponge and brush provides a perfect bath time tool. The pack includes three individually wrapped and sterilized scrub brushes.
Pros
It helps prevent and reduce cradle cap
Sterile and latex-free
These are nice and soft bristled for sensitive baby heads
includes a sponge for shampooing and rinsing
Cons
Parents need to be careful before using the brush if the baby has an allergy reaction.
Customer Sentiments
A lot of customers are happy with the fact that hospitals usually gift a pair to the new mother to use on the infant's scalp, which means that is quite effective.

This Safety First Easy Grip Brush and Comb is a very solid, cost-friendly baby hair brush. It comes in two different colors so you can customize "pink" or "blue" for your little one. The handles are big and user-friendly, and this makes the brush and comb easy for you to hold when you are using them on your baby.
The brush is extra-soft for your baby's sensitive scalp, and the comb has dual-density teeth, which gives you the opportunity to choose between using the end with the fine teeth or the end with wide teeth, in order to suit your baby's grooming needs. It is not made of wood, so it can be used in the shower and also before putting kids to sleep. This will help in relaxing and calming their muscles and they will take a nice comfortable nap.
Pros
It is easy to clean.
It is a good value.
The comb has both wide and fine teeth.
Cons
It will not help with cradle cap.
Some people found the bristles fell out easily.
It may not be durable long-term.
Customer Sentiments
Customers absolutely love this baby hair brush and they even recommend it to other mothers.

Rhoost Natural Bamboo Hair Brush and Comb Set is the ideal baby hair brush. It is made from solid natural wood containing natural oils, which make it great for the cradle cap as the soft bristles will not affect the tenderness of the scalp. Quite amazingly, the brush can be used to massage the tender scalp and put the baby to sleep. Since it is made of premium-quality wood, it is durable and long-lasting.
Pros
Since natural wood and bamboo are used, it is a god option for treating Cradle cap.
Cons
It could cause allergies because of the raw material
Customer Sentiments
The feedbacks on this product have been 100% positive.
---
Baby Hair Brush Buying Guide
For a young mother trying to buy a baby hair brush, you need to put your money on a product that meet certain standards. The list of best baby hair brushes above has been compiled in a way that all the necessary requirements are met. Below is a list of what you should look out for if you are considering buying a baby hair brush.
Safety
Of course, you want to keep your baby safe, so you need to consider the safety of any baby hair brush you are buying. It shouldn't be a product that the kid can hurt themselves with when you're not looking. It should also not be a product that will easily harbor bacteria. In the same vein, the bristles should be soft enough not to harm the scalp of your little one.
Affordability
The cost of a baby hair brush may be something you may want to consider when purchasing a brush for your child. There are options on the market. While some are quite expensive, there are some that would suit your needs and you won't have to break the bank for them.
Ease of Use
It is important that you consider your child's comfort when buying a baby hair brush. It is equally important that you consider your comfort as a parent taking care of your child's hair. Whatever hair brush you intend to buy for your baby's hair must be one that is easy to grab, so that you will feel comfortable working on your baby's hair.
Durability
No one wants to keep changing a particular product all the time because the previous one got damaged. With this in mind, it is important that you put your money on a baby hair brush that is durable enough to last a long time.
---
FAQs on Baby Hair Brush
Do Babies Need Hair Brushes?
Since it is your duty as a parent to take care of your baby, their hair should be taken care of. Hair brushing is an important part of scalp health. A good baby hair brush can have more benefits, which include massaging the scalp, treating cradle cap, lulling babies to sleep and many more.
How Should I Brush My Baby's Hair?
If you are trying to groom your baby's hair, use a soft bristled brush, and brush your baby's hair forward. On the other hand, if you are trying to treat your baby's scalp, bathe your baby, and massage shampoo and water into their scalp. After that, rinse the shampoo so you have a clear visual of the scalp. Then brush the hair in the opposite direction of how it is growing.
Does Brushing Baby's Hair Stimulate Growth?
When you brush your baby's hair, the scalp is stimulated, which increases the hair follicles' blood flow to the scalp which promotes healthy hair growth.
---
Verdict
The baby hair brushes on the list above are some of the best ones on the market. However, our top pick is the FridaBaby DermFrida SkinSoother for a few reasons. It is made of 100 percent silicone, which makes it impossible for it to harbor bacteria. It is also multifunctional. It is effective in preventing and treating cradle cap. The manufacturers have the parent in mind by making the product very easy to use as it fits easily between your fingers so you don't even need to grip it. Nevertheless, if this product doesn't appeal so much to you, you can buy any of the other baby brushes on the list, and you will be getting a good value for your money.
(Visited 93 times, 1 visits today)