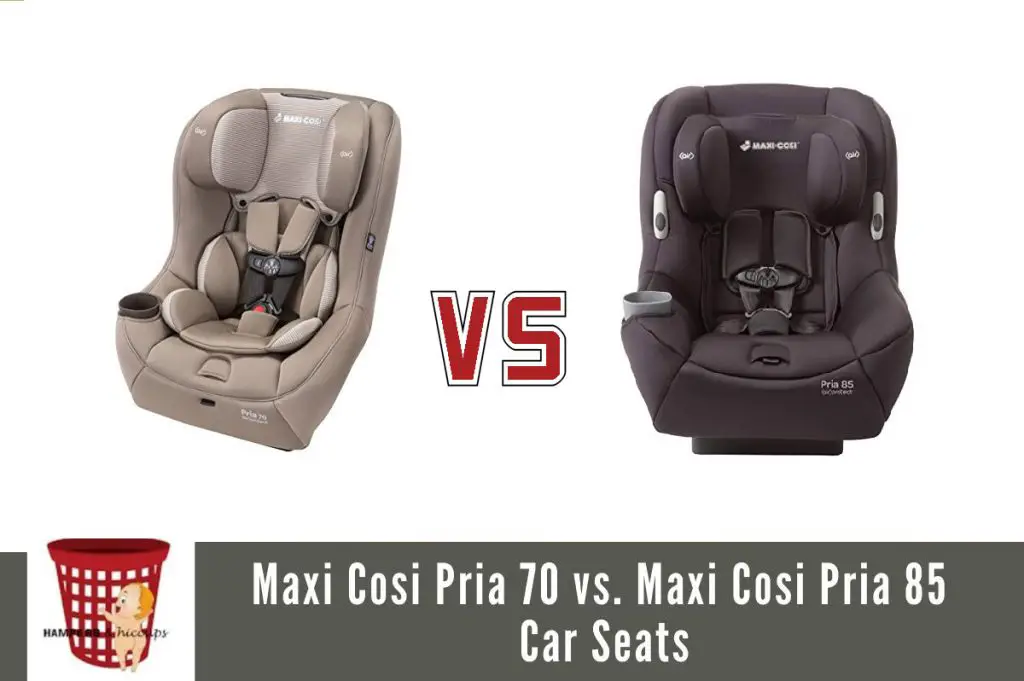 Companies that manufacture baby car seats offer a variety of products that vary in price and specifications. One such company is Maxi Cosi, a company that began manufacturing car seats in the Netherlands and is now based in Europe. Over time, the company has grown to become one of the biggest car seat manufacturing companies in Europe, offering a wide range of car seats for customers to choose from.
This article places side-by-side two of the best car seat options from Maxi Cosi: No products found. vs No products found.. With a lot of similar features and benefits, it could prove a difficult choice selecting from these two options. However, the side-by-side comparison presented in this write-up would help you make your choice easily.
Main Differences between Maxi Cosi Pria 70 vs 85
As a quick summary, here are the main differences
Features: While the Maxi Cosi Pria 70 is equipped with the Tiny Fit system, the Pria 85 Max comes with an infant wedge.
Weight Limitations: Also, the Pria 70 has a rear-facing weight of 9-40 pounds and a forward-facing weight of 22-70 pounds as compared to Pria 85's rear-facing 14-40 pounds and forward-facing weight of 22-85 pounds.
Useability: One other difference between these two is that while the Pria 70 is a bit difficult to buckle and unbuckle, the Pria 85 is easy.
Both seats are equipped with the "Air Protect Technology", the safest side impact protection you can get in a car seat – at least, according to Maxi Cosi.
Since the goal of this write-up is to make it easy for you to choose the better one of the two seats, they must first be reviewed separately.
---
Comprison of Maxi Cosi Pria 70 vs 85
No products found.

Review
No products found.
No products found.
The Maxi Cosi Pria 70 is one of the safest car seats on the market right now. As expected, this product meets federal crash safety requirements; to top that, it comes with a side impact protection technology that is found in the extra padding of the headrest.
Asides safety and comfort the Maxi Cosi Pria 70 is user-friendly from installation to daily use. With a weight range from 9-40 pounds: rare facing and 22-70 pounds forward-facing your child can use this car seat comfortably for years.
Self-wicking fabrics, easy to remove seat covers, simple strap system, not forgetting the latch connectors for easy installation the Maxi Cosi Pria 70 is both safe and easy to use.
The Maxi Cosi Pria 70 is comfy with a cup holder that comes in handy for snacks and drinks. Designed to keep your child cozy and happy through long trips the Maxi Cosi Pria 70 is surely a good buy for your infant.
Pros
Very comfortable with adequate cushion and padding.
Three different positions are available.
Not too heavy and takes little space.
Babies straight out of the hospital can use it comfortably. 
Cons
Straps are sometimes difficult to tighten.
Changing through different positions might require some effort.
Customer sentiments
Customers love the Maxi Cosi Pria 70 because of its lightweight and ease of use. They also love the numerous color choices. Customers also love its slim fit as it takes very little space in the car making room for other car seats or kids.
As bonus customers are always glad to be able to pick any color that suits them
No products found.
---
No products found.

Review
No products found.
No products found.
In a lot of ways, the Maxi Cosi Pria 70 and Maxi Cosi Pria 85 are quite similar. However, the Pria 85 differs from the Pria 70 in several ways. The Pria 85 has a wide weight range (14-85 pounds) so it lasts longer. It also utilizes air protect side impact technology which enhances safety.
All the excellent features that make the Pria 70 an excellent choice are also present in the Pria 85.
Pros
Wider weight range
Air protect side impact improving safety
Lots of cushion for comfort
It is very light and takes up less space
Easier to clean
Possess strap holders making every day use easy
Con
It's slightly more expensive than the Pria 70
Doesn't come with the tiny fit insert making it unsuitable for children below 14 pounds
The harness is sometimes difficult to engage and tighten.
Customer sentiments
Customers love the quality of material used to make the seat and the fact that it remains cool keeping their babies comfortable even in the heat. Some customers who have had bitter experiences of car crashes have also attested to the quality of the car seat and how it kept their babies safe.
No products found.
---
FAQ about Maxi Cosi Car Seats
How long should my child car seat be rear-facing?
Approximately from birth till age 2 depending on your child's size. At this young age, the ligament and bones of your child are still developing and need to be kept safe. However, beyond the age of two most children grow beyond the rear-facing weight limit and their car seats must be adjusted to front-facing.
At this phase, your child's bones have become strong enough. They would also need the extra legroom as they grow and rear-facing becomes uncomfortable. Beyond the age of two marks the beginning of curiosity and wonder. Front-facing will ensure your child can see the world while asking questions.
Do I have to use a base in my car seat?
The base is a very important accessory to a car seat nevertheless it isn't of utmost necessity in the Maxi Cosi Pria 70 and 85. Depending on your current situation and use you might want to do with or without the base. For carrying your baby we will advise against using the base as that increases the weight of the car seat. However, for some specific vehicles, the car seat can only be installed securely with the base.
How do I make sure my car seat is installed properly?
A thorough read through the manual would be most helpful in this case. However, a quick test which you should carry out regularly is to shake the car seat slightly with your weak arm. If it feels loose and wiggles over an inch then you must check every screw and latch to ensure that your child's car seat is tight and secure.
---
Verdict
We covered all the details in this Maxi Cosi Pria 85 vs 70 comparison. Both the Maxi Cosi Pria 70 and Maxi Cosi Pria 85 are excellent choices for a car seat. They would both keep your baby safe and comfortable. However, the Pria 85 has a slight edge over the Pria 70 model with newer technology, wider weight range, and other bonuses.
Though this slight edge comes at a higher cost as parents we are always willing to go the extra mile to give our children that extra protection and comfort. Pria 70 and Pria85 are good buys but the best buy is the Maxi Cosi Pria 85. Nevertheless, the few extra features and modifications possessed by Pria 85 depict Maxi Cosi's willingness to improve.
(Visited 180 times, 1 visits today)