Do You Feel Safe In Your Home At All Times?
Long gone are the days that we can leave our doors unlocked trusting that strangers around us had the decency to not trespass – or worse – break-in.
In the 21st century protecting your home and family from potential threats should be a number one priority.
Luckily, thanks to ever-evolving technology, creating a safe environment has never been easier.
Making your home completely safe means something different to each individual family that's why it's important to choose the options that work best for you.
Whether your looking to secure your home, garage, or even entire property here are some tips and effective way you can get that done.
1. Invest In A Secure Lock System
The first line of defense against an intruder and the inside of your home is the physical barrier of your door, windows, and the locks that keep them closed. According to Denver locksmith break-ins are a pretty common occurrence, however, that doesn't mean there aren't ways to prevent them from happening.
It only makes sense that you would ensure that this front barrier was fully protected by investing in some top of the line locks.
These locks can also be installed on garages, mailboxes, or any other areas you feel need a little extra protection.
Let's take a look at some optimal choices when it comes to the type of locks you can choose to have installed:
Nightlatch Lock
A Nightlatch lock is manipulated with a key like a traditional lock however it offers extra protection from the inside.
The door will automatically lock with a lever when enough force is applied when closing it.
This offers you the security to know that even if you've forgotten to lock the door you have that extra defense.
Deadbolt
There are multiple types of deadbolts:
Single Cylinder
Double Cylinder
Jimmy Proof Deadbolt
Deadbolts work again with a key from the outside but has a function inside that disallows anyone from the outside to pick the lock.
These are usually used in tandem with another lock to maximize security.
Digital Lock
A digital lock can be controlled with a smart device, and also comes with a keypad or swipe card technology as an option for your entryways as well.
They work the same as a traditional lock in the sense that there's a bolt or lock that turns, but the digital aspect allows you to control that lock even when you aren't home.
These do run at a higher price but the majority of the time are worth the investment.
2. Install a Security System
On top of a secure locking plan, installing a reliable Security System will also add on to your home's safeness.
These systems can range from just simple security cameras placed around your property to systems that include alarms, facial recognition, and an online digital component.
Some of these Smart Security systems like Google Home even allow you to connect your lights and smart fire and Carbon Monoxide alarms to an app.
If anything goes awry when you aren't home or are even on vacation you'll be notified immediately.
Not only do these systems protect against burglary and crime, but will help protect you, your family, and even pets safe from trivial dangers as well.
Some top security systems include:
ADT Pulse
Vivint Smart Home
Google Home
Wyze Sense Starter Kit
There are plenty of options so that you will be able to find the perfect option for your home and for your budget.
3. Secure Your Wifi System
If you take a moment to think about it you'll soon realize that almost every device in your home is in some way connected to the internet.
Heck, they're evening making Smart refrigerators and Microwaves nowadays.
That's why it's only logical to keep your house safe you'll also have to lock down your wifi system.
This is especially true if you're also using a Home Security System that's connected to the network.
You don't want someone hacking in and gaining access to all the passwords and by default free entry into your home and other secured areas.
However, there are measures you can take to secure your network from potential threats.
Have a Strong Password
Your wifi password should be one of the most complicated passwords you have.
Even if it isn't memorable, wifi passwords are usually safe to jot down. Any potential threats usually come from outside of the household not from the people within.
Install a VPN
Installing a VPN makes it more difficult for hackers to monitor what you are doing on your network and helps you be made aware of potential online threats like malware while you're surfing the web.
Secure Your Wireless Router
Your router will also need protection. You can secure the little black box by Disabling its WPS functions.
WPS networks are susceptible to hackers because they release a signal that others are able to track right down to their location.
It's the perfect way for them to find their potential victims. This is extremely dangerous if your home security is connected to said router.
Use a Trusted Firewall
Last but not least investing in a trusted firewall will do wonders for your online experience.
Firewalls will protect you from potential hackers and keep you safe from other viruses that are scattered across the internet just waiting to gain access to your personal information.
4. Light Up Your Home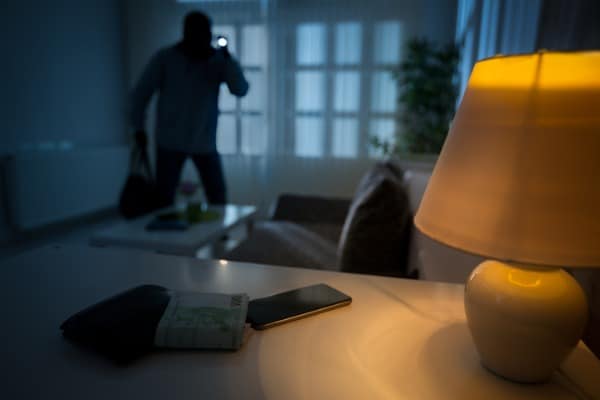 Finally, lighting up your home will protect you from any unwanted guests during the night.
It may seem like such a simple tactic but it can do wonders? Have you ever been driving in the middle of the night only to see a store with all of its lights completely on?
This is because it leaves burglarers and other criminals little to no obscurity for carrying out their crimes.
Not to mention they'll be crystal clear on any security cameras that may be recording.
For your home, motion sensor lights often do the trick and deter people from coming over as they'll likely think they've been caught right away.
(Visited 3 times, 1 visits today)