If you like to do your own repair and maintenance job around the home or try various DIY projects, you must have a few power tools in your arsenal.
Having a power tool will ensure an effective and effortless working experience. Keeping that in mind, you should check out some must-have power tools for homeowners.
I would recommend starting with basic identification. Read each section carefully and select which power tool you want to add to your home.
It doesn't matter whether you occasionally or always prefer to do those work yourself; you would always desire elegant results.
Eight must have power tools for homeowners
According to David S. Miles of toolshaven.com, if you have a personal workshop, then you will need the best tool for your projects.
Here, I've discussed best 8 essential power tools for every household. Without further delay, let's see more about these devices.
The obvious first choice for a power tool will be a drill. You don't need fancy accessories to buy with a drill machine; a standard corded power tool will do.
Drills running on batteries are portable, which will be a great asset while you are working outdoors.
If you are trying to assemble household goods or installing wall decoration and constructing anything or everything, a drill is the perfect power tool for the job.
You can twist and tighten bolts, drill screw holes, and other assembling or dismantling work with this power tool.
Before purchasing a drill, keep in mind, a battery-powered drill will be great for portability.
For regular tasks around your house, a 12 to 15-volt drill will be suitable, and for moderate-level work, an 18-volt machine will do.
An affordable and reliable power tool for straight and angular cuts is a circular saw.
Miter saw, and table saw might be too much fuss for some people; you don't always need them for day-to-day work, so having a circular saw will be enough.
You can cut wood, plastic, plexiglass, and other materials with a circular saw. You can choose a corded circular saw for indoor works or a battery-powered cordless portable one for outdoor work.
Moreover, a circular saw will give you an efficient and effortless experience while working.
A Jigsaw helps you get tricky and circular cuts. It's a flexible power tool, easy to use and maintain.
You can change the blade as many times as you want; the blade changing system is quite simple. Therefore, it's a must-have tool for beginners and professional Craftsmen.
Instead of using sandpaper, you can use an orbital sander. Rubbing a rough surface with sandpaper is a great loss of energy and time, plus it might not give you the desired result.
However, the orbital sander is the perfect power tool for getting a smooth and elegant finish.
Paper size from 50 to 120 grit will be perfect for removing paints or smoothing any rough surface. Also, an orbital sander is worth your money, and it puts an end to a long, exhausting, and painful hand sanding experience.
An oscillating power tool is a multifunctional tool. It comes with an extensive collection of extensions for all sorts of works. You can do sanding, grating & slicing, all of these with just one tool.
There are more than hundreds of extensions available, so the versatility of an oscillating tool is unlimited.
A nail gun is quite a useful power tool in almost every situation, whether you are doing fencing, roof repairs, and interior work.
If you are using a hammer to strike the nails then the result might end up looking messy and the risk of smashing your delicate finger is quite high.
In contrast, a nail gun is safe to use and gives you satisfactory results.
I would recommend you use an 18 gauge gun to keep the nail hidden and increase the beauty factor of your project.
Maximum of the power tools such as nail guns, blowguns, and sprayers need compressed air to operate. Thus, an air compressor is a must-have tool for your small home garage.
If you are thinking about a paint job or trying to adjust or fill the car tire, then an air compressor will come in handy.
While working on a household project, all the sawdust and other waste will spread across the room.
Regular house vacuums are not manufactured to deal with sawdust or nails, so, as a DIY craftsman, you need a shop vacuum designed to collect wood chunks and other waste effectively.
Moreover, if you buy a dry/wet vacuum, it will help you vacuum water.
Final words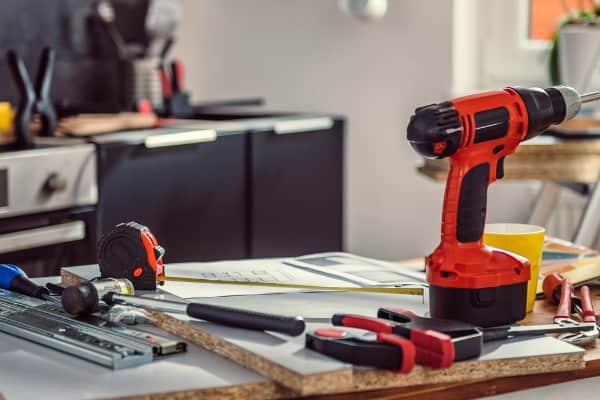 A power tool guarantees time-saving and best results for any home craft or DIY projects.
Before buying any product, please do some background checks, get a proper idea about the model and specification, read some user reviews.
Once you have found the right power tools for your home, it will be a delightful adventure working with it.
This article's goal is to provide you a piece of in-depth knowledge about the must-have power tools for homeowners.
I will consider my efforts successful if this article managed to help you choose the best tools for your garage.
(Visited 17 times, 1 visits today)