When it comes to your home, it's very easy to think that your interior decor is everything. And to some people it will be. In fact, it really does contribute to a very large proportion of your renovation work and what it takes to make a house a home. After all, you spend the majority of your time inside the home, rather than out of it. However, it really isn't the only thing that you need to focus your time on. Instead, you need to make sure that you're covering all of your bases. Think about it. Whenever you pull up to your home, it's the outside that you see. It's the home exteriors that others see. And it really is the exterior that kind of sets the tone of the rest of the house, so it's important not to neglect it.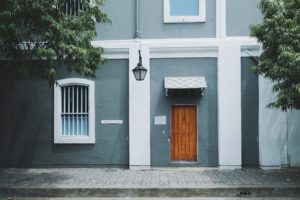 But when you're trying to renovate your home or at least get it into a condition that you love, you will often focus on things like the paint colors, the kitchen design, and the overall finish in each room. And this means that you can often forget all about the outside. Sure, this will often be the last thing that you do, but it still needs to be taken care of. So, if you're ready to work on your home's exterior, let's take a look at what you can do.
Front Door
To start off with, you're going to want to begin at your own front door. This is the perfect place to start. Because it's where you first walk into the home. You'll often look at it every single day, so you want to make sure that it's something that you like. If you have no idea what to do here, take a look at some front door ideas that might spark some creativity in you.
Windows
But your front door isn't the only feature on your home that you might want to look at working on. Because alongside that, you've got a ton of windows around the house that you're definitely going to want to take care of. And you can do this in a few ways. First, is to make sure that they are kept clean. You will be surprised by what a difference this can make. But you may also want to replace them with updated windows if they're looking a little shabby
Exterior
And then, of course, you have the entire home's exterior overall. Because if the rendering is old and needs redoing, or the paintwork is shabby, it will affect the overall look of your property. Here, you'll want to get to work on brushing it up.
Roof
One area of the home that can quite often seem boring, but is very essential to your comfort, is the roof. It's something that you won't always think of, but if you don't look after your roof, you may need to call in roofing for help. At the same time, if you have moss or damage to the roof, then this is going to affect the look of the house overall. So make sure this is all tidied up.
Garage
Then, you also have your garage to think about too. Because this space is going to add to (or take away from) the overall look of your home again. So if your garage is looking worse for wear or it needs repairing, this is the next job to think about.
Driveway
And this leads us nicely onto the driveway, because this too makes up quite a large portion of your home and what the overall finish is like. You may not really give your driveway much thought, but it really can make a difference. So at the moment, if you don't make much of an effort, you might want to change that. Maybe you can get a fancier design put in place? Or you can use lighting or plants to show it off a little? Be imaginative here.
Landscaping
The last thing that you're going to want to make sure you cover, and something that makes quite the difference to the look of your home, is the landscaping. A lot of the time, you'll think about sorting your backyard so that it's all done and looking pretty. Especially when your kids want to play out there! But the front often has to wait. Yet the front is what makes the first impression. So, this is why you're going to want to look for some front yard landscaping ideas to inspire you. When you pull these together, you should find that your home's exterior looks complete.
(Visited 55 times, 1 visits today)