As time goes by, every home starts to lose its glow. But you don't have to simply sit back and watch it happen. With a little bit of work, you can maintain a household that looks and feels incredible. It's better to do a little bit of renovation and DIY on a regular basis than have to tackle a huge renovation project once every few years. Don't worry; you don't have to take out the maintenance kit every weekend in order to keep your home in good shape. In this article, we'll talk about what it takes to get your humble abode back up to scratch and how to keep it that way.
Clean and tidy the place.
This might sound like a relatively straightforward renovation project, but we're not talking about simply dusting a few surfaces. If you really want to restore your worn-out home to its former glory then you need to give it a deep clean and a proper tidy. You might even want to consider paying for a professional carpet cleaning service to restore the flooring in your home. A bit of help might be necessary to get out any old stains that you've struggled to remove. You'd be surprised by the difference that can be made to a home simply by cleaning it. You might be thinking of knocking down walls and taking on other big projects to transform your home, but simply living in a clean space can make a huge difference to the way in which you perceive your household.
Tidying your house is essential to getting it back up to scratch too. A cluttered home can massively impact your mood. A cluttered environment leads to a cluttered mind, after all. We are all very influenced by our surroundings when it comes to the way we think and feel. Simply decluttering your household could make a huge difference to the way you feel at home. Getting rid of things you no longer need will open up the layout of your house and create a more inviting feel. A spacious home is a happy home. It'll feel the way it did when you first moved in. You might also want to put up shelves for additional storage space and start keeping things under the stairs or beds. You have to think about the way in which you store things. This will stop clutter from building up again in the future. A tidier home will definitely feel more pleasant and look more aesthetically pleasing.
Sort out the lighting.
If you keep improving the decor in your home but it still feels drab and dreary then you might want to consider sorting out the lighting. Light has a very powerful effect when it comes to the appearance of rooms in your home. No matter how good the design of your household, it'll still feel dim and unimpressive if it's poorly-lit. Start by painting the walls in a neutral shade. This will definitely prove useful if you plan on selling your home in the future because it'll freshen up the appearance of your walls, but it's also useful in terms of brightening up your home. Neutral colors reflect light better, so your house will be well-lit during the day. Taking down drapes and other window coverings can help with this too, of course.
As for artificial lighting, you have to make sure you maintain that homely vibe during the evening too. The type of light you use in a room has a huge impact on the way in which it makes you and your family feel. For instance, brighter lighting should be used in work environments; the kitchen, the study, or any work desks in bedrooms. However, softer and warmer lighting should be used in places of relaxation. Some rooms have multiple purposes, of course. You probably don't want the dining area in the kitchen to be brightly-lit, for example. You might want to have separate lighting over counter tops and the dining table. A dimmer switch in the dining area will allow you to moderate the lighting depending on whether you're having a relaxed meal with your partner or a party with many guests. Sort out the lighting if you want to get your humble abode back up to scratch. If the lighting has never been right in your home then it's about time you finally changed that.
Focus on your curb appeal.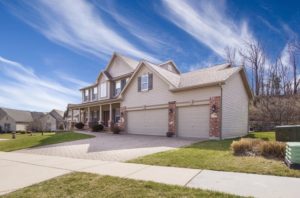 Whether you're thinking about selling your house in the future or not, it's important to give your humble abode some element of curb appeal. If not for the sake of others, then do it for the sake of you and your family. You should be able to return home at the end of the long day to the welcoming sight of your home. Even if your household interior is well-designed, a disappointing exterior can ruin the vibe of your humble abode. Something as simple as repainting the front door can make a huge difference to the overall appearance of your home. It's all about making your household feel fresh and new again. You want it to feel as it did when you first moved in. That's the key to getting your humble abode back up to scratch. And the little details are the ones that count most when you're striving to achieve this goal.
Fix up your backyard.
Speaking of exterior design, you shouldn't forget your backyard either. It's a piece of your abode, even if you don't use it very often. But it's not too late to change that. You could make your outdoor space feel just as cozy as your indoor space if you designed it in a homely way. Perhaps you could create an inviting patio area to motivate you and your family to enjoy the backyard more frequently. With an awning for shelter and some comfortable seats with cushions, you'll have no excuse to avoid your backyard in the future. Also, by planting a few flowers and mowing the lawn regularly, you'd be surprised by how colorful and picturesque this space could become.
(Visited 43 times, 1 visits today)