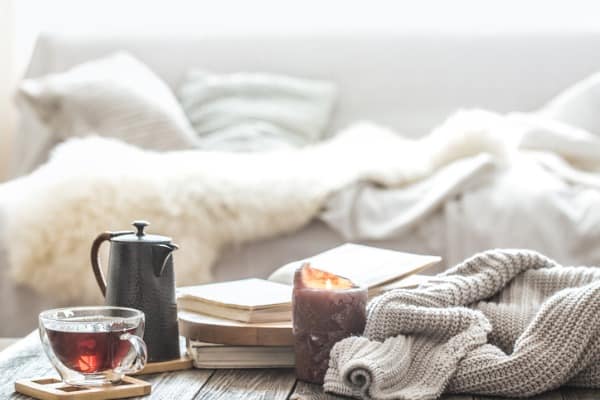 Can you feel the crispness in the air? Soon the leaves will turn into brilliant colors indicating that winter is on its way. Now is the perfect time to think of making your home cozy and warm for the winter months ahead.
Here are a few suggestions to get your creative mind a boost:
1. Blankets and Throws
Gather blankets and throws for sitting areas. Drape them on the backs of chairs and sofas so they are readily available for a snuggle when the air becomes a little nippy.
2. Area Rugs
Plush area rugs can give your toes warmth when your feet hit the floor. Think of places in the house such as bedsides, in front of chairs and sofas, and bathrooms, where have a warm, soft landing is very desirable.
3. A Cozy Reading Nook
Create your reading nook. Start with a comfortable plush chair and a footstool. Add your cozy throw, a small table, and the perfect lamp. You will want to add your favorite scented candle and a coaster for your preferred beverage.
4. Try Aroma Therapy
Winter aromatherapy can be so welcoming. Fragrances wafting through the house encourages warm memories of the past. Placing scented candles or diffusers throughout the home is an easy way to giving a cozy feel in the winter months.
5. Use Your Fireplace
When the wind is howling outside, think about how snuggling up in front of a warm fire would be so inviting. Consider installing an electric fireplace this fall in time for the upcoming holidays.
6. Outdoor Heating
If you like spending time outdoors, consider adding a fire pit to the patio. On those clear nights, it might be a good time to bundle up to roast some weenies and marshmallows for s'mores.
7. Drink Warm Beverages
Think about making a center for warm beverages. Have a coffee maker, hot water kettle, crockpot, and cups with all of the extras needed to make a warm liquid treat after spending time outside in the cold.
8. Assemble Centerpieces
Centerpieces made with pine cones, evergreens, and holly berries are a wonderful way to celebrate the winter months. Why not add a candle to give the centerpiece a warm glow.
9. Put Your Oven To Good Use
Nothing says cozy like something from the oven. Winter is a great time to try out that new recipe. Filling the home with wonderful smells from the kitchen is a sure way of making you a hero of the day.
10. Dress Your Table
Adding a quilted table runner, fabric napkins, and tablecloth can give the room a festive feel without much trouble. Pick themes such as snowmen, angels, and sledding to put a person in a good mood during those times of being inside.
11. Soften The Lighting
Softer lighting helps you to relax when feeling a bit shut-in. Replace your light bulbs with ones that give off a warm light and use a lower wattage. This also helps with the electric bill.
12. Consider New Lampshades
You might also consider changing out your lampshades. Fabric lampshades such as linen, or neutral-colored paper shades, will soften the feel of a room. These can be an inexpensive technique to give new life to a room without taking much time to redecorate.
13. Baked Goods With The Family
If you have kids, this is a great time to teach them to bake. Baking has its rewards, so they may be into it. Pick recipes that are simple to start with and guide them through the process. It is also an excellent time to teach them how to clean up.
14. Build A Terrarium
Another fun activity is to build a terrarium. Kids can make a little world of their own. Let them be involved in the process from picking the container (old fish tanks work great), the plants, and small items that give it character. Include building of the terrarium itself in the project.
15. Don't Forget Game Night
Put together a game corner that includes a table and chairs. Jigsaw puzzles, card games, and board games can be shared by the whole family. These times together can create precious memories that can last a lifetime.
16. Try Decorative Lighting
Hanging some white string lighting outside plus adding battery-powered candles in the windows will add a cozy charm to your home. When you, family members, and guests arrive, the house appears inviting at night with the promise of warmth inside.
17. And, Of Course, A Welcome Mat
Place a welcome mat at your doors that will give a place to clean shoes as an addition to the cheery message. Have space where boots and shoes can be stored as folks enter the house to help keep floors dry and clean.
(Visited 39 times, 1 visits today)