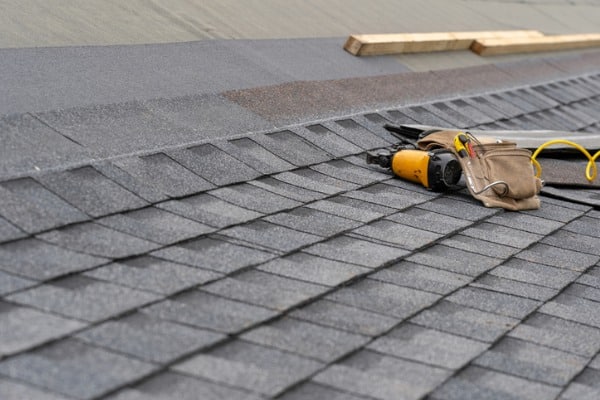 Installing shingles is not something you can just do on a whim. It is a big project that will have a major effect on the way a house looks and functions, and the way the roof is installed will affect the quality of life of the people that live in the home for many years to come.
If you are thinking about installing the shingles yourself, you should know that it can be a relatively easy project that will save you money.
Besides selecting the right roofing material you will use, you should get drip edges, underlayment, and leak barriers.
Then, assemble all the tools that you will be using, which should include step ladders, push brooms, trash cans, claw hammers, a shovel, staples and staple guns, and roofing nailers.
Also, a tool belt, work boots and safety glasses, work gloves, and safety vests.
When you are ready to start, here are five tips to make the installation go much more smoothly.
Tip 1: Don't Disregard Safety
It goes without saying that roofing carries some risks, and you do not want to end up injuring yourself.
If you are working with a partner (which is a great idea!), you should both wear safety gear and always follow the manufacturer's instructions.
Tip 2: Prep the Area
If you have old shingles, remove them with a shovel. Have a trash can handy for this purpose. Do it carefully in order not to damage the siding or any window.
Pry up any nails with a hammer. Remove all old flashing. Sweep all debris.
Tip 3: Start with the Flashing
Underlayment and flashing come next. You may use felt or asphalt underlayment to cover the entire roof, securing it to the roof structure with a staple gun.
Make sure to allow for an overlap of 3 to 4 inches. Once this is done, you can start on the flashing, which should be installed along the bottom of the roof near the gutters.
Secure it with roofing nails and a hammer. Don't leave out areas around chimneys, skylights, and valleys where two roof planes meet.
Tip 4: Map Out the Shingle Installation
You should install malarkey shingles starting at the bottom and working your way to the top part of the roof. Before starting, you should have a planned layout and always make sure to work in a straight line.
You may use chalk to mark your guideline, marking additional guidelines as you move up. If you feel unsure, get a starter shingle, place a glue strip along the drip edge and nail your initial shingle into place.
Tip 5: Start the Installation
Work your way up and across, making sure the nails always hold the top edge of the shingle beneath. Continue to follow the pattern, lining one shingle up against the next and nailing it into place.
Follow the guideline you marked with the chalk to make sure you are working on a straight line. At the end of the line, you may need to cut the last shingle to fit.
Continue working upward, always making sure to leave no part of the roof exposed. Don't angle nails; drive them straight.
Once the roof is finished, remove all debris from around the property and get ready to enjoy your creation.
(Visited 1 times, 1 visits today)