Rustic gardens are eternally popular, and it's easy to see why. The aesthetic is inherently pleasing, offering a "country cottage" effect that never fails to disappoint. Rustic gardens, quite unlike any other design scheme, have a feeling of homeliness and serenity that even the most cutting-edge of modern designs struggles to replicate.
If you prefer the charm of a rustic garden to the streamlined, technology-friendly contemporary gardens of today, here are a few essentials you'll want to include in your outdoor space…
Wood, wood, and more wood
An essential component of any rustic design theme is wood – and, preferably, natural wood rather than veneer or reproduction options. Here are a few ideas you might want to try:
Use aged wooden sleepers to create dividing lines between flower beds or edge a path

Avoid conventional wicker garden furniture, instead opting for wood wherever possible; you could even try

making your own garden bench

if you're feeling adventurous

Opt for wooden wind chimes as garden decoration

If you're looking to create a seating area, opt for wood decking as the base rather than a patio or gravel
Grow flowers in anything and everything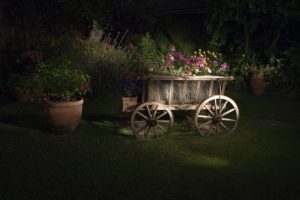 A rustic garden should ideally appear to be bursting with life – quite literally. Essentially, if there's an area of your garden, do what you can to allow flowers to grow from it. You can add ornaments and garden features specifically to suit this purpose – such as the wooden cart with flowers as pictured above – or just get creative, adding flowers to every spare patch of earth available. One of the great things about rustic gardens is the chance to be spontaneous with your gardening, so forgo carefully-ordered beds and instead opt for as many flowers as you possibly can, wherever you can fit them.
Add authentic aged planters
Aged planters are the perfect choice for any rustic garden, adding a touch of authenticity that is impossible to replicate with modern, mass-produced items. If you can't find anything suitably aged close to home, it is possible to source French, English, Belgian or Italian planters that are, in some cases, over 100 years old, and can act as a practical, authentic addition to your rustic outdoor space.
Use lantern jars and tealights for decoration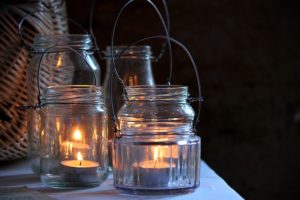 Finally, lantern jars are an absolute must for any rustic garden aesthetic. There are a number of different ways to achieve this look; you could pre-buy solar powered options from a store, or make your own using an old jar, string, and a tealight carefully placed in the center of the jar. Whichever option you choose, you can be sure of a stunning decorative piece that really helps to enhance the rusticity of your overall garden design.
In conclusion
While rustic gardens are, by design, somewhat ramshackle and haphazard, this theme actually requires a few essential elements to draw the entire aesthetic together. By adding the essentials above, you can be sure that the rustic garden aesthetic you have always wanted is well within your reach.
(Visited 116 times, 1 visits today)