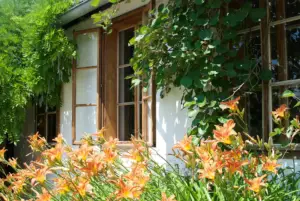 Yep, that's right, it's time to get your hands dirty. If you've left your garden unattended for a while, apart from the odd mow of the lawn here and there, we guarantee it is ready for some TLC. Garden's are always the last to get the attention, and it's pretty sad. There's so much potential to a garden, and so many things you can put in it to make it beautiful. All you need to do is harness your inner gardening abilities, and find a vision that you know is going to look good. If you're struggling with ideas, we've got a few for you. Read on to find out more.
What Will It Be Used For?
This plays a big part in what direction you should go. If you're going for the relaxation vibe then you need to think about furniture and warmth. Furniture is easy to source, and there's some really comfy additions out there. Sofas are probably the best you can get for comfort. If you want to really push the boat out you can get a swinging sofa! There's something about swinging in the breeze with your favourite cocktail in hand that just sounds so dreamy. For warmth, a patio heater isn't going to put you too out of pocket, but it means you can enjoy the tranquility of the garden long into the night. The sofa set makes for the perfect area for socialisation as well. If you're going for something that's just a little better to look at, then the following points are going to appeal to you.
Fill It With Life
Life comes in various different forms, and it is easy to forget that trees and plants are an amazing source of life. One that doesn't require much attention, but offers beauty and comes in all shapes and sizes. A perfect way to line part of your garden is with fast growing hedges. It helps to break up the whole plant fiasco. Too many can just look cluttered, but hedges are lovely additions that can help bring a bit of green into your life. As for plants, you do want to go as bright as possible, but don't go cluttered. Plants need room to grow, and there needs to be enough nutrients in the soil. Bright plants include, roses, lilies, and a helenium.
Maintenance
If you want to keep a garden looking lush and full of life, you want to keep up with the maintenance of it. It really doesn't take long, and it can actually become a fun hobby if you let it. For the grass, you want to make sure you're mowing it as necessary, at least every week to keep it fresh and trimmed. Throw down some grass seeds and fertilizer once a month to keep it in the best shape possible. As for the plants, the instructions with how to maintain them should come with the packet, or there's information on the internet. But most require minimum effort to look great.
(Visited 37 times, 1 visits today)