It's only the middle of August, but already I'm looking towards garden clean out and fall work.  With a baby due around the time I would normally do all the fall work, I need to get ahead!
It's hard to get in the mood of such a task when the weather is still so nice and the garden was a late one this year.  But, we must.
So, picture this:
The leaves are turning beautiful colours and falling peacefully to the ground. Squirrels are busy storing up their winter stocks.  The geese can be heard and seen flying overhead toward the warmer temperatures.
And your garden is a scene from a horror movie.  Everything is dead and crumpled. The only green matter is the weeds.  Tomato cages and pea fences have bits of dried up plant shrapnel hanging off of them.  It is a mess.  And you get to deal with it!
Hurrah for garden clean out!
Planning Ahead
Earlier I wrote a couple posts to help minimize the work load come fall.  If you followed these tips, you shouldn't have as much to do now that the weather is bearable enough to work outside.
Related: Garden Preserving & Garden Harvest
An Easy Garden Clean Out
By following a few basic strategies, you'll be able to have your garden clean out done in no time.  One afternoon or evening should wrap up all the necessary tasks.
Where to Start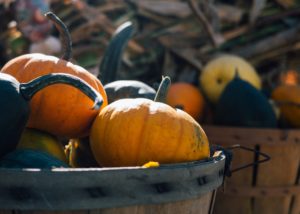 The first thing you'll need to do is bring in the last of the produce that is still hanging around.  Most likely this will include your squash (zucchini, pumpkins, spaghetti, etc.), potatoes, carrots, and maybe some corn.
You'll want to leave heartier items out to dry off.  Pumpkins, potatoes.  Brush the majority of the dirt off at the garden then pull them closer to the house and lay them out on some newspapers on your patio or sidewalk to dry.
Use your garden cart or wheelbarrow for easier handling.
Deal With the "Helper" Items
So, if you've been keeping up, you should have all your pegs and strings down.  If your peas have been finished for a while, you'll have brought in your fence.  You might have already brought in your tomato cages if they finished up early.
If you haven't already brought all these accessories in, go ahead and get them out of the way first.
Tackle the Growth Death
Now that you have all the contraptions, obstacles and tripping hazards out of the way you can better see what you have to do for garden clean out.  A lot of the plants will be able to be tilled in for organic matter, but there's a few you'll want to deal with first.
Corn – It will be much easier for you and your tiller if you break the stalks down and haul them away
Tomatoes – Can harbour disease (but so can a lot of your plants).  If you struggle with blight or other tomato diseases, you may want to get rid of the plants now.  Arguably the same applies for beans.
Squash – Any of the vine varieties you'll want to break down or haul out all together.  It will save you frustrations at tilling time
Raspberries – While you're hauling out the masses, you might as well go ahead and prune your raspberries and other fruit
The rest of your plants will be fine to leave out to be tilled in.
Ta-da!  You're ready for the fall "field" work so, sit back and relax until it's time to do the rest.
This content was created by original creator of this website, Katelynn Hegedus.
Got any more ideas on how to make the garden clean out go smoothly?  What tools do you use?  Leave a comment or send me an email!
(Visited 43 times, 1 visits today)