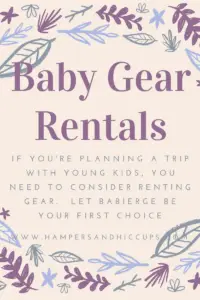 Recently, we went on our very first family vacation.  The planning was in the works for a really long time.  That's me – the planner.  As I thought about what we would need for our two babies, I started to wonder (and slightly freak out) about car seats!
I figured car rental places must rent them, but had no idea where to start looking.  So, I googled it: "Where to rent baby gear when traveling".
Here's what surprised me: it wasn't car rental companies that showed up in my search results.
It was baby gear rental companies.
Yep, entire companies dedicated to renting baby gear!!