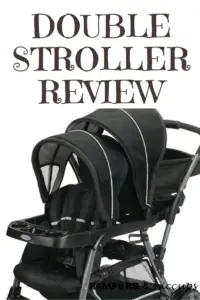 One year ago, my husband and I found out we were
pregnant
with our second baby.  With the EDD as October 8, that put us with
2 [well] under 2.
  At the time, we had a sit and stand double stroller, but it wasn't compatible with our infant carrier, and I didn't love it.  So I went on the search to find one that worked with our
Graco SnugRide 35 Click Connect Infant Car Seat (without an adapter bar)
.  Which brings me to my Graco Double Stroller Reviews. If you're thinking of purchasing a double stroller, the Graco double stroller should be at the top of your list. Read about it here. When I was first looking, a quick search led me to the
Graco double stroller
.  I chose it for a variety of reasons.  The biggest features being:
Click Connect compatible
Offers 12 different riding positions (including the best sit and stand stroller layout I've seen)
Accommodates children from newborns up to 50lbs
Has a riding platform, bench seat, infant seat + toddler seat
Ability to connect a baby carrier in either the top or bottom position (or both)
One-hand folding (probably my favorite feature!)
Reclining front seat
HUGE storage basket (close second in the fave race)
Roomy seats allow for bulky winter clothes
Great Graco double stroller reviews
Last update on 2022-09-19 / Affiliate links / Images from Amazon Product Advertising API
---
As far as setting up the stroller, it was a breeze.  The instructions were quite simple to follow, only needing to attach the 2 beverage trays, rear axle, riding platform, 4 wheels, and 2 canopies.  Start to finish, you could have your double stroller usable in less than 15 minutes. The only issue we ran into was with the adult beverage tray.  It uses a rivet system to clip on, and in my haste, I ended up breaking one of the ends off.  My husband was able to drill it out and replace it with a bolt, but this may not be an option for everyone.  I was glad I didn't have to contact the seller or Graco about it.
Testing our Double Stroller
I was 
dying 
to try it out.  Once it was all put together, I clipped our car seat into both the upper and lower seats to see how easy that was.  The lower is definitely easier and seems a bit more secure, but overall, they were both very quick and painless to accomplish. We wheeled around the house for a test run and it went great!  VERY smooth and easy to turn. Now comes the real test: outside in the wintertime!
Overall Performance
As shown, there's 12 unique riding positions.  What I will say is this: not all positions are practical.  For example, with an infant car seat in the front, my daughter was unable to 
comfortably 
sit on the bench seat because the car seat sticks out quite far. Another thing I feel obligated to mention is the use of the canopies.  When there is an infant seat in the top position, the bottom canopy is virtually unusable because it cannot pivot far enough back.
My thoughts: 
we'll be using the car seat in the stroller for such a short time this is only a minuscule detail. Overall, it's super easy to use and a really awesome double stroller!  I especially love it's size.  It's small footprint makes it extremely agile, and when folded, is an especially compact double stroller and would fit in the smallest trunks. I also love that it is the right size to strap my diaper bag to the handles.
Price
*Note: I am in no way being compensated for this post by Graco.  
Last update on 2022-09-19 / Affiliate links / Images from Amazon Product Advertising API
Upon initial inspection, the lower cost does show.  The wheels are plastic (I really wish Graco made a pneumatic wheel!), and some of the connections seem a bit cheesy.  I'm hoping to get 3+ years out of this stroller, and then sell it for a decent price.  I have no doubt that it will hold up for our use. The quality of this stroller is great.  It's heavy enough to be substantial, but yet turns quite easily.  The rear wheels do not pivot, however, so reversing and parking can be tricky.
---
Graco Double Stroller Reviews – In My Opinion
I just love this stroller.  To me, it's simply the best double stroller!  We'll see if it's also the best double stroller for travel, too! There's so many different riding positions that I'm sure it will last us well into
childhood.
  My kids have had a ton of fun in it so far, and seem to be more than comfortable.  I'm overjoyed with our decision to buy the
Graco double stroller
and I can't wait to test it out on our
upcoming trip to Maricopa!
Last update on 2022-09-19 / Affiliate links / Images from Amazon Product Advertising API
What type of double stroller do you have?  Did I make a mistake in buying this one?  Let me know in the comments, or shoot me an email.
(Visited 455 times, 1 visits today)