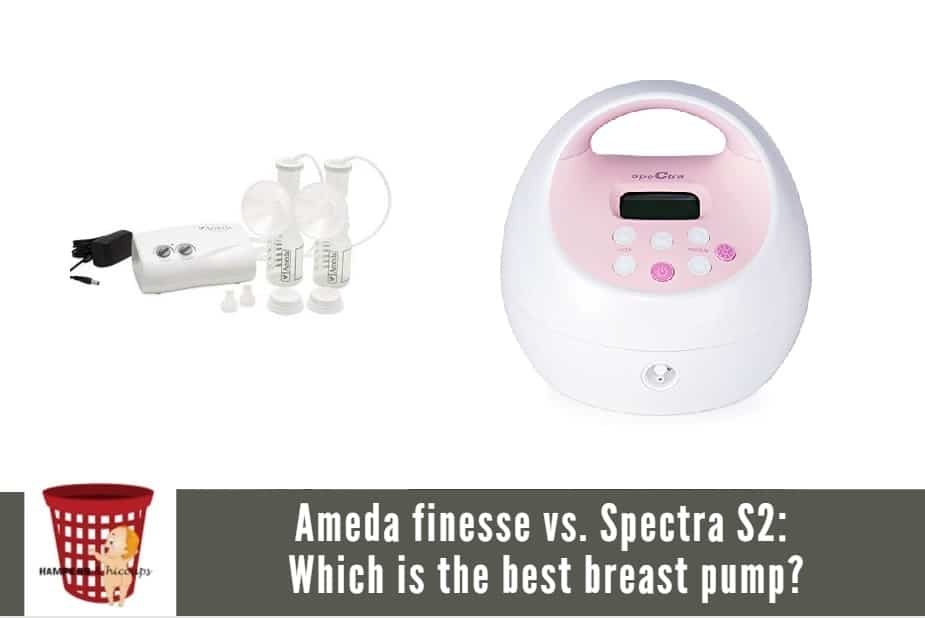 The birth of a child is a very important event that could place an unprecedented amount of stress on the mother. One way to cope with some of this stress is to invest in a breast pump.
There are a plethora of companies that specialize in the manufacture of A-grade breast pumps to aid lactating mothers with some of the harrowing difficulties experienced when breastfeeding. Two of these companies are Ameda and the newly introduced Spectra. Both companies have several top-of-the-range products to cater to the diverse needs of nursing mothers and newly born babies alike. There is a great likelihood that one would be undecided as to which of these products to go for.
As a comparison shopper, this article offers an unbiased and honest comparison of a flagship product from each of these companies viz; the Ameda Finesse vs Spectra S2 to help you see which one might suit you best.
Differences between the Ameda Finesse vs Spectra S2
The peculiar differences between these two breast pumps are as follows
The Spectra S2 is heavier weighing about 3.3 pounds in total, while the Ameda finesse weighs about 2.53 pounds.
The Ameda finesse can be used with batteries, while the Spectra S2 doesn't have a backup power source but features a multi-volt power adapter so it can be used anywhere in the world
The Spectra S2 features a built-in night light, LCD screen, and an auto-timer while the Ameda finesse does not
The spectra S2 comes with Two flanges (breast shields) which are 24mm and 28mm in size, while the Ameda finesse comes with two 25mm and two 30.5mm custom fit flanges.
Comparison Table between Spectra S2 vs Ameda Finesse
| | | |
| --- | --- | --- |
| Details | Ameda Finesse | Spectra S2 |
| Weight | 1.11lbs | 2.5lbs |
| Rechargeable | No | No |
| Battery | AA batteries | No |
| Hospital Grade | Yes | Yes |
| Pumping system | Closed | Closed |
---

The Ameda finesse is a hospital grade breast pump that is electrically powered. It is arguably one of the most powerful pumps available on the market concerning suction strength. An important plus side to this pump is that it can be used with batteries, this makes pumping possible anywhere you find yourself. It is a great option for mothers who are always on the go.
In addition to this, it is compact and lightweight, weighing about 2.5 pounds, and includes a tote bag for ease of carriage, making it an ideal mobile breast pump. Notable features of this pump include comfort flow technology for a smooth and comfortable sensation which leads to production of more milk, Hygienikit milk collection system designed to protect tubing and bottle against molds, bacteria and viruses, adjustable speed and suction to make it easy for you to find perfect settings for your body, disposable nursing pads to prevent any leaking, and four custom fit flanges in two different sizes to fit you perfectly.
Pros
It is compact, light, and easy to move around
It is very quiet
Hygienikit milk collection system used ensures maximum safety for your baby
Cons
Switching between the separate speed and suction dials could be quite cumbersome
Customer Sentiments
Most customers were very impressed with the performance of this pump.

The spectra s2 is also a hospital-grade breast pump with maximum suction strength of 270mmHg designed for personal use. For mothers who are struggling to express milk naturally, it is an indispensable aid as it will enable you to express more milk in a shorter period.
Pertinent features of this breast pump include a narrow, closed pumping system that keeps the tubing dry, thus protecting breast milk and baby from pathogens, a backflow protection also to keep breast milk from harmful bacteria, single or double pump capability, an automatic timer which allows it to switch off automatically peradventure you sleep off while using it, and completely adjustable suction settings with 2 phase cycling in let-down and expression mode to allow you adjust pump settings based on your body's response.
One great perk of this breast pump is that it is super silent operating at 45 decibels which is about the hush of a library and also includes night lights, both of which make it suitable for discreet pumping in the night and office use. In addition to these, all the storage containers and parts of this pump that come in contact with breast milk are BPA/DEHP (harmful chemicals used in making flexible plastic) free.
Pros
It is very quiet, operating at 45 decibels
It has both single and double pump capabilities
It can operate hand-free
Cons
It has no back-up power which restricts pumping to places with electrical outlets.
The accessories are not always available and have to be purchased separately
Customer Sentiments
The reviews section of this product was buzzing with many happy mothers who claim it is a lifesaver, and it is easily one of the best pumps out there, but there were a few complaints about the accessories being of poor quality.
---
FAQs on Breast Pumps
Do I buy a manual or electric breast pump?
For mothers who intend to pump once in a while, manual breast pumps are fine. They are small, handy, make no sound whatsoever during pumping, and are also quite cheap. The downside to manual pumps is that they require a lot of effort to pump, it takes a long period to express milk, and they always result in hand fatigue. Electric pumps, on the other hand, are powered by electricity and are very convenient with no stress whatsoever.
They can be used to express as much milk as possible, and also require little time to express large quantities of milk.
When should I express my breast milk?
You can express milk at any place and time which you find convenient, but it is recommended that your pump in the morning, for optimum lactation. This is because, according to research, prolactin levels are always highest in the morning, making it the most preferred time to use your breast pump.
How long should I pump?
For most mothers, pumping for about 15 minutes is sufficient. For others, they may need to pump for 20 minutes, but endeavor to not pump for more than 20 minutes at a stretch so as not to overwork your body and give it time to recover.
For mothers who just started pumping, it is okay to pump for a little longer after the milk stops flowing as it sends a signal to your body that current milk levels are insufficient and more milk is required.
---
Verdict
In conclusion, the breast pumps being reviewed in this article are both amazing without a doubt. They are both top of the range products and have many really exciting features that have got nursing mothers buzzing about them. Both pumps are hospital grade and have tremendous suctioning power and saying out rightly that one is better than the other would be farfetched, but the spectra S2 just about edges the Ameda finesse for us.
With the noiseless operation of its motor, highly customizable settings, suction strength, and various other great features, it is the ideal pump that every mother deserves. Not to mention the utmost safety of the baby was born in mind while designing this product with various pathogen-inhibiting mechanisms in place and avoiding the use of BPA/DEHP.
One area in which the Ameda finesse trumps the Spectra S2 though is its ability to use batteries as an alternative source of power. This might be a deal-breaker for mums who are always on the move as they won't have to keep sourcing for electrical outlets to pump. The Ameda finesse is also lighter, and more convenient to carry about weighing about 1 pound less than the Spectra S2.
All in all, they are both amazing products, and we hope you and your little angel are happy and satisfied with whichever one you end up picking.
(Visited 586 times, 1 visits today)