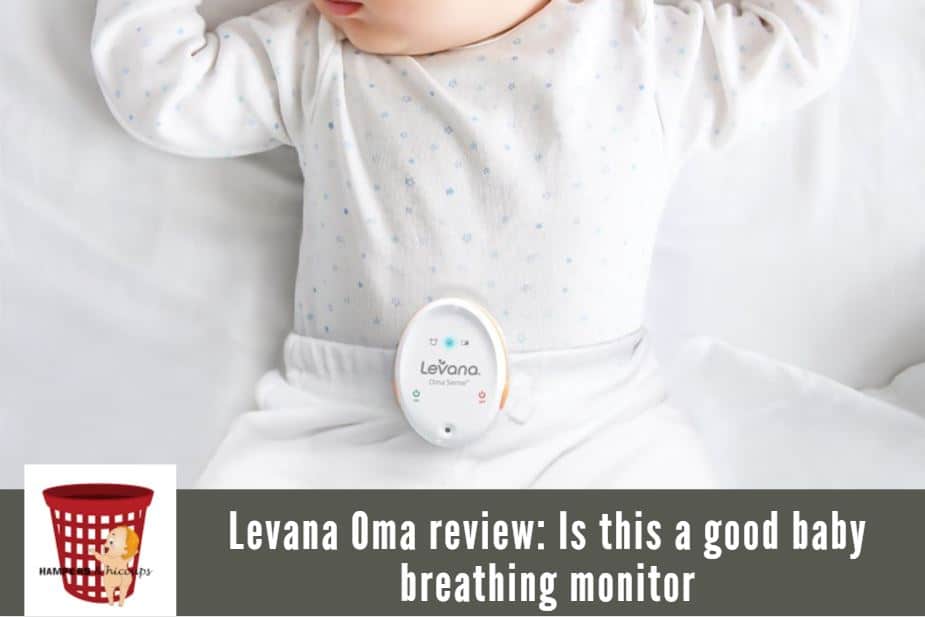 Baby monitors are one of the many ways that parents can keep an eye on our babies avoiding disasters and the dreaded evil of SIDS.  A baby monitor is a very essential component in the protective fort around your child.
The Levana Oma baby breathing monitor is an excellent choice when it comes to keeping tabs on your child. Therefore, in this article, we shall dive into a detailed analysis of the features, pros, and cons as well as the dos and don'ts. Every detail you need to help you make an informed decision about the Levana Oma would be provided.
However further consultation with your doctor is highly advised before you make the final decision. When it comes to your baby's health, factors like health history, environment, genetics, etc. come into play. Advice factoring all these can only be given by a trained physician. 

1. How it works
Straight from the box, the first thing that makes the Levana Oma special is clear i.e. its portability. It can fit easily into your palm and looks a lot like an egg-shaped remote. The Levana Oma baby monitor works by sensing your child's breathing and flashes a blue light when your child is breathing fine. If after 15 seconds it senses no breath or movement it makes a soft sound and vibrates a little to stimulate the baby back to its normal breathing and movement pattern.
After 20 seconds (5 seconds after stimulation has been initiated) and no breath is sensed the baby monitor would go into full alarm mode. Loud sounds and flashing lights enough to wake both you and your baby up. If you hear this loud alarm in the middle of the night, it goes without saying that it is not a drill and your baby needs your urgent attention.
2. Ease of use
One of the features that make the Levana Oma baby monitor the top pick for most parents is its ease of use. This is as a result of several factors
It is battery powered: Unlike most baby monitors that require regular charging and sometimes has a week battery life, the Levana Oma uses a replaceable (CR2450) coin battery. It comes with two batteries one to install and the other as back up.
No need to worry about the stress of getting a new battery or figuring out when the battery runs out. As soon as the battery is running low and needs to be replaced the red-light battery indicator would let you know. You can easily get a new (CR2450) at any convenience or departmental store.
It is important to note that the use of any battery other than the Panasonic CR2450 would render the Levana warranty null and void.
Installation: Installing the Levana Oma baby breathing monitor is as easy as A.B.C. it is so easy it really can't be called an installation, set up seems to be a more fitting word. To set up the Levana Oma baby monitor you twist the cap at the back of the baby monitor, place the coin battery in and twist the cap right back.
However, it comes with a caveat. The Levana Oma baby monitor, unlike other baby monitors, doesn't hang on a wall or lie beneath your baby's mattress, rather it must be clicked to your baby's clothing as close to the middle of the belly as possible. The Levana Oma monitors your baby's breathing by sensing the rise and fall of the belly where breathing is most obvious.
Therefore, if the baby monitor is not properly installed it wouldn't feel your baby's breath and would sound a false alarm.
3. Comfort
One awesome feature of the Levana Oma baby breathing monitor is that it is comfortable. With no wires or excessively flashy lights, this baby monitor doesn't disturb your baby's sleep.
It is also very comfortable to you as a parent as it doesn't blare out an alarm at the slightest inclination. Unlike most baby monitors that would call your attention as soon as 20 seconds elapse with no activity, the Levana Oma goes the extra mile of trying to stimulate the baby before calling your attention. This simple feature reduces the chances of false alarms by a wide margin.
4. Price
As parents, we are usually more than willing to break the bank for anything that would ensure our baby's safety and in most cases baby monitors require that we do just that. However, the Levana Oma is quite affordable, providing safety without denting the account balance.
---
Pros and Cons of the Levana Oma
Pros
Very affordable.
Easy to use and install.
Cons
Regular false alarms if not attached to your baby's clothes properly.
No app that can connect the baby monitor to your phone. 
Customer sentiment
A lot of customers profess their love for this baby monitor and go as far as to say that they sleep better when their babies have the Levana Oma on.
However, some parents complained of the monitor giving false alarms, especially when it slips off the baby clothing's.
Some baby clothes aren't suitable for this device to clip on to and this constitutes a serious problem.
---
FAQs about Levana Oma
Are there limitations to the Levana return policy/warranty?
There are several limitations to the Levana warranty e.g. physical damage isn't covered, use of other batteries other than the Panasonic CR2450 would also render the Levana warranty null and void.
However, the Levana Oma baby monitor is very sturdy and isn't prone to damage, so except something out of the ordinary happens you wouldn't need to replace the baby monitor or activate the Levana warranty.
Does the Levana baby monitor work with a memory foam mattress?
Yes.
As it isn't installed on the bed or beneath it but rather on the cloth of your baby, the memory foam mattress doesn't interfere with the Levana baby monitor in any way.
Does the Levana oma baby monitor work if the baby is sleeping in a swing or my arms?
The operation of the Levana baby monitor suffers from interference by outside motion. It works best when a baby is sleeping in a crib or bed. It also works reasonably well if your baby is in a car seat or stroller through the movements that might disrupt its smooth operation.
---
Verdict
The Levana Oma is no doubt a new entrant into the baby monitor market however it has skyrocketed into the big leagues going toe to toe with the more established brands such as the owlet smart sock and the angel care baby monitor.
When it comes to price, portability, ease of use and reliability the Levana Oma baby monitor has it all in perfect synergy.  The Levana Oma stands as one of the most popular user-friendly baby monitors out there.
However, it still has a few shortcomings due mainly to wrongful use by parents. But by following the instructions and using the Levana Ova correctly you can bank on an excellent experience.
In conclusion, the Levana Oma is a good buy and is highly recommended to keep tabs on your baby's breathing and protect their health.
(Visited 102 times, 1 visits today)