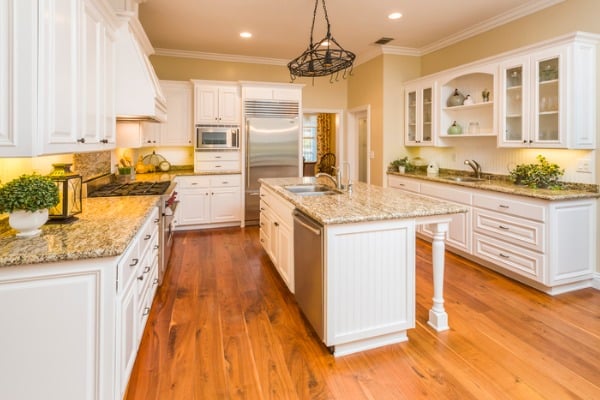 So much happens in your kitchen, from cooking and cleaning to coffee and catch-ups. It's one of the most important rooms in the home, and you should feel comfortable in it.
If you think your kitchen is looking worse for wear, or you simply want to freshen things up, there's lots you can do to upgrade it without breaking the bank.
Organisation
One of the most simple, yet effective ways of giving your kitchen a new lease of life is to declutter. Go through each and every cupboard and see what you can donate or recycle.
You might find old crockery, gadgets you never use, or even just tinned food that won't be eaten. Ask yourself: do you really need this?
Once you've narrowed down to your essentials, you want to store them effectively. Shelves are a great storage solution. You can try some DIY and use an sds drill to install shelving.
Space Solutions
Let's explore more storage solutions, as they're a vital tool to keep your kitchen looking fresh.
Any kitchen space should have smart storage, but it's particularly important for smaller ones. Once you've installed extra shelves, you could take it one step further and start wire racks.
That way you're getting two shelves in one. Also, look for places where you can hang hooks – from inside cupboard doors to some spare wall space. There are lots of kitchen storage ideas you can try.
Colour
Another simple way of upgrading your kitchen is to paint it. It can give the room a completely different look.
Whether you want to paint the walls or touch up the cupboards, a new colour can make a big difference. It's your kitchen and your colour preferences.
You don't have to stick to design rules. If you are looking for some inspiration on what palettes to pick from – there are plenty of kitchen paint ideas to help get you started.
Small Touches
If you're not feeling DIY, there are some other ways you can upgrade your kitchen.
For instance, you could switch out the soft furnishings like your seat cushions, table cloth or even just your tea towels to mix things up.
Or you could get some fun kitchen accessories and create a new theme. Just like with painting, this will be entirely your preference.
Whether you love travelling and want to get some map-inspired mugs or want your kitchen to feel like a countryside cottage.
Your tastes can be shown in your accessories and what you've got on display.
Upgrading your kitchen doesn't have to come with a big price tag. It can be something as simple as a sort-out or a paint job.
Do you have any tips for easy ways you can upgrade your kitchen?
(Visited 50 times, 1 visits today)