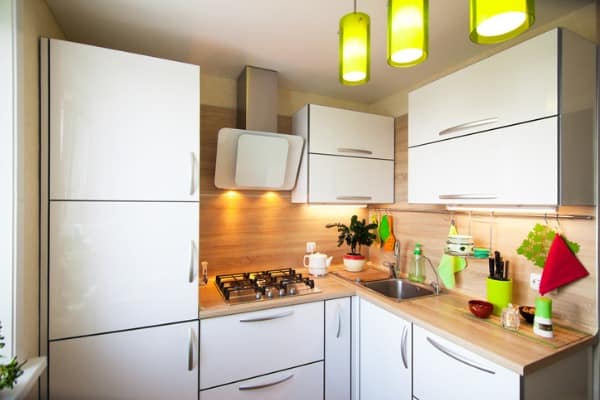 It doesn't matter if you live in an apartment or in a house, the kitchen is probably the central room in your house.
A lot of people would argue that the living room is the most important room in a home, but we all know it's the kitchen.
However, in most cases, kitchens are not as big as other rooms in a home. This can make cooking inconvenient and frustrating.
If you have a small kitchen, you know what we are talking about.
The question has to be asked – are people who have a small kitchen condemned to inconvenience and frustration or is there something to be done about it?
The answer is yes, there are things you can do to better organize your small kitchen and use most of the space you have. Here's what you can do.
Keep Things Simple
When it comes to kitchen appliances, most people want to have the newest gadgets that can help them prepare delicious food.
This is perfectly understandable, but if you don't have a lot of space in your kitchen, you should definitely try to keep things simple.
For example, most people eat in their kitchens. While they eat, they like to watch something interesting. If you are the same way, you might be tempted to install a TV in the kitchen.
Even though there's nothing wrong with having a TV in your kitchen, you should try to get a small one.
Also, if you can, you should get the one that can be mounted on the wall. This way you won't miss an episode of your favorite TV show while eating and you will manage to save plenty of space in your small kitchen.
In case you don't know where to find a TV that would fit perfectly in your kitchen, experts at LifeRejoice.com may have some suggestions.
You should be able to equip your kitchen any way you want, but make sure to keep it simple in order to save space.
Install A Preparation Table
If you have a small kitchen, you probably have small countertops, too. This can be rather frustrating, especially when you are preparing food.
Therefore, if you want your kitchen to be more efficient, you should definitely install a preparation table.
You can mount it on the wall or simply buy a small dining table and you will be able to save a lot of space. More importantly, this will make your cooking easier and more enjoyable.
Organize Your Cabinets Better
If you don't have a lot of space in your kitchen, you must try your very best to organize things better.
For example, a lot of people tend to simply shove things into kitchen cabinets when they are in a hurry.
Doing this is not recommended because you are not using the space you have properly and finding a specific item later can be a struggle.
Therefore, make sure to tidy things up and better organize the items in your cabinets. This way you will be able to put more things in cabinets and your kitchen will look better.
Clean The Clutter
One of the most common reasons why we don't have enough space in the kitchen is the fact that it's cluttered.
That's right, we are simply not tidy enough and that's why there's not enough room for all the kitchen appliances, dishes, and cleaning products.
Therefore, if you have a small kitchen, one of the best and easiest ways to make more room for yourself is to declutter it and clean this area of your house on a regular basis.
This will only take a few hours of your time, but you will be able to prepare your food properly.
Hang Your Pans And Mugs
Pans and mugs are a necessity in every kitchen. This is exactly why people have a lot of them at their disposal.
The situation is probably the same in your home. There's nothing wrong with having a lot of dishes.
However, it can be a problem if you don't have where to store them. Keeping them on the counter is not very practical because they will just get in the way while you're cooking.
On the other hand, you can't simply get rid of them because you need your dishes.
The best and most elegant solution to this problem is to mount a hanger on the wall and hang the pans and mugs.
This way you will declutter your countertops and you will be able to grab a pan or a mug whenever you need one.
Use Shelves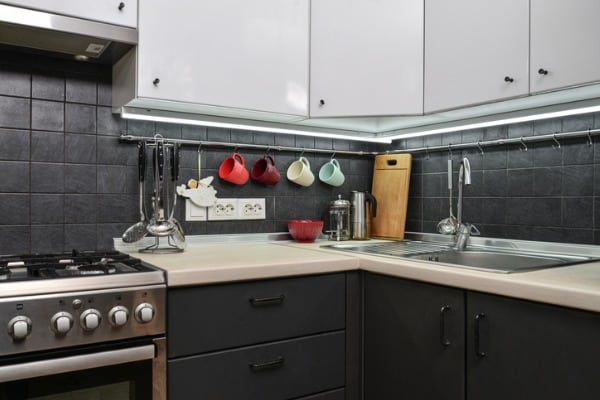 A lot of people avoid having shelves in their kitchen because the items on them are exposed for everyone to see.
If you don't have a problem with showing off your dishes and food, make sure to install a few shelves in your kitchen.
This will give you a lot of storage space and your kitchen will be more efficient. This is not an expensive renovation job, but it will make your life much easier.
Put Your Fridge Somewhere Else Or Use A Small One
As you probably know, the fridge takes up a lot of room in your kitchen. However, you can't live a normal life without using a fridge or a freezer.
Therefore, if you want to save a certain amount of room in your kitchen, you should try putting the fridge somewhere else in your home. If you have a pantry, you should put it there.
If you don't have room in your kitchen for a big fridge and you don't have where else to put it, simply get a smaller fridge.
The same goes for all of your other kitchen appliances. Trust us, this will save you a lot of room.
Having a small kitchen may cause you a lot of problems and inconveniences when it comes to preparing food.
However, you shouldn't despair. Follow the instructions we gave you today and you will make your kitchen more efficient and more pleasing to the eye.
(Visited 30 times, 1 visits today)