Kitchens are just one of those rooms that need to be functional and practical above all else, but nowadays more and more people are starting to decorate and enhance their cooking space.
But, the truth is a lot of factors can play into whether your kitchen is pretty or not, and even small changes can enhance it!
Trends come and go, but some are just unbeatable when it comes to style, but the key is mixing it with the new wave of decorating!
So why have a plain and boring kitchen, when you can have a glamorous one – here's how to do it!
Color
Probably one of the first things that everyone notices when they enter the room is the color scheme of the space itself.
Some kitchens are extremely boring and monotone, making it not a pleasing sight to be in. As experts from Sawshub.com state, the quickest way to switch things up is to change the color!
This will give any space a quick fix, making it more lively and fresh. Obviously, you can change everything – starting from the cabinets, counters, and above all else walls!
Making an accent wall is a great way to sneak in a bit of brightness without making the whole room look flashy.
Also, wallpapers are pretty cheap, so you can get them in any color and change your room, however, and whenever you'd like without having to paint and remodel it all the time!
Material
Want to instantly change your kitchen from looking cheap and boring to looking glamorous and fancy? Adding a natural material into the mix is a perfect way to achieve just that!
Some of these materials like marble or quartz are known to look extremely beautiful, making any kitchen look put together and high end.
These kinds of materials can be extremely expensive, the more counter space you have the worse it is!
So if you don't want to spend thousands of dollars on something like that, you can always get contact paper and make your marble dreams come true!
And also remember if you are choosing to go this route, don't mix multiple natural materials, wood is usually good for mixing as it looks well put together, but having a combo of two different kinds of marble might be a bit much.
Less is more when it comes to this!
Details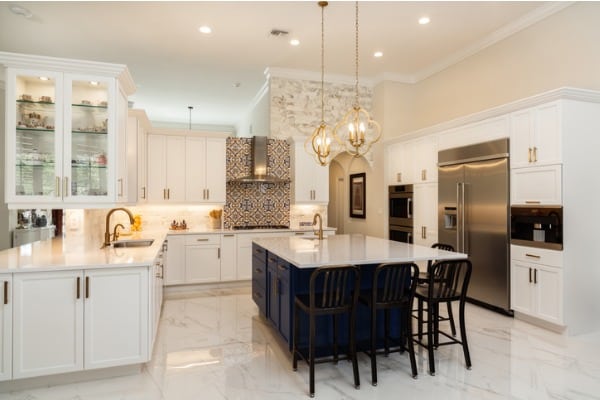 No wonder people keep saying this, it really is all in the details! The power that a small item can hold is incredible.
If you are going for a more natural, down to earth vibe, the best decoration you can use is houseplants! This is minimalistic, yet cozy!
But if you want to go the extra mile and get something show-stopping, gold stained details on everything you can find is probably the best thing for you!
From vases and pits to decorative figures, you can find a lot of decors with golden accents that can work perfectly with any aesthetic, and make your kitchen look just a tad bit more glamorous!
The key is to keep a balance between a bare kitchen and a cluttered mess – so make sure you don't go overboard, but still, be generous when decorating your kitchen!
Patterns
Patterns are usually tacky and loud…unless you know how to work with them, then they are the most stylish and glamorous touch you can add to something.
Adding a pattern in a form of tiles is a big commitment, but it sure does look nice in the long run.
Choosing the right tileset and pattern all depends on the site of the kitchen and the color scheme you already have.
So, base your choice on those things, and try to avoid patterns and colors clashing too much, without making it all seem monochrome and blend in.
Black and white is always a safe classy choice, and it also goes with everything.
But, if changing your tiles seems like too much of a commitment, getting curtains with a pattern might be a good, less permanent solution!
Statement Piece
If you really don't want to spend a lot of money on remodeling and repainting stuff in your kitchen but want to have the same effect – there is a shortcut!
You can actually add a statement piece in your kitchen, even if the rest of the space is looking bland and muted, this pop of something will certainly make your kitchen look richer.
Now, this is a bit bigger than your regular decor and accents, this will probably have to be an additional piece of furniture like a kitchen island or something like that.
Put the whole emphasis on that one spot as it will certainly grab everyone's attention when they walk in!
Mix it Up
If you truly want to have a kitchen that is on par with the trends, making it stand out but still be functional at the same time?
Well, it's the perfect time to let your imagination loose and start creating! Forget about clean, cookie-cutter kitchens with white cabinets and white tiles – they are so outdated and boring, instead, opt for something completely out of the box.
By matching different color cabinets – maybe having the top cabinets be one color, and the bottom ones be a totally different but complementary color might just give you the perfect effect.
When you break down space and give the eye a lot of things to look at, it will automatically be more rich and glamorous – even if it's not cluttered with things.
Small changes that can have a large impact are key in creating a well-balanced, fabulous kitchen so go at it like the sky's the limit!
At the end of the day, style is subjective and the same goes for making your dream kitchen.
There are obviously useful tips that can help you and lead you to put certain things together, but it's totally up to you!
You will be spending lots of time in there, so it better be a pleasant space for you to be in – so be as creative as you'd like!
(Visited 222 times, 1 visits today)