Buying kitchen appliances can be an overwhelming task especially if you do not know what to look for. The entire process can be just as complicated as purchasing a new car. Since there are plenty of new options and technology is always changing, you may have trouble picking the most appropriate kitchen appliances. Here are some useful tips to ensure that you buy the right appliances:
1. Budget
You can find reliable and high-quality kitchen appliances without having to spend too much. Most brands offer a wide range of prices to suit different needs. In most cases, things such as extra features, finishes, and capacity influence the price. If you do not have a budget in mind, the temptation of having extra features may push you into spending more than necessary.
When trying to determine a budget for your appliances, consider how often you will be using them and how long you may be at home. If, for example, you are trying to design your dream kitchen, it makes sense to go all out. If, however, you are getting a dishwasher for a house that you plan on selling, you do not need to spend a lot of money.
2. Measure Twice
It is important to ensure that the appliances you choose can fit into your kitchen space. While it may seem simple, many people do not get it right. Even when the footprint fits your kitchen space, there are other things to consider. With a fridge, for example, you need to ensure that there is enough space for when the door opens. You should be able to get it through the doorway and navigate the kitchen without any problems.
3. Pick the Right Brand
With appliances, some brands are generally better than others. Do some research before making your decision. Kitchen appliance reviews like these may help you determine the best brands. Even though brands are important, you should be careful not to get caught up in brand names. High-end brands are not always right. Even though they last long, some of them may need frequent repairs.
Another great way to determine if a brand is right for you is by getting recommendations from your networks. The internet has all the information you may need. Even though the best styles and features are subjective, there are a few general things to consider. They include durability and quality.
4. Avoid Impulse Buying
When shopping for your appliances, avoid impulse buying. Do not get tempted by great designs, major sales, or new features. Think about your needs and buy appliances that match them. Avoid appliances that you may have trouble using.  Do some research just as you would with any other major purchases. Do not buy the first thing that you like.
5. Convention or Convection
When looking for ovens, consider the benefits of convection over conventional options. Convection ovens come with fans and exhaust systems. Air is circulated around your food making it cook 25 percent faster than with a conventional oven. The food cooks more evenly. Convection ovens are great for pastries, meats, and vegetables.
6. Understand Your Needs
Know the things that you need in an appliance before you start shopping. If, for example, your family enjoys hosting, you may need large-capacity appliances. If you live alone or have a small household, you do not need anything large. If your family enjoys frozen foods, you may need a bottom freezer to avoid straining your back when you reach for items in the fridge. Avoid complex smart appliances if you aren't comfortable with technology.
7. Energy Efficiency
Efficiency should be at the top of your list when buying kitchen appliances. Energy-efficient appliances help you save money even though the initial cost may be high. They lower your energy bills and help you cut down on emissions. Appliances with the Energy Star label are efficient.
8. Be Careful With Smart Appliances
Pick your smart appliances wisely. Even though they are a smart purchase, using them can be difficult. High tech devices and gadgets use modern technology which can be difficult to understand and use. Even though smart features are meant to make your life easier, some of them can make things more difficult. When electronics and computer components are added to an appliance, there is more to break down. Since technology is always evolving, there is always something new to look forward to.
9. Style
Think about the style of your kitchen before buying any appliances. Everything you buy should match the style and the general theme of your kitchen. Since you will be spending a lot of your time in the kitchen, it should be aesthetically pleasing.
Once you have found appliances that meet your needs, pay attention to the details that most people overlook. Go for unique styles and appliances that help your kitchen stand out.
A beautiful kitchen encourages you to cook more. Whether you choose to stick to one material or use a variety of options, ensure that your choice goes well with your home.
10. Finish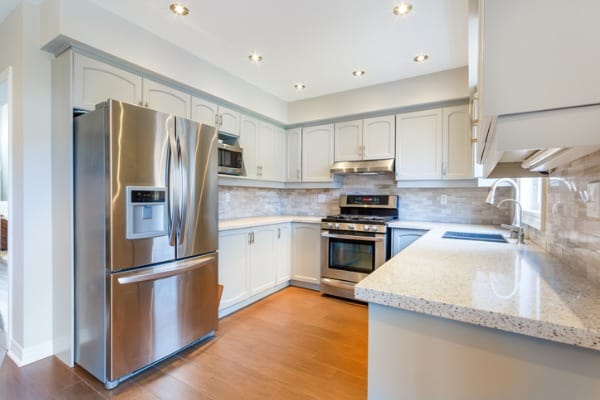 The finish of your appliances matters. Different finishes are appropriate for different looks and needs. The most common options include whites, blacks, and stainless steel. If, for example, you want to avoid the hassle of cleaning out fingerprints, stainless steel isn't a good option unless you invest in fingerprint-resistant stainless steel. White gives a clean look and black finishes look elegant.
Pick finishes that are easy to clean and maintain. They should not smudge easily, and they should go well with the rest of your décor.
Kitchen appliances are a huge investment. They are some of the biggest purchases you can make in your home. Therefore, a lot of thought and research needs to go into buying them. The right appliances should meet your functionality and decorative needs. Even though there are lots of options in the market, they aren't always right. Important things to consider include the size of your kitchen, brand, your budget limits, the finish, and energy efficiency.
(Visited 59 times, 1 visits today)