You will always have a keen eye for home and garden décor as well as raising your kids and running a busy household. Yet you love to get stuck into a new project every so often. When it comes to home improvements you are always looking for a new area to makeover and now it's time to get started. You want to do happy home decor improvements to make a family friendly atmosphere in your home, so that your kids can feel completely at ease. You long to have a house filled with laughter and little ones playing in the backyard. If you are looking for a more enjoyable family life, then consider the following home improvements to try.
Happy Home Decor Improvements for a More Enjoyable Family Life
Backyard Brilliance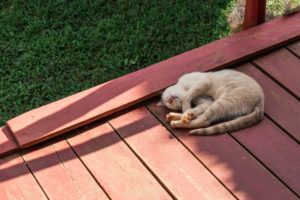 Your backyard is a huge space that you feel very lucky to have. Your children love heading out there on a warm sunny day to make up their own games and burn off their energy. You want a place to relax whilst you watch and observe their fun, so think about the decking materials you could have installed outside. Having sturdy wooden decking that won't split, swell or rot will be the ultimate family friendly addition to your outdoor space. You want non-toxic material that is completely safe for everyone in the family including children and pets, so consider your options carefully.
Crafty Corners
When the weather isn't too pleasant outside you need some indoor activities to keep the little ones occupied. Set up a crafty corner in your living area so that your children can start making something new whenever they can. You will no longer have restless and bored children on your hands if you always have box full of goodies that they can dip in and out of. They will always be looking to create something unique as it will get their artistic streaks flowing and you could end up with some super creative cuties!
Fun with Food
Another way to have a good time indoors is to have fun with food. This is an especially good idea if you are living with fussy eaters as it will give them a chance to step out of their comfort zone. You could start creating fun recipes together so that they can explore new likes and dislikes in the kitchen. If you struggle to feed your children fruits and vegetables, then why not create a fun fruit salad together? If they see how a recipe comes together they will be more curious and inclined to eat it. Cooking is a fun family activity that you can do on any day of the week so start factoring it into your daily activities. You could add a
with a pop up table and stools just for this purpose. Then fold it down and roll it out of the way when not in use. You could even keep child size rolling pins or aprons stored in the drawers.
Bedroom Bliss
It is very important that your children get a good night's sleep every evening, so make sure they have a beautiful bedroom to make that happen. A comfortable bed, cozy bedding and cuddly toys are all a must have so that they will drift off to sleep without a peep.
So make these happy home improvements and you will have a fun-filled house bursting with fantastic memories for your children as they grow up.
(Visited 1 times, 1 visits today)