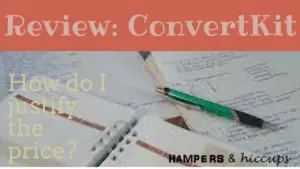 When I started this blogging journey months ago, I was determined to make a go of it with little to no monetary inputs – email marketing included.  Boy, was I kidding myself.
While it is possible to make an income with a self-hosted blog and free services, to me it is only a pipe dream.  I am not techy whatsoever, and the thought of coding makes me break out in a cold sweat.
So, I did what any 90s baby would do – I Googled and researched the best services and companies for people like me.
One of the biggest recommendations across the board was for ConvertKit – an email marketing service provider.  And, in my limited opinion on the matter, one of the best.
Let me give you a run down of why I switched from Sumo to MailChimp, and ultimately to ConvertKit (even with its pricey monthly fee that I couldn't initially justify).
Related Posts: 
Why you need an online quiz builder for your business
Tailwind Tribes + pinterest/instagram scheduling

Bluehost Overview
– best webhosting available (and only $3.95!)
Email Marketing is Hella Professional
It takes but a second on the ConvertKit landing page for a newbie blogger to feel a sense of "holy shit I'm in over my head".  One short video later and you're convinced it's easy enough to try out, even without requesting a demo.
ConvertKit is Extremely User-Friendly
I've already mentioned how non-tech-savvy I am (no secret).  With this in mind, I'm confident in saying that even I can figure out the layout of the site and the different avenues I may want to explore.
Anything and everything you want to send to your mailing list is a simple reality with ConvertKit.  Their easy-to-use interface and visual automation builder allows those of us with limited computer knowledge to whip up forms, tags & sequences in the blink of an eye.  Adding it to your blog or website is a cinch, too, with 3 different options for integration (java, html, wordpress plugin).
ConvertKit Has Everything I Need
Tags, sales funnels, tracking buyers, landing pages, surveys, content upgrades; you name it, ConvertKit has it.  Albeit I'm still in the very early stages of my blog and mailing list, but I have yet to be left without when it comes to my email marketing service.
There's even some fun (for us scientists) features that other free providers don't offer:
A/B Testing
Include/Exclude in broadcasts and series
Link to all major e-commerce platforms
Full automation and template options
[bctt tweet="#convertkit has everything I need. #blog #mommyblog #hampersandhiccups" username="hampsandhiccs"]
Sign up here to find out what other services I use for my blog

Spoiler: one is bluehost for web hosting.  If you're not using them, you're doing it wrong.
But it's freakin' expensive!
Ya, it is.  I'm paying $261/year which works out to just under $22/month.  My plan is sufficient for up to 1000 subscribers.
How did I justify this?
ConvertKit is professional.  I want to be professional.
It takes money to make money.
It comes highly recommended.
I save oodles of time (and frustration) not fumbling around on other platforms.
Ditto for the automations and integration.
Free landing pages.
Live chat.
Affiliate (Ambassador) Program.
The reality of the matter is this: I couldn't afford NOT to have ConvertKit.
While it definitely hasn't paid itself off (yet), it is worth its weight in gold.  If that's even a thing considering email marketing isn't a tangible good, but, rather, a service.  I do hope to one day need a larger plan and, by that time, be making a steady income to offset the cost.
Think of it like an energy efficient washing machine – you pay more upfront, but in the long run it's way worth it.  So don't waste time getting to your "long run".  Join up now to start saving time and growing your email list.
This content was created by original creator of this website, Katelynn Hegedus.
Don't forget to grab your free copy of my resource guide!

What did you think?  Do you use ConvertKit already?  Maybe you have some tips for me.  Let me know in the comments or shoot me an email.  I'd love to hear from you!
(Visited 55 times, 1 visits today)