Back when I was researching how to start a blog, I came across a LOT of info about Bluehost.  So, naturally, I bought in.
Everything I read told me that Bluehost is the best web hosting service provider available.  All the big names use Bluehost.
And let me tell you, it is so true.
Related Posts: ConvertKit
*ConvertKit is the BEST email marketing service you will ever use
Tailwind Bulk Scheduler
So what is web hosting?
Web hosting is necessary for blogs that are self hosted.  For the sake of this post, I'm going to refer to wordpress.org blogs, because that's what I use.
Unless you're, like, super duper tech-savvy and know how to develop, organize and run all the files necessary to make a website operate smoothly, you need a web host.
Basically everyone needs a web host.
And here's why.
Even if you can do all the stupid, crazy work to get all your files well oiled, do you really want to?
For only $3.95/month, you can have a professional service keep track of all your website back-end doo-dats.  Yep, less than $48 per year! I literally never think about my web hosting.  It's a "set it and forget it" kind of thing.
PLUS it includes 24/7 support.

Here's the truth.  I haven't really needed the tech support.  Honestly, right before I wrote this post, I contacted a rep about an error code I was receiving.  It just happened to be my timing – the security cert. was auto-updating as I was trying to tune in.
What that means for you.
They're so good, you don't even need to use their support.  But, for the record, the support is awesome.
Oh, and when I was finished talking to the rep, she set me up for a free phone call with their SEO experts to help me rank higher on Google.
I mention SEO because this is hands down one of the most important criteria to keep in mind when choosing the best web host. You want your site's web pages to rank, right?
Uhmmm, can you say BONUS
What if you're using a different web host?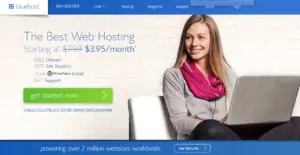 Ditch 'em.  Switch to Bluehost web hosting right now.  Seriously.  It's $3.95 per month. You cannot beat that for the service you get.
And it's extremely easy to switch.  Bluehost service representatives will walk you through it for a seamless transition.
If you're just starting out, I highly recommend Bluehost for a variety of reasons.
Easy to navigate
Tons of tutorials for easy integrations
Common for generic tutorials
Super inexpensive
Second-to-none customer support
Peace of mind
There's all kinds of tutorials out there to start a blog in less time than it takes to do your hair.  Nearly every single one points you to Bluehost.  Let that sink in.  The pros know where it's at.  Take this opportunity and run with it.
What is your favourite blog service? For a full list of what I use, and what I think you should use, too, subscribe here.
(Visited 28 times, 1 visits today)