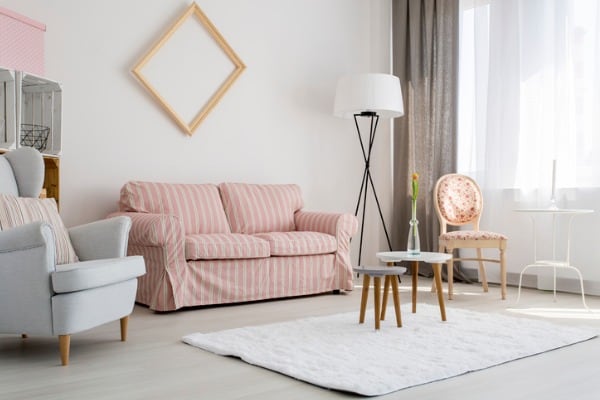 Now, this is a rhetorical question; who wouldn't want to feel comfortable in their living space? The Flintstones made do with comfortable rock chairs, and by the look of things, they had included a few additions that made their cave houses look good.
It doesn't matter if you live in a bungalow or a tiny apartment. Utilizing the space, you have to the best of your abilities is all that it takes to live in a comfortable home.
Today, and thanks to modern home designs, you can create a space you call your own and one that identifies with your personality.
It's human to want to live in a comfortable place, and neglecting this innate need will leave you in a state of agitation and uneasiness. Here is a descriptive guide on how to make your home a more comfortable place to live in.
Pimp Your Crib With The Right Furnishings
It might interest you to know that your home's interior design is influential to your subconscious. It's of utmost importance that you tailor your home's interior design in a way that not only pleases your body but your mind and soul as well.
Your home's furnishings will have the same effect, and you'll be wise to invest in furnishings that give you much-needed peace of mind.
When it comes to redesigning your interiors, furnishings should be at the top of your priorities. Finding furniture options that define a function and still provide you with comfort shouldn't be rocket science.
But if you don't have the eye for it, especially when it comes to choosing the best couches and sofas, this guide from ComfySofaStudio.com will provide you with all that it takes to find the best sectional sofas for your home.
But there are still other furniture options that you need in your home, right?
The idea is to make your home comfy. And what better way than to invest in the best. Below are factors to consider when buying furniture. They include:
Comfort – It cannot be reiterated enough that the comfort aspect should be at the top of your priorities. You have furniture that might look attractive but feel obnoxious.
This is especially the case when it comes to dining chairs, sofas, and couches. Consider the furniture's ergonomics before regretting your purchase decision.
Durability – This is a no brainer! You want to invest in furniture that will serve you for a long time. Be sure to check the material of construction as these can impact your furniture's longevity.
Features – Consider furniture features that suit your needs and preferences. The right parts will help to define the flow of movement within your home. By this, it means going for the correct dimensions, size, color, and capacity.
Declutter! Declutter! Declutter!
The terms cleanliness and comfort go hand in hand. A home filled with clutter will not provide you with the comfort you need.
When was the last time you made your bed, cleaned the sheets, took out the trash, vacuumed the carpets, organized the sitting area, and did laundry? If you can not remember, it's most likely that you live in a cluttered home.
Keeping your home clean will provide you with a comfortable living space that's free of germs and distractions.
Balance It Out With Some Green
Introducing fresh blossoms and greenery in your home will create a serene environment and a positive vibe in your living spaces. There's an inherent sense of belonging that comes with nature.
There are gazillion ways you can introduce and incorporate natural elements in your home to help make your home as cozy as it can be. Here's how:
House plants are a great way to bring some calm and serenity into any living space. However, these plants are under your care, and so they should be treated.
Create stunning mural walls to instantly transform the look and feel of any room in your home
If you happen to be a biophobic, then you might consider nature-themed accessories for your decorations.
Warmth And Comfort Through Lighting
The right lighting fixtures will help create warmth and a cozy atmosphere in your home. However, you'll need to determine your lighting needs, energy use, and lighting design. Gone are the days when overhead lights were the only option.
You might be interested in string lights for your wall art, table lamps, chandeliers, and wall-mounted lights. Whatever your inclinations and preferences, there's always something for everyone.
The above are secrets towards achieving a comfortable space to live in. Everyone has a creative side, and you should utilize it when redesigning your home's interior decor.
You can add textured rugs, colorful curtains or go all-in with a complete home make-over from professional interior designers. The choice is yours.
(Visited 9 times, 1 visits today)