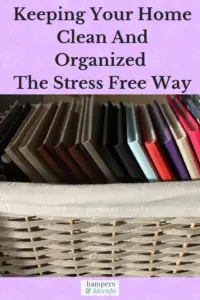 Keeping your home clean and organized is essential if you're going to enjoy living there. Your home isn't going to stay clean alone, no matter how careful you are. Dust and debris will always accumulate, and it's easy to get unorganized at times, too. You want to keep your home clean and everything organized so you can have a stress-free time in your home.
Keeping Your Home Clean And Organized The Stress Free Way
Below are some ideas that will help you to keep your home clean and organized the stress free way:
Go Minimal
How about going more minimal with your home? The more minimal you are with your decor, the less stressful your home will be to clean. You don't want to spend your time having to dust off lots of tiny ornaments, do you? Really look around your home and think about the things you can give up to make your home more organized and easier to clean overall. If something isn't adding to the usefulness or beauty of your home, then it should go.
Hire Professionals When You Need Them
Taking on big cleaning jobs without the professional equipment is nigh on impossible, so don't be afraid to hire professionals when you need them. Perhaps your carpets have gotten dirty since you had them put in. Make sure you figure out what to know about carpet cleaners before you hire somebody to take care of the job for you. You could even have a cleaner who will go over your whole house once every couple of weeks if you'd prefer them to take care of the deeper clean!
Only Have Things In Your Home That Are Beautiful And Useful
Whenever you're looking at having a clear out, or bringing something new into your home, you should only have things that are beautiful, useful, or both. If you're bringing things into your home for the sake of it, you're not going to love the look of it and it's unlikely it'll be the most functional home around.
Create A Weekly To Do List
Having a weekly to do list will help you to stay on top of your chores. Having a rota will mean you don't feel like you have to panic clean everything once a week. You can keep the cleaning spread out over the days of the week and make sure your home looks good that way.
Use Bins, Baskets, Hooks, And Other Storage
Invest in storage solutions that suit each room, as this will help you to keep it organized, Use bins, baskets, hooks, and any other storage solutions that you like to make the most of your space and keep things tidy.
Get Your Whole Family Involved
Don't hesitate to get your family involved in the cleaning! Make sure you keep your home clean and organized by giving your whole family a task, and this will give them a sense of responsibility as well as get them into good habits. You'll have a weight off your shoulders, too!
Stay on top of your home cleaning with these ideas!
(Visited 34 times, 1 visits today)