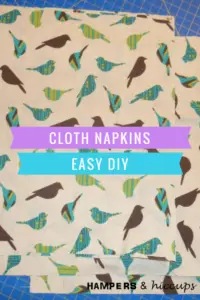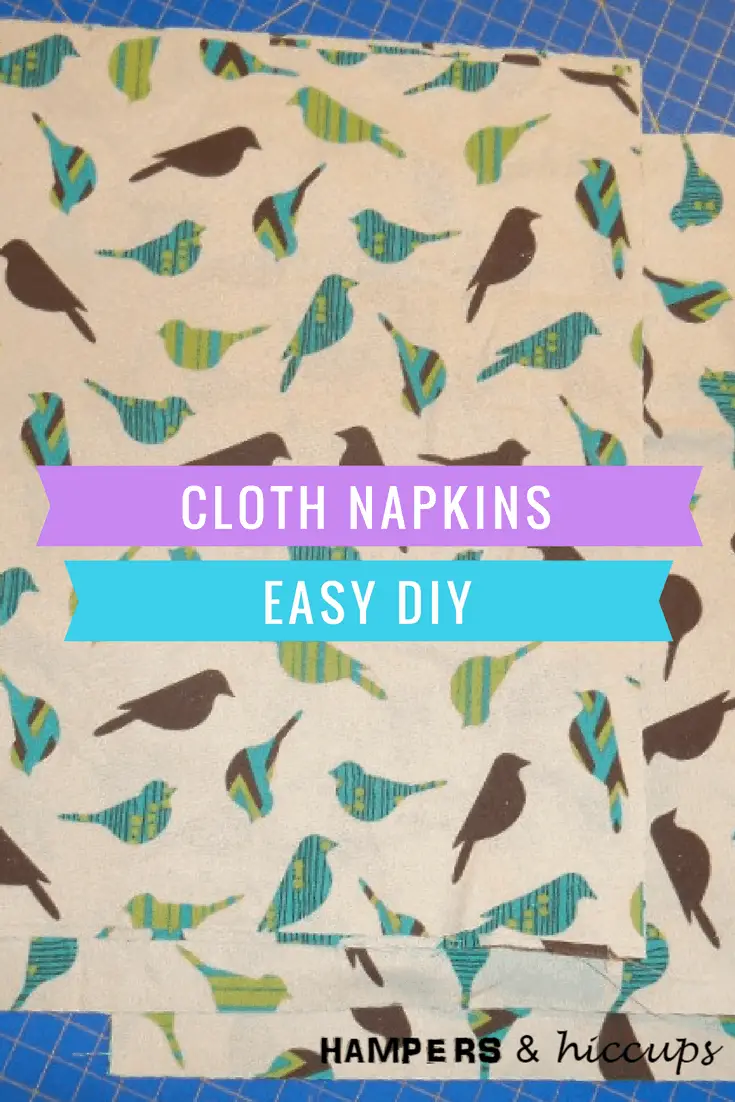 If you've been keeping up with Hampers&Hiccups, you'll know that we try not to use disposable products in our home.  One of the first items to go was paper napkins.  Come to think of it, I don't know that I ever really bought them to begin with.  My first cloth napkins were inherited hand-me-downs.  I loved using them so much that I vowed to keep up with it.
Cloth napkins are so much more fun and enjoyable to use than the paper alternative.  Yes, you can get the 'sposies in all sorts of colours, shapes, and designs, but they're still not very nice to use.  A cloth napkin is much softer and pliable.  Plus, often times they're larger and obviously more durable.
If you're into giving homemade gifts, these make a great one!  Try selling them to pick up some extra cash.  I've done both!
A couple of years ago I made my first set.  They're a Christmas/winter set and I love them!  They are a little on the smaller side, 8″ or so, but they get the job done and look beautiful and elegant on the table.
LAST spring I bought some material to make a spring/summer set.  Over a year ago!  I finally got around to whipping them up specially for this post.  Nothing like blogging to motivate a mama.  I decided to make them larger than the previous set, but the same style.
Enter, Easy DIY Cloth Napkin Tutorial.
These napkins are 12″ square when finished.  I used my sewing machine as opposed to my serger.  This is simply because I wanted to put my tags on them and that's not possible with a serger.  However, serging would be WAY easier!
So, let's get you making a set of your own!
Materials to Make Cloth Napkins
Cotton Fabric – 1 Meter will make 4 1/2 napkins.  I recommend buying 2 meters to get yourself a set of 9.  This can be all the same or coordinating front & back prints.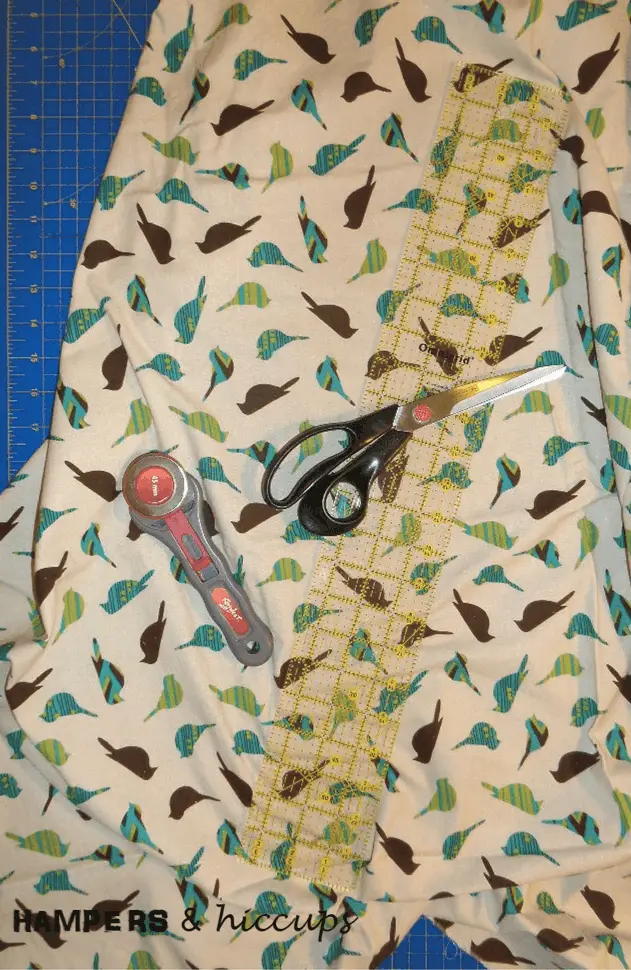 Coordinating Thread
Scissors
Pins
Sewing Machine
Optional – tags
Cloth Napkins Step 1 – Prepare
You'll probably want to wash your fabric to minimize shrinking and warping of the finished product.  Just do a quick wash with an eensy weensy amount of detergent and tumble dry on low or medium.
Find yourself an organized area large enough to set up your mat and lay out your material.  If you're lucky enough to have a studio or sewing room, this is easy.  If not, a kitchen table or counter works just as well.  I do have a studio but the lighting is super poor for picture taking, so I set up at the kitchen counter.
Iron your cotton if it's too wrinkly to work with easily.
Cloth Napkins Step 2 – Cut Your Fabric
Lay your cotton out flat on your mat.  Square it up as best you can by lining up the factory edge with a grid-line on your mat.  Depending how well the piece was cut for you, you may need to square it up by cutting it.  Likely, you'll be just fine, though.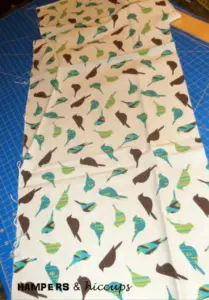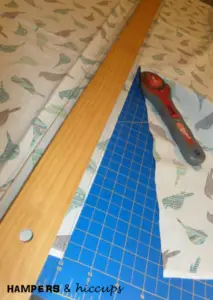 Cut strips 13″ wide down the length of the fabric.  You should get 3 strips.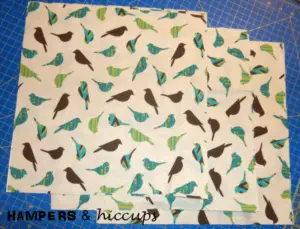 Now cut those strips into 13″ squares.  If you're comfortable with it you can stack them and cut all 3 at once.  You'll get 9 squares out of one meter or 18 our of 2 meters.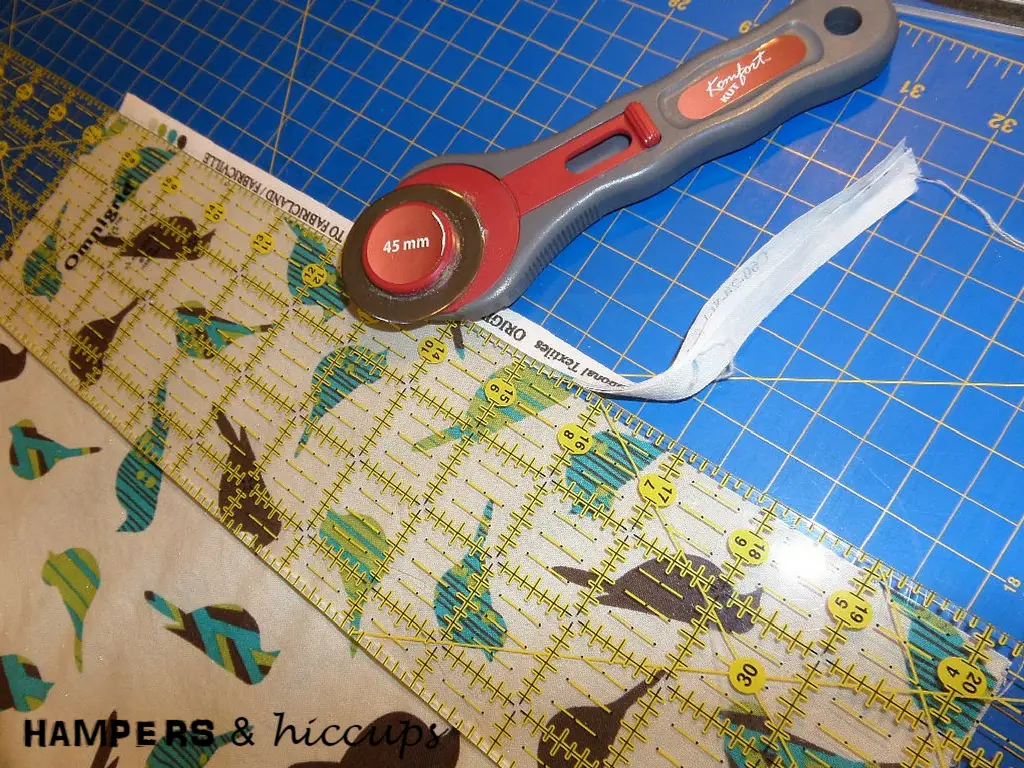 Note: I like to cut off the factory edge (selvage) to keep the bulk to a minimum.  
Cloth Napkins Step 3 – Combine & Pin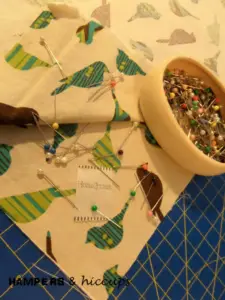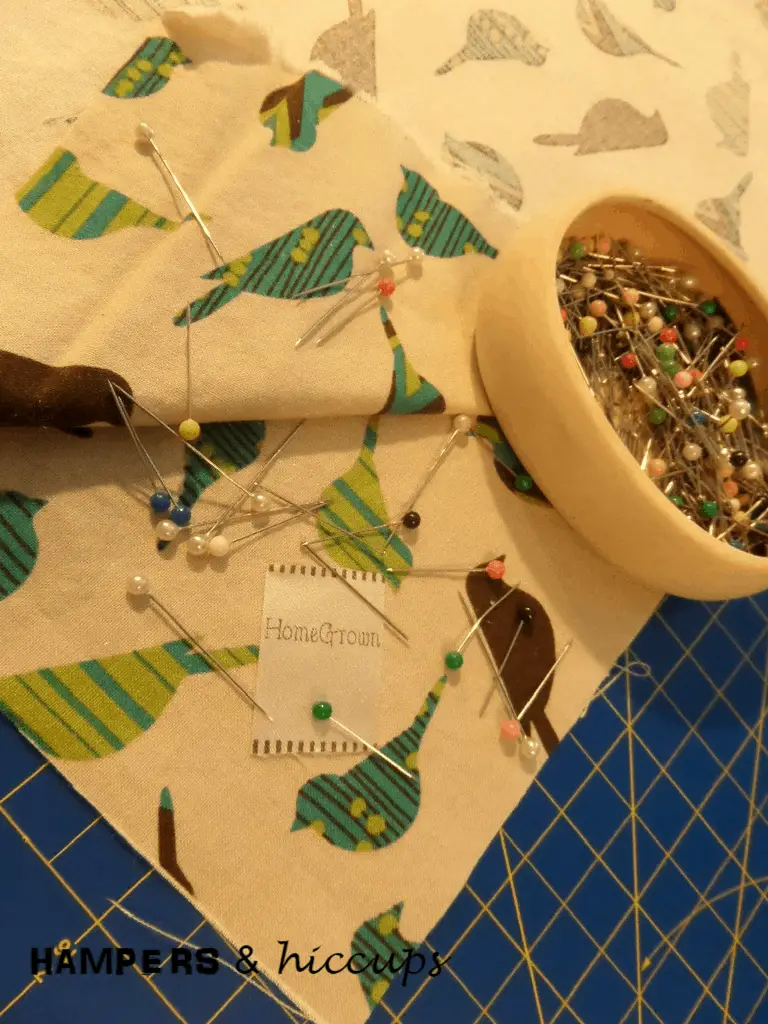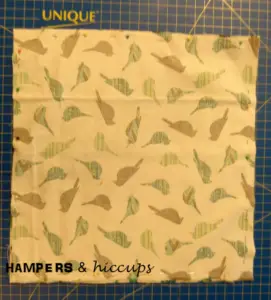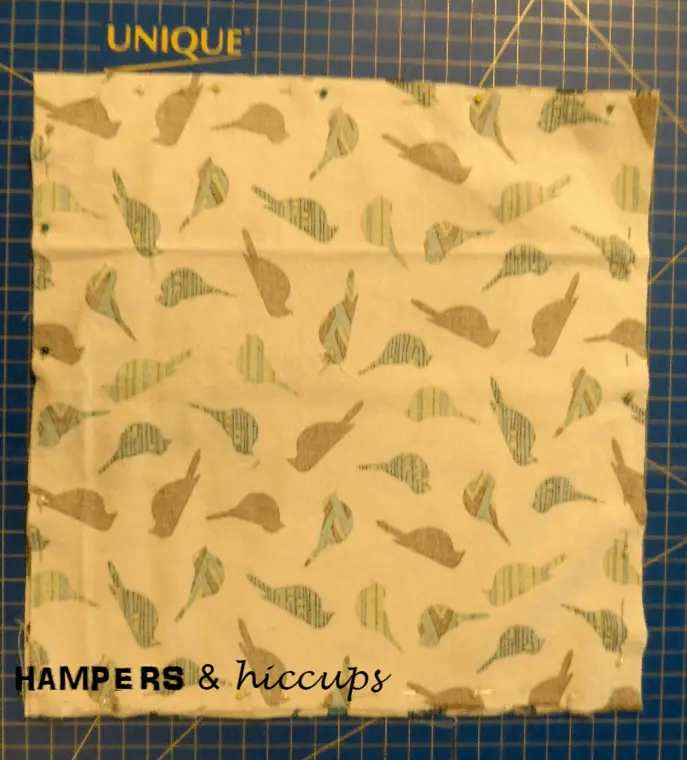 Now you're ready to put the pieces together.  Take two squares and pin them together, right sides facing each other.  Go ahead and pin in your tags if you're using them.
Note, you could, alternatively, use only one square and serge around it to make a neat and easy napkin.
Cloth Napkins Step 4 – Sew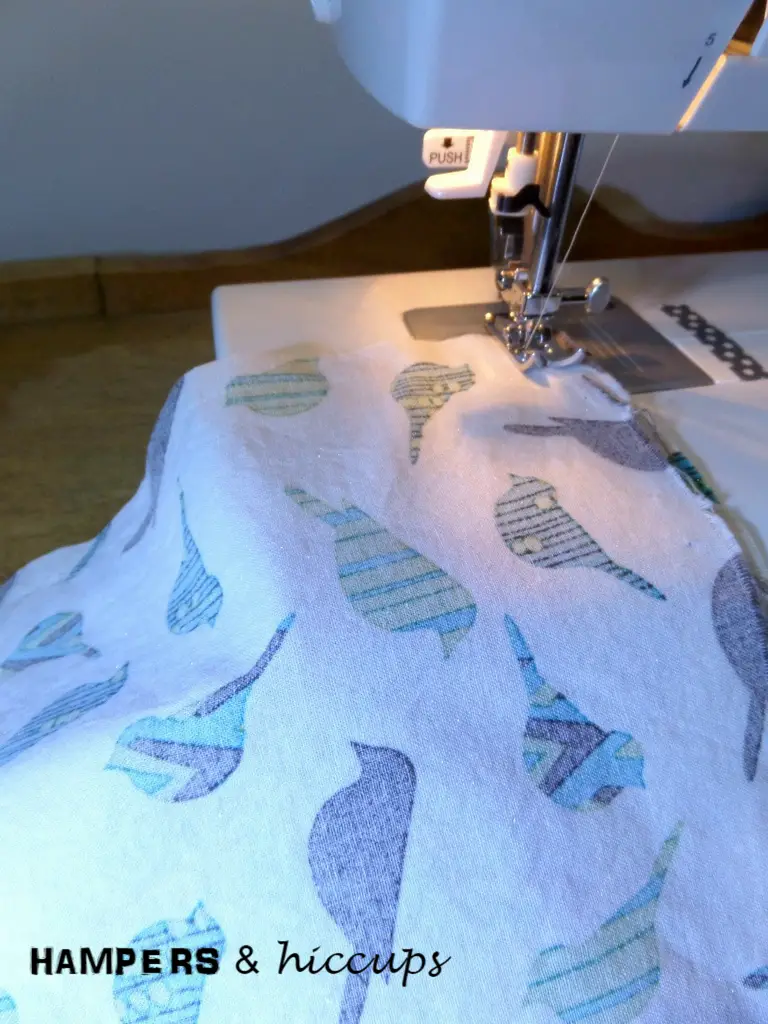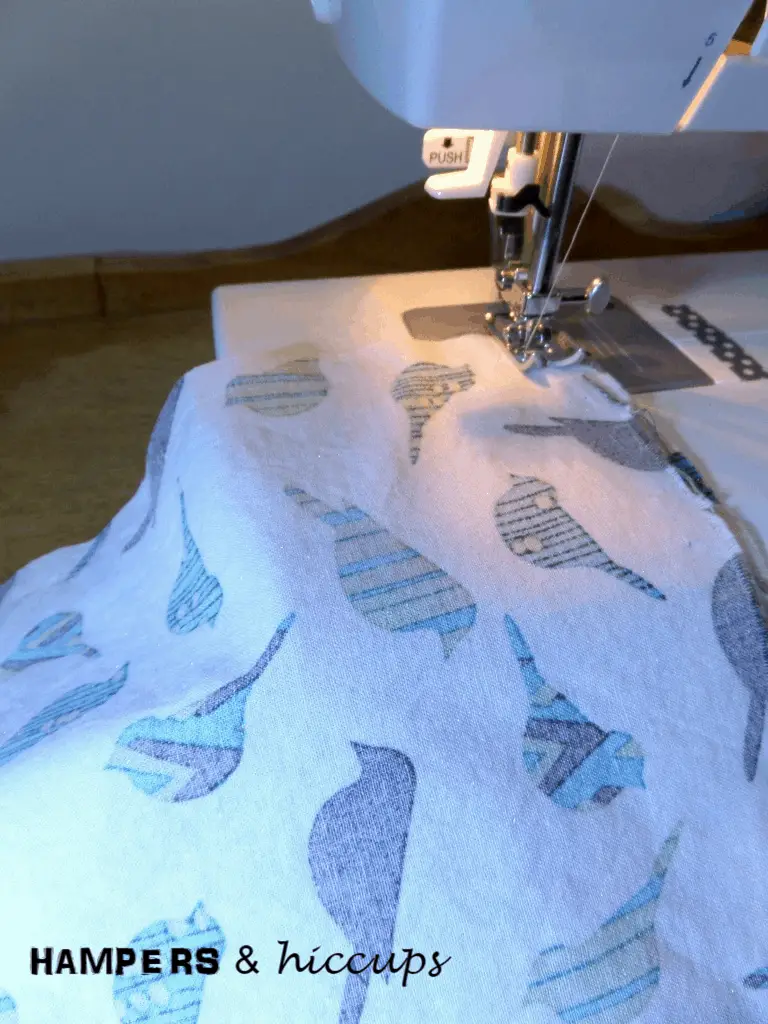 Run a stitch around the edge.  I've allowed for a 1/2″ seam allowance in this tutorial, but feel free to go smaller if you're more comfortable.
Be sure to leave about a 2″ gap for turning the napkins right side out.
Don't forget to backstitch at the start and end.  Trim threads.
Cloth Napkins Step 5 – Trim
Cut the corners of your napkins on an angle to make for a nice point once complete.  Feel free to trim the seam allowance as well to reduce bulk.  Just be careful not to nip the seam anywhere.
If you choose to trim the seam allowance, be sure to leave it intact where your gap is to make top stitching easier (see next picture).
Cloth Napkins Step 6 – Turn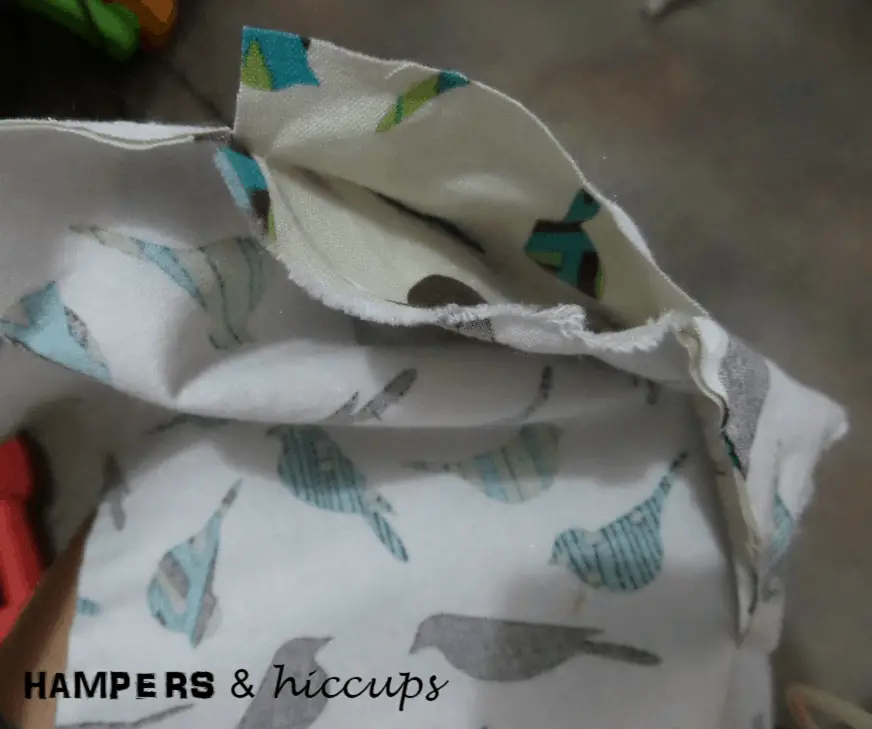 Pull the fabric through the gap you left, bringing the right side facing out.  Use your fingers, the back of a pencil or a dowel to gently push the corners out to a point.  *Notice how the gap seam allowance isn't trimmed.
Smooth flat and tuck in the seam allowance at the gap.
Cloth Napkins Step 7 – Top Stitch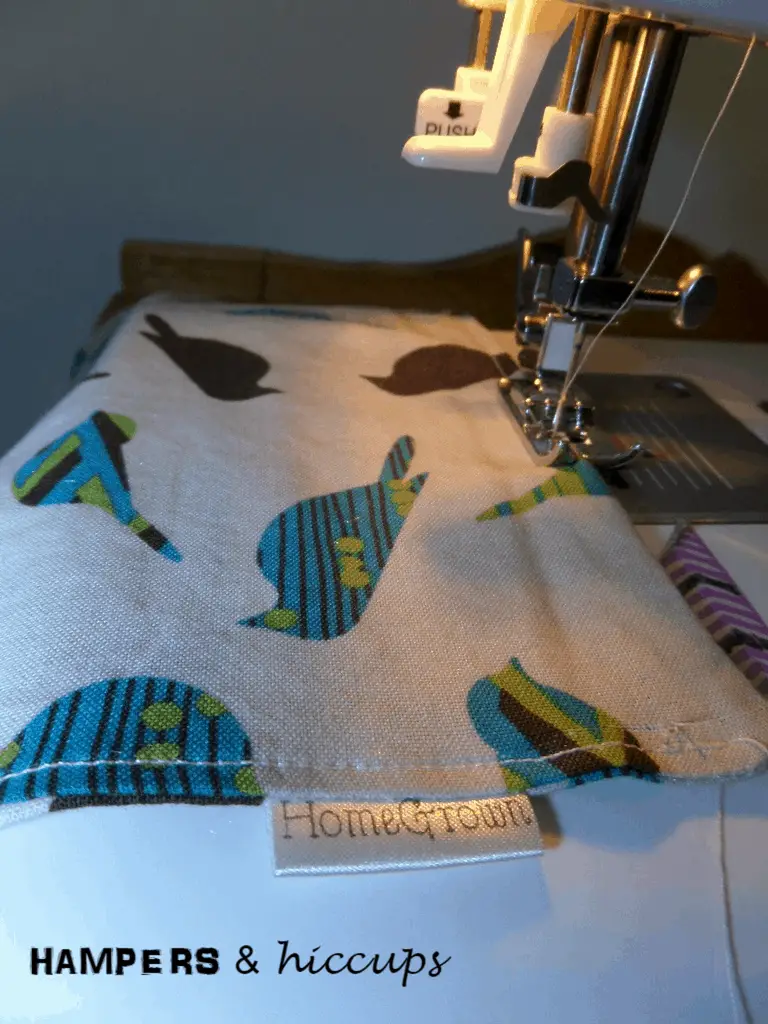 Run a stitch along the top of the cloth napkin.  Get as close to the edge as you feel comfortable with and be sure to seal up the gap you left in step 4.
Remember to back-stitch at the start and end of your run.
Trim your threads, iron if necessary, and admire your work!
Show Off Your Cloth Napkins
Get rid of all your paper napkins and use these instead.  They're really simple to wash – just throw in with your other kitchen towels.  Make sure to show them off when you have company for meals.  It will be a pleasant surprise when someone asks for a napkin or serviette to pull out a cloth one!  It will make you want to host all the time!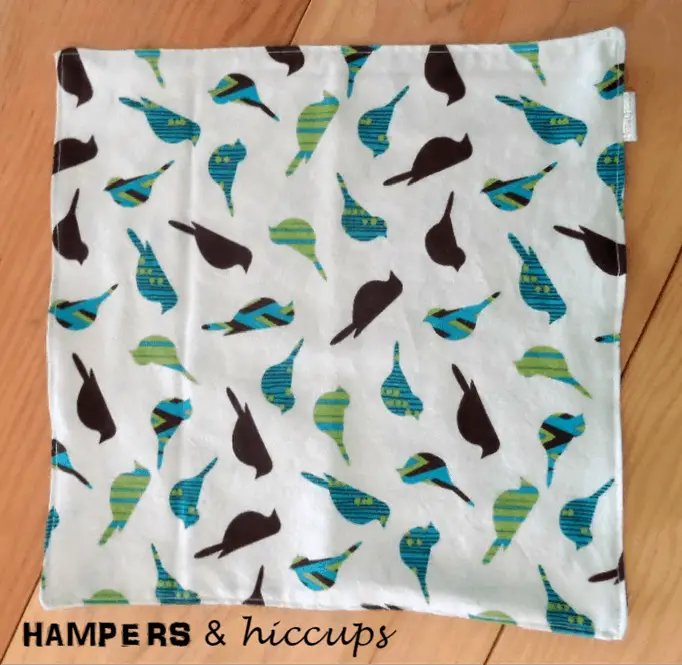 Happy Sewing!
(Visited 180 times, 1 visits today)