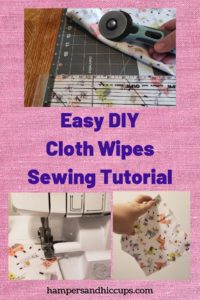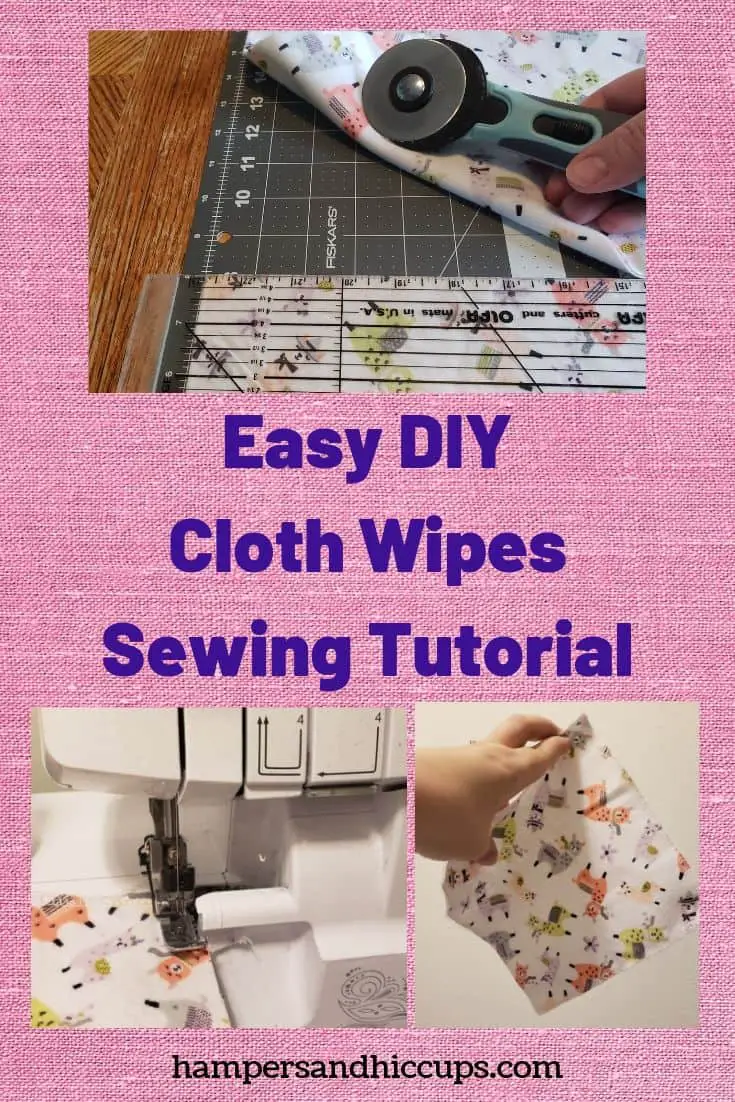 Heading to a baby shower soon and want to make a useful handmade gift? Here is a sewing tutorial for how to make Easy DIY Cloth Wipes.
Uses for Easy DIY Cloth Wipes
Baby Wipes, Toddler Wipes – they fold in half and fit in a used wipe container or warmer. I keep mine dry in 6 wipes containers with a 2 oz fingertip spray bottle of water and 1/2 teaspoon of liquid baby wash soap (for wipes solution) in each. The spray bottle is kept inside the container with the cloths. I keep a wet bag nearby for soiled cloths. I spray the cloth, then wipe baby or toddler's skin. For very dirty bottoms, I will carefully spray the bottom (avoid spraying in face or eyes), then wipe. I sometimes use a dry wipe to dry skin. Here is where I keep mine… 1) Near the high chair or dining room table or kitchen table to wipe little faces and hands or to absorb spills. 2) In the diaper bag for eating out or diaper changes while traveling (I have a travel size reusable container to keep them in). 3) Near my diaper changing area which is on the main floor of my home. 4) In my baby's bedroom diaper changing area, which is on the second floor of my home. (If I had a finished basement that the baby went into with us, I would keep a changing area there for convenience. I did that in my last home.) 5) At my breast feeding station next to my rocking chair in the living room as a burp cloth, for drool, for excess milk while nursing, baby reflux or spit up cleanup, and for wiping runny noses. 6) In the bathroom near the potty chair.
Cloth napkins – these could be used in a lunch box as a napkin, a bento box napkin, a TV dinner napkin, small table napkin as an alternative to paper napkins, also called unpaper napkins or paperless napkins or reusable napkins.
Cleaning cloths / kitchen wipes – clean counter tops (countertops), showers, toilets, mirrors, windows, walls, showers, bathtubs, Jacuzzis, dusting, spills, microwave food cover, as a microwave plate to hold food on or whatever you would normally use paper towels for. Also called unpaper towels, paperless towels, cloth reusable towels.
Pet cloths – cleaning dog faces, dog paws, wiping eyes, washing or drying after applying ointments, drops or medications.
Cloth dryer sheets – an eco friendly alternative to chemically laden commercial dryer sheets. To use, simply mix up a simple solution of 1 cup distilled white vinegar and 8 drops of your favorite essential oil (optional). Store your cloths in this solution until ready to use. When you need one, wring out the excess liquid and toss into the dryer with your laundry. When your laundry is dry, put it back into your solution to be used again.
Bath wash cloths (washcloths) – for bathing or face washing
Makeup removal cloths – use for washing off makeup or applying toner or astringent.
Drink coasters – to protect your furniture from drips or condensation.
Handkerchiefs – (hankerchiefs, hankercheifs, hanky, hankies, reusable kleenex, reusable puffs, reusable facial tissues) carry in purse or pocket to dry tears or wipe a runny nose.
Paperless toilet wipes / personal hygiene wipes – (as a reusable alternative to toilet paper, unpaper toilet wipes, family cloth, cloth toilet paper, reusable toilet paper) wipe clean, then place in a zippered wet bag next to the toilet. An adult can move that to a sealed 5 gallon bucket (out of the reach of children) half filled with water and 1 cup Borax to soak until wash day. On wash day, hold lid so liquid comes out, but not cloths and pour into your toilet and flush. Put the cloths into the washing machine, add your detergent, a cup of vinegar and 1/2 cup Borax and use the hottest and longest cycle with an extra rinse and do not use fabric softener.
For absorbent First Aid use.
Easy DIY Cloth Wipes Sewing Tutorial
Technique:
1. Lay your cutting mat on a clean surface and lay your fabric on it so that you have two layers to cut through.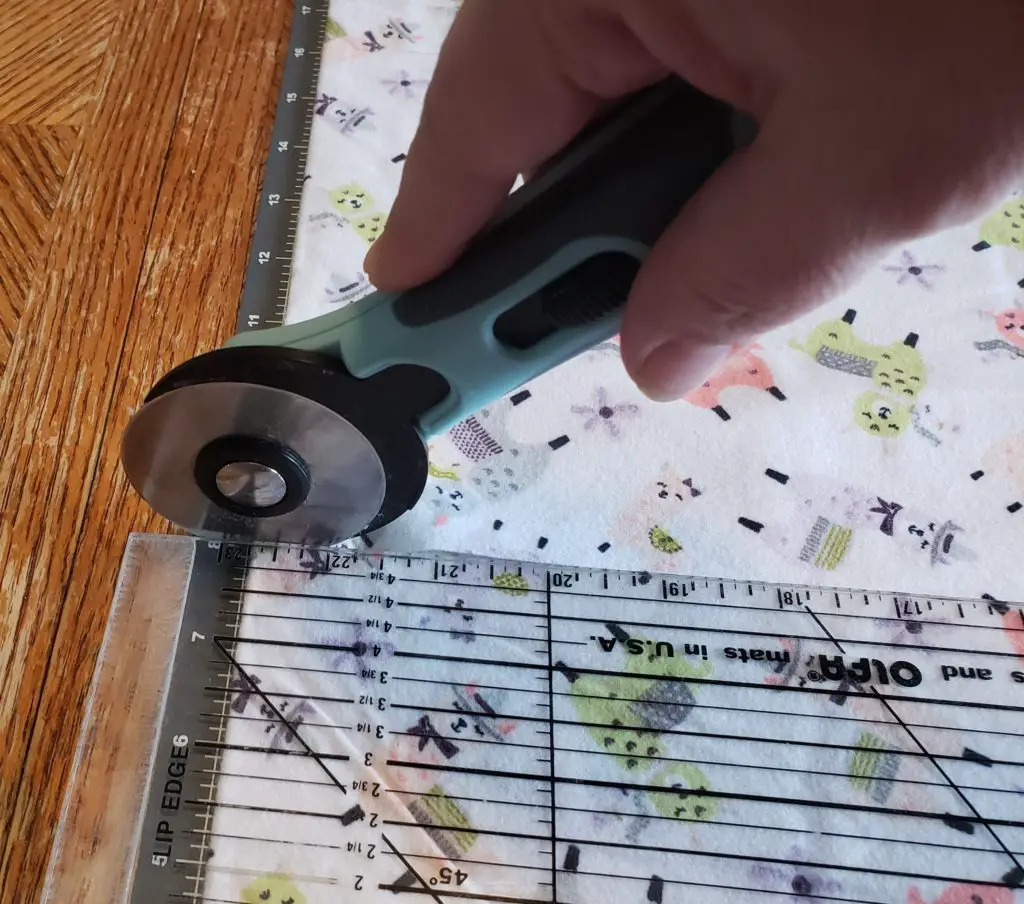 2. You will be cutting them to be 8 inches by 8 inches. Place your straight edge on the fabric in a way so that not much material will be wasted.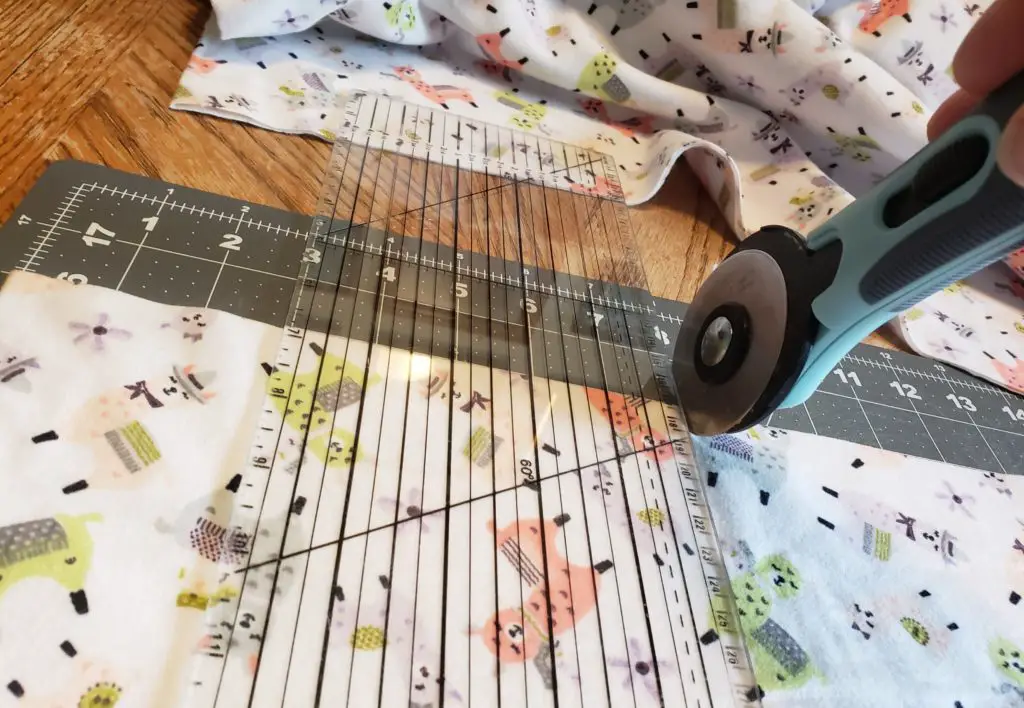 3. Take the rotary cutter and make sure you cut through both pieces.
4. Repeat until you have the amount of wipes desired. (Keep in mind, if you make 2 ply, you will need 2 for each wipe.)
5. Make sure your type of machine is properly threaded. Take some scrap material and test your tension (see the owners manual of your machine for more information).
6. Take a cut wipe (or two if making 2 ply and make sure they are lined up one on top of the other, right sides outward) On an overlock machine or serger, hold the material and sew straight down the edge all the way.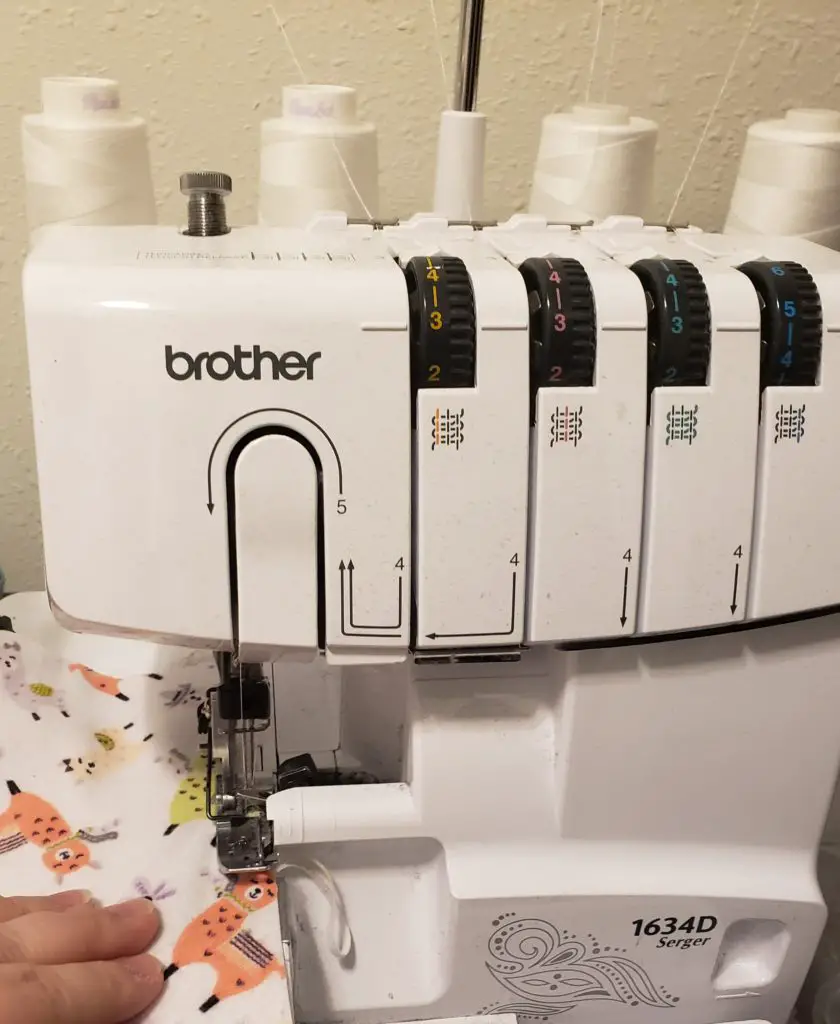 7. Cut the thread, line it up for the next edge and repeat. Do this for all sides. Cut extra thread off. You are basically just trying to keep these from unraveling when you wash them so they do not need to be perfect.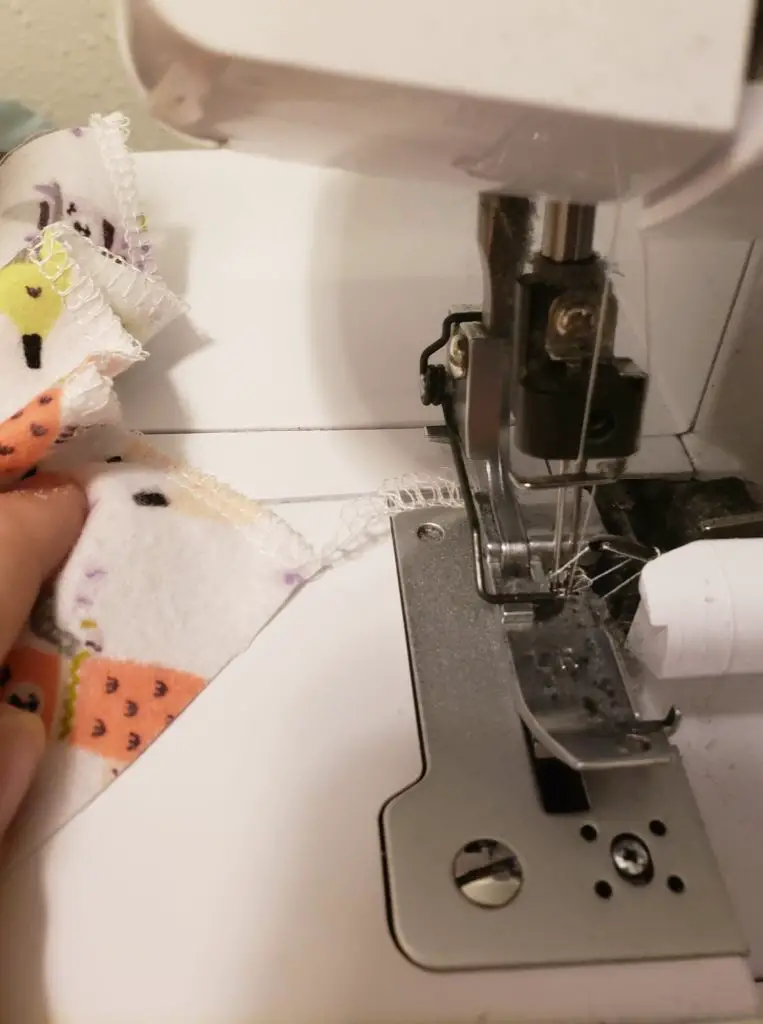 8. On a regular sewing machine, set the machine to sew zig-zags, then hold the material and sew around all the edges.
9. Cut thread close to the cloth edge.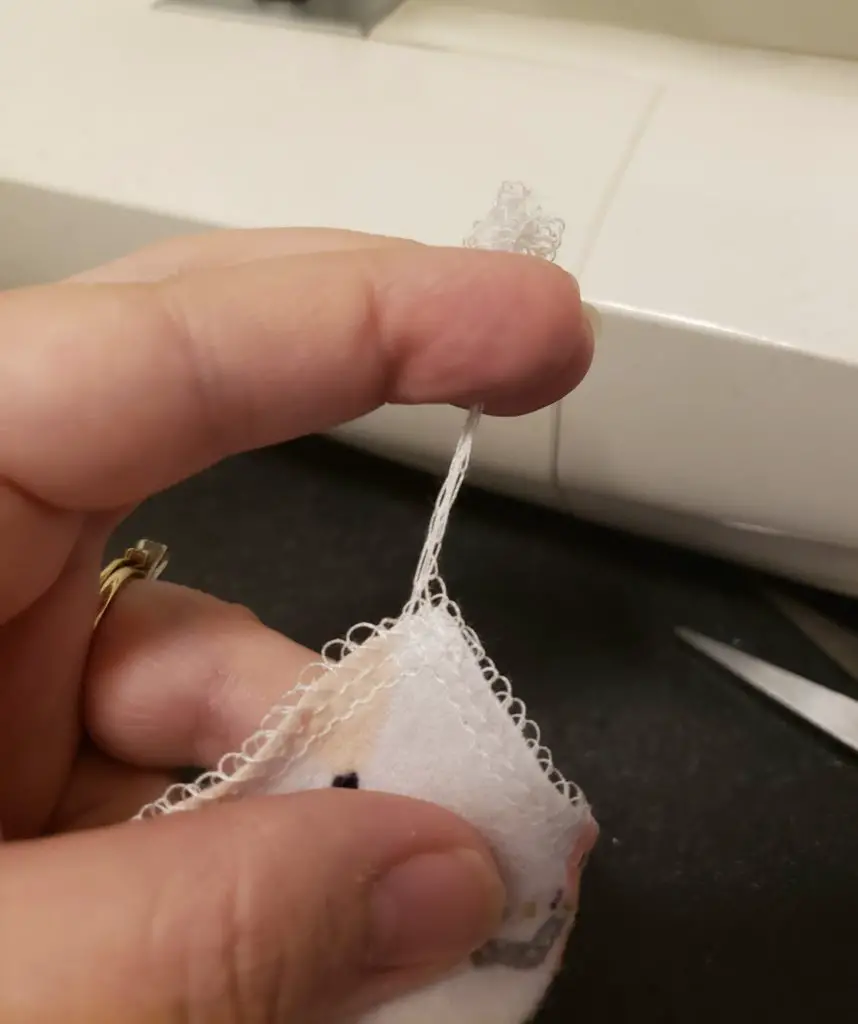 10. Repeat steps 6 and 7 for the remaining wipes. Then cut off all threads. If it is a gift, you could tie a ribbon on the bunch.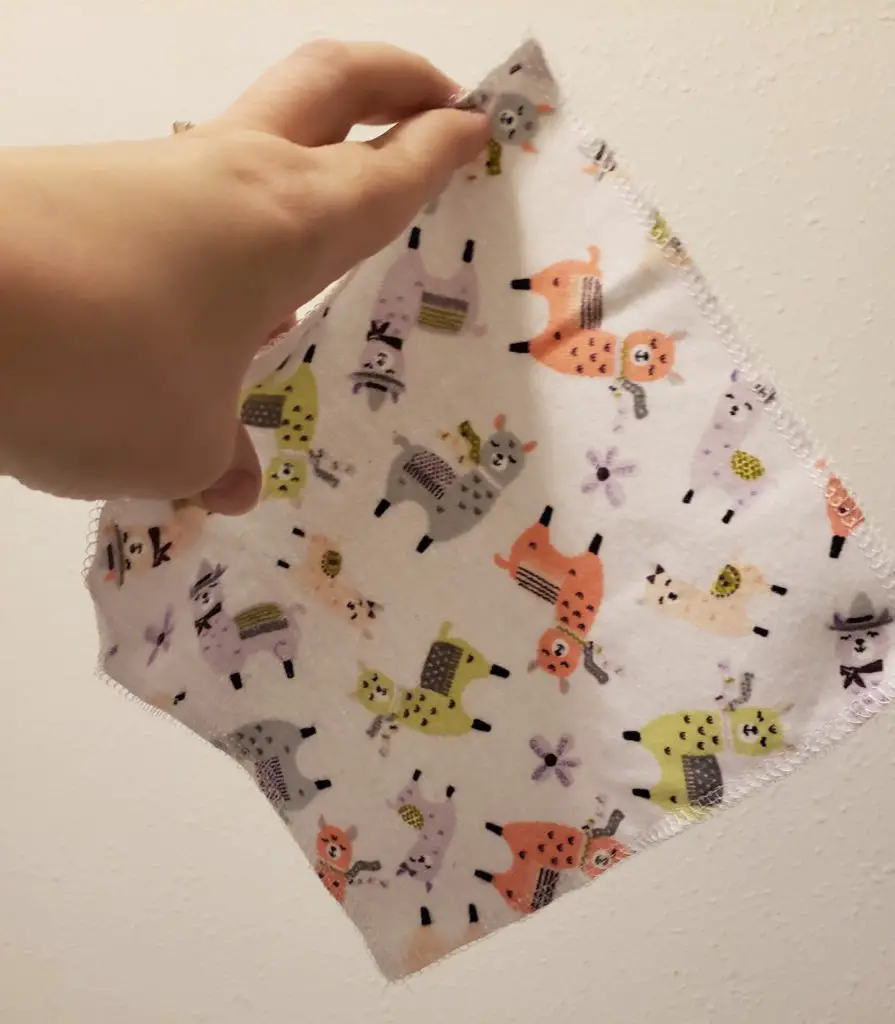 Washing Instructions
Wash with like colors any temperature. Dry on normal setting. Do not use fabric softener to keep it soft feeling and more absorbent. If mine are very dirty, I add a cup of vinegar and 1/2 cup Borax to my wash and use the hottest and longest cycle with an extra rinse and they come out just fine. Do not use fabric softener to keep them more absorbent and soft.
This tutorial was submitted by Amy Marohl, a large family homeschooling mom, Etsy shop owner and blogger at neededinthehome.com.
(Visited 28 times, 1 visits today)