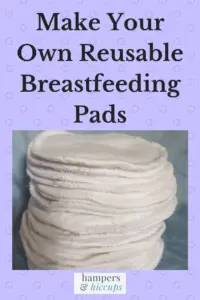 If you plan to nurse your baby, or are already, you'll learn quite quickly that breastfeeding pads are a necessity!  I don't think I need to explain what will happen if you don't have absorbency between your (initially painful) nipples and your clothes. Here is a breastfeeding pad tutorial so you can make your own with your serger or sewing machine.
Be sure to check out Easy DIY Toothbrush Travel Pouch and Easy DIY Cloth Wipes.
---
DIY Reusable Breastfeeding Pad Tutorial
Disposables vs Cloth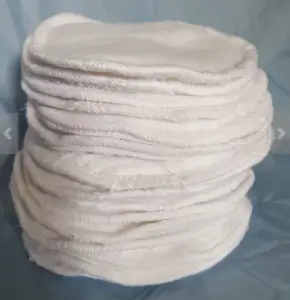 For some people, disposable nursing pads are the way to go.  You just pick 'em up at the store and pop 'em in. Most even have a nice little sticky strip to adhere to your nursing bra.  This sticky strip can accidentally attach to your skin or nipple and cause additional pain, so I don't recommend them. The paper feel against sore nipples is also not very comfortable. They often need to be changed more frequently because they can get all bunched up and not be as absorbent.
In this post I touched on our desire to be environmentally friendly. In the past, I had purchased homemade cotton flannel nursing pads at craft shows or from sellers on Etsy. During my pregnancy about three years ago, I noticed my pads were getting pretty old and was about ready to buy some, but by that time I had acquired a serger (the Brother DZ1234 Serger) and decided to make my own.
What's needed:
You can buy the exact products I used by following the links to Amazon.com
Technique:
Lay your cutting mat on a clean surface and lay your fabric on it so that you have two layers to cut through.
Place your circle stencil on the fabric in a way so that not much material is wasted.
Take the rotary cutter and trace and cut around the circle making sure you cut through both pieces.
Repeat until you have the amount of rounds desired. (Each round has 4 layers that will be sewn together.)
Make sure your type of machine is properly threaded. Take some scrap material and test your tension (see the owners manual of your machine for more information).
Take four of the cut rounds and make sure they are lined up one on top of the other. On an overlock machine or serger, hold the material and turn as you sew.  Serge all around the edges. Near the end, cross over the thread from where you started (to prevent frays) about half an inch. On a regular sewing machine, set the machine to sew zig-zags, then hold the material and turn as you sew. Sew all around the edges. Near the end, cross over the thread from where you started (to prevent frays) about half an inch.
Cut thread close to the cloth edge.
Repeat steps 6 and 7 for the remaining cotton rounds. If it is a gift, you could tie a ribbon on the bunch.
Washing instructions: Place in a netting or mesh bag and hang to dry. Wash with a load of laundry in that bag any temperature. Dry on normal setting. Do not use fabric softener to keep it soft feeling and more absorbent.  You may find that after a wash there is a bit of a waxy residue on the front if you use lanolin with them.  I didn't find that this affected the performance, so I kept using them the same way.
(Visited 1,506 times, 1 visits today)