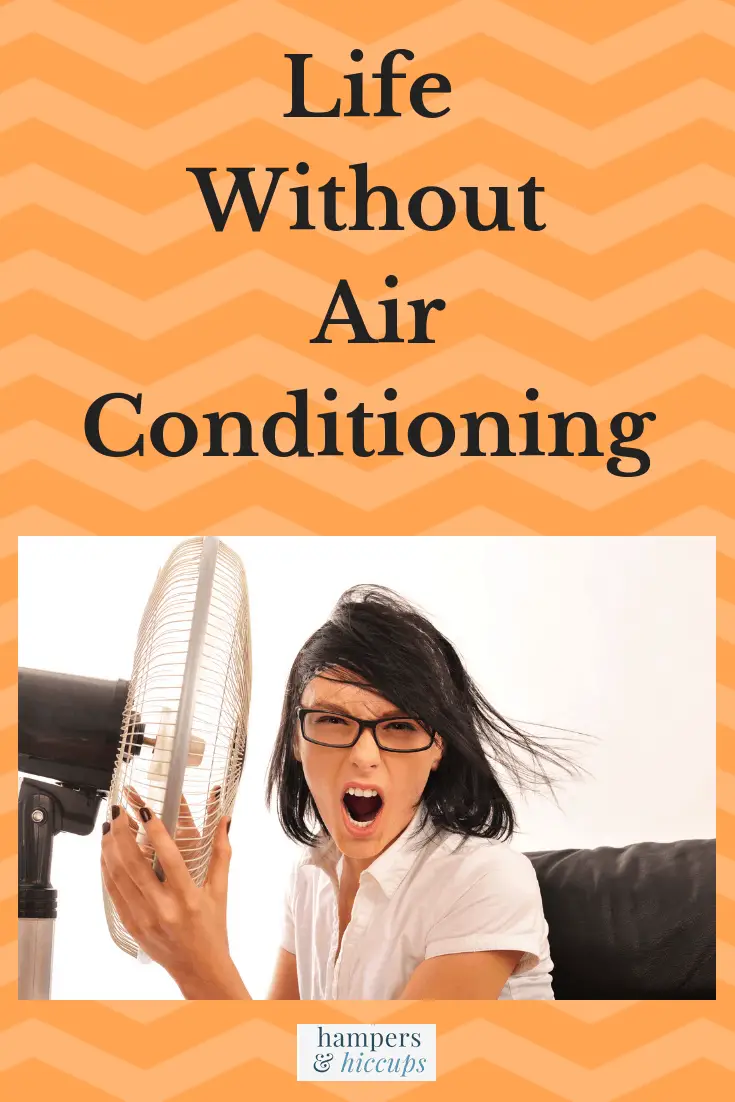 When it is very hot where you live and you are 6 months pregnant, you learn to try everything possible to survive life without air conditioning.
As someone who doesn't like too much heat to begin with unless I'm on/in the water (my husband would tell you that is a gross understatement), I'm already thankful for the wind and clouds that lend some relief to the otherwise unbearable weather.  Not to mention implementing a plethora of ways to keep cool!
At the risk of being pelted with virtual tomatoes, I'm ready for winter.
A bit of background.
When we started building our home 4 years ago, it was to be a temporary solution.  Plans to build again in 5-7 years were in the works.  Well, at that time I was the breadwinner, we were childless, about to be married, and, obviously, naive.
Related: A New Homemaker's Cleaning Routine + How to Start Yours
We decided against putting in central air and living a life without air conditioning for a few different reasons.
The first hindrance was the cost.  We didn't want to cough up such an extensive amount of money for something we would use maybe 2 months out of the year.
Secondly, we really didn't feel it was necessary.  Growing up, my family survived a life without air conditioning.  We just made it work to keep cool (thanks mom for lending a lot of the ideas for this post).  Again, cost played a role in this thinking.
Additionally – something we didn't totally think of in so many words when deciding – we try to be environmentally conscious by reducing our energy costs, limiting disposable items, and recycling as much as possible.  Looking back, I'm glad we didn't spend the money on such a huge power sucker that we would likely use more than necessary if we had it.
Being eco-friendly resulting in a reduced carbon footprint is something pretty important to us.
Needless to say, I'm a walking contradiction on this point.  I absolutely hate being the slightest bit uncomfortable due to heat, but I guess I value our Earth more than my own comfort?
Anyway, it's very hot, and the forecast is about as stagnant as the air.  And here we are battling life without air conditioning!
So, when in Rome, right?  Why not write about what we do to keep cool?
Some of the tips that follow will be pretty basic to most of you, but the remainder are things you may not have thought of.  Or, maybe I'm offering alternatives to traditional ideas you thought were not able to help you keep cool in your home.
AND, a lot of these are inexpensive ways to beat the heat.
9 Tips to Keep Cool in the Heat and Survive Life Without Air Conditioning
Keep the House Cool
1.  Cook Outdoors
Whether you have a fabulous, Pinterest-worthy outdoor kitchen or not, there are ways to cook that don't involve heating up your home.
Barbecues/grills come in different versions to suit your needs.  Propane, gas, charcoal, wood fire or even electric – there is a model to suit your needs and budget.
If a
brand-new state-of-the-art grill isn't in your price range (I know it's not in ours), check out your local sales groups, garage sales, craigslist, or ask friends and family if they know of anyone getting rid of one. Every BBQ we've owned has been second hand.  They work well enough to cook a mouth-watering steak with all the fixins'.
Another option for outdoor cooking is over a caveman-style, good ol' fashioned campfire.  Out in the country, we're able to do this at our leisure.  Obviously not the case in most cities and towns.  Check the regulations in your neighborhood then do some research on local campgrounds or parks.  Many have fire pits or grilling stations ready for use.  Bonus, you get to make it an inexpensive outing.
If none of these options suit you, I strongly suggest investing in a slow cooker.  Recipes are super simple.  Get supper, lunch or both ready in the morning then hit the pool.  They don't put out heat like an oven does, and the energy use is lower.  You could also plug it in outside or take it with you if you're so inclined.
My favorites are the
Crock-Pot brand.  I recommend a programmable model so you can set and forget if you work out of the home, have to run errands, get caught up with yard work, etc. Bonus, most have a removable insert and lid that are dishwasher safe for easy clean up!
Alternatively, you could eat salads everyday so that you don't have to cook. I love to have salads on a hot day! I just buy a pre-made mix of lettuce salad that comes in a bag at my local grocery store. Heat up eggs or lunch meat in the microwave to add as a topping, add croutons, shredded cheese, chopped walnuts, dried cranberries or raisins or cottage cheese and I am all set!
2. Invest in Good Blinds and Curtains
We recently did a small revamp to our (new) home.  This involved putting in a nice big picture window in our new living room.  Said window faces the morning sun.  It gets very hot in there! I ordered some
heat-blocking curtains online right away!
At the same time, we decided to grab some
room darkening curtains for the kids' rooms for easier naps and bedtime.
Don't get me wrong, we definitely didn't buy the most expensive curtains, but they weren't cheap for us either.  We tend to lean towards quality and usability when purchasing.  One of our favorite sayings is "poor people can't afford cheap stuff".  'Nuff said.
I can't say how happy I am with our purchases.  They are definitely an improvement to our cooling regimen. Life without air conditioning doesn't have to be devastating.
In the morning I make sure all the curtains are closed on the sunny sides of the house.
Once the sun is past the point of beating into your windows you can open your curtains again.  Often times the West side of our house stays closed unless it's overcast/cool outside aside from the windows that we open at night.
3. Open Your Windows to Survive Life Without Air Conditioning
While the blinds and curtains keep the heat out during the day, they also act to insulate the inside from the cool of the night.
Before you go to bed at night, open up all windows (make sure you have screens if there's a risk of bugs or critters).  If there's a slight breeze, even better.  Bonus, you'll also get some fresh air as you sleep, helping you to feel better rested.
Just remember to close the windows in the morning before the air outside gets too hot or you'll be undoing all your hard work!
If you live in an area with lots of noise this may not be ideal for you.  We have a ton of birds in our yard, so the mornings aren't usually as late as when we keep the windows closed.
Also, if you have windows on a second floor with children in the house, be sure to add
safety features when opening windows for the night.
4. Purchase a Fan
This can be a little
personal fan, one that
goes on your hat,
ceiling fans, or a nice
stand up or
table-top model.  The goal is to get some wind action so you don't feel bogged down by the air.
Fans do use a significant amount of energy, so be aware that your power bill will go up slightly.  We limit the use of ours to when it gets really unbearable inside.
We also have ceiling fans in all of the bedrooms upstairs and they run a lot of the time when it is hot out.  Not great for carbon footprint, but without them I'm sure we would suffocate. The second floor gets so much warmer than the main floor!
5. Use Your FURNACE if you have a life without air conditioning.
Uhm, wait, what?  Did I just read that right?  Yes, yes, you did.  How does a furnace push heat through your home?  It uses a fan to blow the hot air around.
Now, I'm not well versed in these machines, but I do know that every one I have ever come across has had the option to use just the fan with no heat.  This will blow cooler air through your registers the same way the heat comes through in the winter.
If you have a more modern/digital thermostat there may be an option on it to run the fan.  Otherwise, check the manual for your furnace or get a handy friend or relative to help you out.  Well worth it!
6.  HRV
As well as using your furnace and other fans to move air throughout your home, you may find that running your
HRV system helps too.
Not every house has this, so if you're looking at the screen with a terrified expression just relax.
HRV is a system using a heat exchanger to transfer heat energy between cool and warm air resulting in minimized losses.  You can read more about it here.
Ok, so how does this help me keep my house cool?  Won't it just warm up the little cool air I have?
HRV is especially useful if one area of your home is significantly warmer than another.  Think a humid bathroom or upper levels.  For us, our second floor gets quite a few degrees warmer, even with the ceiling and furnace fans running.
By turning on our HRV at night while the windows are open we're able to circulate all the nice cool fresh air from all parts of the house to regulate and unify the temperature in our home.
We actually just tried this for the first time the other night (our HRV just got hooked up), and it worked so awesome it made me wonder why we hadn't thought of it sooner!
If you know you have an HRV (air-to-air) system, just hit the button to start it up and crank up the power before bed.  By morning you should notice a difference.  If you don't, it's probably not worth it to run it that long.
If you don't have HRV and think it would help your situation then do some research to find out if it would be worth it to add in.
Keeping Cool Outside is also important when you live life without air conditioning
Now that we've got your house cooled off, let's focus on some ways to keep cool outside.  After all, it is summer and we do want to enjoy the few short months of nice weather!
7. Set Up an Oasis
Grab yourself a
kiddie pool,
garden hose,
sprinkler,
and maybe even a
beverage and start feeling the power of cool.
If you don't have access to a pool or beach, just make your own.  Find some space in your backyard for some sort of
water system and go nuts.  You don't need a lot of room. Be sure to
fence in a swimming pool if you keep water in it and have a gate that is high enough that children or pets will not climb over it and with a
locking gate to prevent accidents. If you get a kiddie pool, empty the water when not in use.
If you live in a condo or apartment you could get a pot or tub of cool water to put on the balcony just to stick your feet in (and empty when not in use).  Grab a
spray bottle and spritz yourself once in a while.  You'd be surprised at how much that little bit can cool you off!
8. Make Yourself a Treat
Mmmm, the tastiest way of keeping cool.
Check out Pinterest for some awesome ideas.  If you don't have a
popsicle mold try out a smoothie or slush recipe instead.
You could also freeze some yogurt in muffin tins or ice cube trays for a quick fro-yo snack on a hot day.  Fair warning, they won't last long!
You can freeze just about anything you can think of.  Juice, yogurt, berries and peanut butter are just some examples to get your creative juices freezing… er, flowing.
If you're a little more ambitious, or want to feed a crowd, an
ice cream maker is the way to go!  You can find some really simple recipes and a batch only takes 20-25 minutes!
9. Find Some Shade
If your yard doesn't have nice mature, shade trees, don't fret.  There's ways to work around that.  You can pick up a
shade umbrella or
deck awning at many different retailers and box stores.
Don't want to shell out bucks on something you can do for free? Listen up for a quick, inexpensive, non-permanent solution!
First, find an old blanket, towel, sheet, shirt, pretty much any piece of fabric large enough to cast a shadow on your desired area.  Add some rope or string and tie it up between 3 points to create a little cover.  Voila, instant shade.  Add a chair and bevvy and you're ready to relax.
Don't have a yard to enjoy?  Hop in the car or take a stroll to your nearest park.  Most will have some large trees to have a picnic or take a nap under.  These are free so take advantage as a way of keeping cool!  Maybe you'll find a new favorite spot!
Bonus Tips
Some more simple things you can do to keep cool in the heat and survive life without air conditioning
Wear a hat.  Soaking it in water then throwing it on your head when you're out doing yard work will give you extended relief.  Same practice applies for a towel around your neck.
Go to a friend's house with A/C or a pool.  No shame in hanging out with someone and getting a bit of relief at the same time when the temp is just too hot.  Same idea with hanging out at a library, mall or grocery store where it's nice and cool.
Water your grass.  Keeping the lawn wet will actually help to keep your yard a tiny bit cooler.  Same principle applies for hot sidewalks or patios.
Go for a bike ride.  You'll get some exercise and wind through your hair.  Yes, you'll probably end up sweaty in the end, but if you get a bit of a breeze out of it, it will be worth it!  Plus, you'll get out of your house, y'know, the one where you live your life without air conditioning?
So there you have it!
Let me know what you think about these tips.  Did any change your life like nothing else could?  Any that you think I need to add?  Keep me posted!
Be sure to share with friends and family to help them survive life without air conditioning!