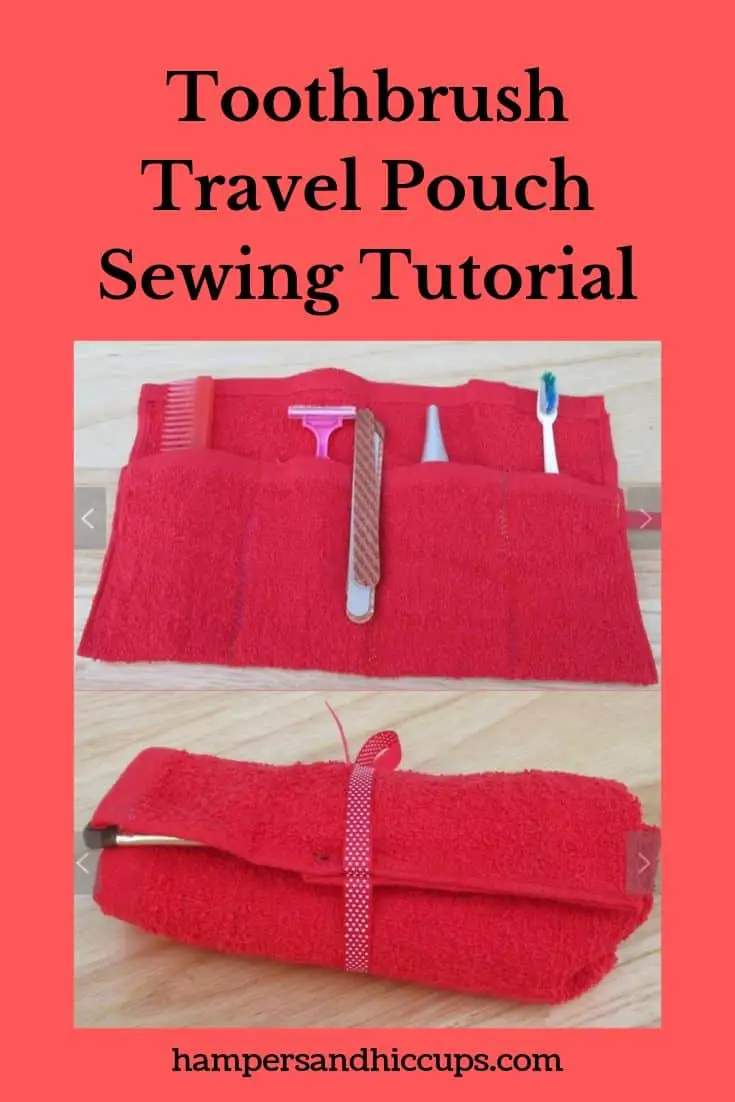 Gather your supplies and let's make a toothbrush travel pouch! These make a great graduation gift for someone who will be living in a dorm and sharing a main bathroom, for a baby shower gift to go in the mom-to-be's hospital bag, or for the frequent traveler.
Toothbrush Travel Pouch Sewing Tutorial
Step 1
Take your cloth and cut off any tags very close to the seam. Lay the washcloth in front of you with the backside facing up.
Step 2
Fold the bottom of the cloth up to the desired height. If you have a 12 inch square cloth and your toothbrush is 7 inches high, you could fold it up about 5 inches, for example. I like to take my toothbrush and place it in there to see if it will fit without hanging out above the top. Line up the edges to make it even. You may either pin it into place or just hold it as you are sewing.
Step 3
Cut a piece of ribbon to 16 inches long. Fold it exactly in half with the right sides on the inside and the back side or non-decorative side of the ribbon facing out. Insert the folded end of this into the right side of the pouch so it looks like it is about in the middle. Only insert it far enough to where you will sew that side. Pin it there to hold it for sewing.
Step 4
Set your stitch to zig-zag. Sew up the ends of the cloth so you have one big pocket. Take care when sewing the side with the ribbon to keep the long ends from being sewn.
Step 5
Decide how big you want your pouches to be to determine where you want your stitches to go and mark them out with pins.  I like to make mine even across.
Once you have your pouches decided on run a stitch up the double layer to create the pocket.  Do not sew on the single layer area.
Step 6
Repeat Step 5 for each slot. Trim your threads.  All done!  Now you'll need to plan a vacation to use it!
Instructions for Use:
You just place your items in the slots.
Then roll it up, wrap the ribbon around it and tie a bow.
It could also be used for makeup brushes.
Washing Instructions
Just throw them in the laundry with your regular bath towels and wash and dry along with them.
This tutorial was submitted by Amy Marohl, a large family homeschooling mom, Etsy shop owner and blogger at neededinthehome.com.
For the printable sewing instructions go HERE.
Read how to start an Etsy Shop to sell them HERE.