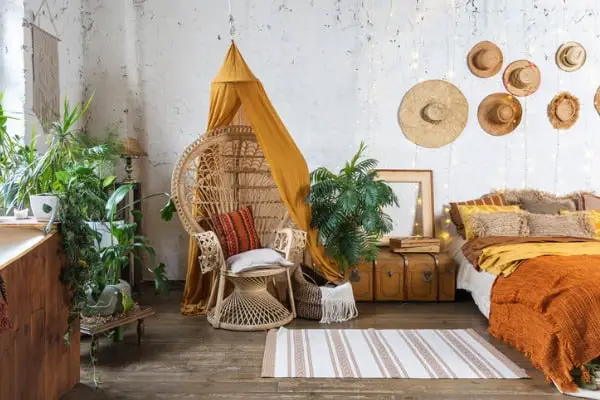 Boho decor is perfect for all the dreamers, hippies, and everybody else who prefers unconventional over the same old and classical.
So if you've always been in love with colorful clothes, lace and hippie aesthetics, then it makes sense to make your living space more Bohemian.
However, since there are so many styles and ideas all around us, it's sometimes difficult to come up with perfect solutions. So for that reason, here are some boho decorating tips that will be of great help next time you decide to decorate your space.
1. Feel free to let it go
Boho is all about experimenting and sometimes even, breaking decor rules. It should create a laid back, happy, and colorful atmosphere, that is quite the polar opposite of sterile minimalism and similar decor styles.
anybody else.
2. However, you can keep things subtle, too
Some people prefer their interior space more subtle, which is fine. In case you're unsure which style to choose, then you can create a neutral base: neutral-colored walls, carpets, and furniture, and then add colorful and eclectic decor details.
That way, you'll have something solid to rely on, which will make the experimenting much easier.
Remember the key is to make your space look inviting, warm, and cozy, and adding a few Boho details is a perfect way to capture those feelings and make them come to life!
3. Use the world as your mood board
Infusing your home with some Boho vibes means opening yourself to various influences from all over the world.
Because Boho is all about worldly aesthetic and diversity, using ethnic decor pieces or framed maps (both vintage and contemporary!) as your decor is definitely a step in the right direction.
Additionally, you could also infuse your space with Balinese-inspired art, so check out Skull Bliss grey collection as their simple design is a great way to make your space seem more sophisticated and cosmopolitan.
Adding a few foreign elements can make your home more visually stunning, that's for sure.
4. Don't be afraid to go vintage
Vintage and Boho go hand in hand, so if you have a thing for old, elegant decor pieces, then Boho is the perfect decor style for you.
Therefore, browsing flea markets, antique stores, and online vintage marketplaces is the best way to score some unique decor for your home.
Feel free to get inspired by the counterculture movements of the 1960s and 70s, or any other historical eras that you have a soft spot for. Going vintage is a nice way to visually enrich your home and add more character to it.
5. Aim for a casual and comfortable atmosphere
Since Boho decor is the farthest thing from rigid and unformed, then it's essential to aim for a comfortable and casual atmosphere. So, feel free to add fuzzy area rugs, throw pillows, and cozy blankets.
Furthermore, creating a smaller seating area that will promote conversation and bonding is a perfect way to infuse your Boho-looking space with more warmth and comfort.
Final thoughts
Adding more Boho elements to your living space is an amazing first step toward going on your Bohemian mission.
These tips and tricks will surely help you renovate your home and adding more global, cultural, and vintage-inspired accents and decor will also be a great opportunity to learn more about yourself and your decor preferences.
Finally, remember to experiment to the max, as that will surely yield some beautiful and pleasantly-surprising results!
(Visited 15 times, 1 visits today)