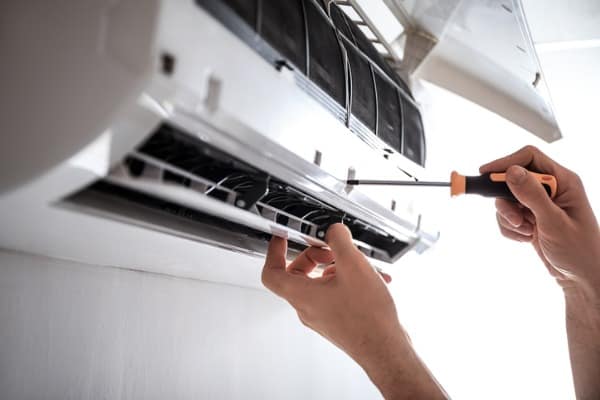 Are you having issues with the air conditioning system? Are you thinking of having a new one?
The hiking electricity prices are worrying, and therefore there is a proper need to control your air conditioner running costs. It is also essential to factor in purchasing a functional system and working out how the installation cost will have.
How Much Does Air Conditioning Installation Cost?
The air conditioning installation costs will range between $600-$5500 according to experts. The prices will depend on the type of each unit and the complexity of the installation. The smaller systems shall cost between $600-$749 while the larger ones will go for $2399-$5400.
You will find three types of air conditioning systems in the market:
1. Portable Air Conditioning Units
These air conditioning systems are versatile, and they can be placed anywhere provided; there is a power outlet. The only challenge is that they are only suitable for one room. It is less costly but with limited services. With a big home that has several places, the unit might not be better for you.
2. Split Systems
The air conditioner is the most common type of all, and it consists of a head unit and a condenser. They are also relatively affordable, but they are also limited to room basis.
3. Ducted Systems
These are types of air conditioning units integrated into your home's wall cavity and the ceiling. They are useful to help provide the home with better cooling and heating.
The units are less intrusive than the split systems. The only challenge is that they are much costly than the other to buy and install.
What Size of an Air Conditioner Does One Need?
You are required to work out what type of air conditioner that you may need. The major factors to consider includes:
1. Home Size: The larger the floor of your home shall also attract the larger capacity that the unit may need to be. If you build a multi-story home, there is a need to have several units for different zones that may add to the entire total costs.
2. Height of the Ceiling: If your house has high ceilings, you will need to have a unit that can generate enough air and maintain a conducive temperature to the entire house.
3. Number of House Windows: Windows shall account for up to 40% of the home's heat loss. It is therefore advisable to account for this when choosing the right air conditioning system.
Do I Need a License for my Air Conditioner?
It is important to have a license for your unit. The air conditioning experts handle various assignments related to refrigerants. They are required to hold certificates for their jobs.
Different experts can handle the AC installation assignment.
It will include ducted air conditioning installers and licensed plumbers who repair and maintain piping and the licensed electricians who install the master control panels and any other form of wiring that is needed.
It is important to consider asking for an installation license before the entire work is completed. Else you may have issues, and even the insurance company will not help you.
What Influences Your Air Conditioning Installation Quote?
Several factors affect your air conditioning quotes, and they include:
1. Amount of refrigeration piping
2. Cable ducting
3. Type and the size of the air conditioner that you purchase
4. Meter board upgrade
5. Access
Cost of an Air Conditioning Unit
A good air conditioner is not as cheap as one may think. It goes for a few hundreds or thousands of dollars, depending on the size.
The portable unit is the cheapest and goes for around $500 while the new system may start from $900. The prices will also depend on the HVAC unit capacity.
For a unit that has a high energy output, you will spend more. If you have a smaller space like a studio, the unit is cheaper.
When looking for the best AC unit, it is important to consider at least three quotes before hiring one of your choices.
How Much Does the AC Installer Charge?
Once you have decided to choose your air conditioner, you are required to get it installed. The amount that you pay will depend on various factors:
1. Location
2. The number of units that you are installing
3. Ease of access to your home
4. Type of the AC unit that you have chosen to buy
The air conditioning experts charge on an hourly basis. The average hourly charges range between $60 – $110 per hour for domestic air conditioning. For the commercial units, prices range between $80 – $140 per hour.
Before hiring an AC installer, consider getting quotes from at least five providers. After comparing these quotes, it is important to understand how much the expert is going to charge.
Besides quotations, ensure that the installation experts have a license, are insured, and provide referrals.
(Visited 23 times, 1 visits today)