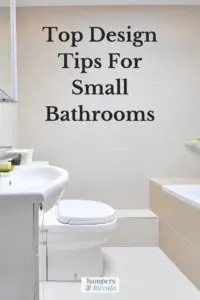 It is no secret that small bathrooms can be troublesome in terms of design. After all, this is a room that requires a decent amount of space.
Challenges include the likes of ensuring there is enough clearance for the shower and arranging the sink and the toilet. These design tips for small bathrooms will help to ensure your bathroom is comfortable rather than cramped.
Here are some design tips for small bathrooms that will help to ensure your bathroom is quite comfortable rather than cramped.
Use a shower curtain
A shower curtain will save you a lot of space. If you have a glass door you need to make sure there is room for it to move in and out.
However, a shower curtain simply moves back and forth, and therefore no extra space is required.
Last update on 2022-09-16 / Affiliate links / Images from Amazon Product Advertising API
Consider changing your shower
A shower replacement may be a large undertaking but there are shower systems from Kohler like these that can help you to make more space in your bathroom. Here are some shower trends that are well worth considering:
Get creative with concrete
Concrete is set to be a massive trend in bathrooms this year. Instead of tiling your shower wall, why not opt for concrete instead? This is a great way to add some industrial flair to your bathroom – a trend that is at the height of interior design at the moment.
You can add intrigue to your bathroom and plenty of personality and comfort by teaming the concrete wall with natural wooden elements and a patterned floor. Or, add warm metallic finishes to shower in luxury!
Double showers
Double showers have grown in popularity over the past year, and they are only going to get more and more popular.
Showers with over-sized rain heads and a separate handset provide an invigorating and luxurious shower that is perfect for you while also delivering a seamless and chic look. Just perfect!
Unusual bathtub and shower 'suite' combination
Now, no doubt you have seen the shower and bathtub combinations before, so you are probably thinking this is nothing new, but it is!
What we are referring to is a shower and bath, which are separate units, but sold together for the complete look, and they are installed alongside one and other.
Spa experience
A bathroom should be a relaxing place; somewhere where we can chill out after a difficult day at work.
This is something more and more people are appreciating, and so they are making an effort to turn their bathroom into a spa-like experience. Think bigger shower enclosures, with marble benches, and massage functions. And you can also add the best bath pillow for relaxation such as these options.
Full glass enclosures
Glass enclosures have become very popular – and we mean all glass, from side-to-side, top-to-bottom. This is a great way to create a bright and open design in the bathroom.
It also gives off more of a clean and contemporary feel, lending itself well to modern and minimalist bathroom styles.
Opt for a wall-mounted faucet
If you choose a wall-mounted faucet you will then be able to select a narrower sink. Not only does this save you a considerable amount of space, but it looks incredibly stylish as well.
Here are some examples of quality faucets:
Last update on 2022-09-16 / Affiliate links / Images from Amazon Product Advertising API
Choose a large mirror
A large mirror from a high quality store like Wise Bathrooms can work wonders in any bathroom. It really opens up the space and makes it appear bigger than it is. Not to mention, it looks extremely glamorous and lavish too.
Last update on 2022-09-16 / Affiliate links / Images from Amazon Product Advertising API
Mount the towel bar on a door
Finding somewhere to hang your towels can be troublesome if you only have a small bathroom.
However, one way to make good utilization of space is to mount the towel bar onto a door. This could be the door that is used to enter your bathroom, or it could be your shower door if you have one.
Last update on 2022-09-16 / Affiliate links / Images from Amazon Product Advertising API
Embrace large-scale patterns
One of the best ways to make your bathroom more comfortable is to create the illusion of more space. You can do this by opting for a large-scale pattern. It will make your bathroom feel a lot bigger than it actually is.
Consider a corner sink
Last but not least, why not consider installing a corner sink?
The sink tends to be one of the most awkward features to incorporate in a bathroom, as it seems to disrupt the ability the move around freely. You can avoid this issue altogether with a corner sink – it will be neatly tucked out of the way.
So there you have it, six easy yet effective ways of making your small bathroom more comfortable. You will be amazed by how much of an impact a large mirror or a corner sink can have.
It is all about finding what works the best in your bathroom and is the most convenient option for you.
(Visited 1,714 times, 1 visits today)