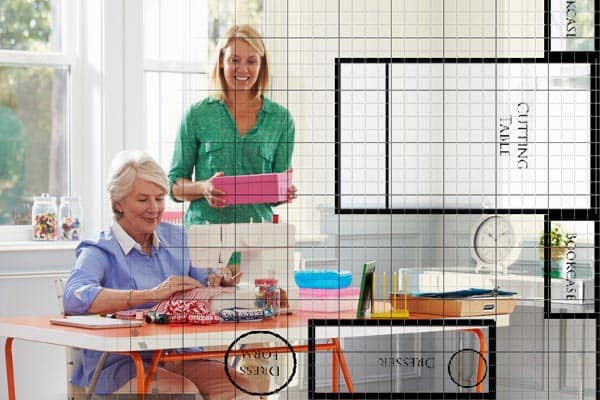 Switching up your sewing room layout can be a game-changer for your productivity.
Poorly designed spaces slow you down physically, and inconvenient layouts can easily obstruct the flow of your creativity.
Moving about in an unoptimized sewing room can get frustrating at times!
But the right floor plan will remove all the friction you come up against when you're in your zone.
And I'm here to help you make the perfect one!
Here's a hand-curated list of some of the internet's best sewing room floor plans:
1. Cutting Table-Oriented Floor Plan
Lisha Vidler understands that the cutting table is the heart of every sewing room and should extend into the room rather than be pressed into a corner.
That way, you can move around it, which makes the job a lot easier!
She has a smaller sewing room, so she doesn't need an L- or U-shaped workspace to make the room cohesive.
Lisha shares some great sewing room designing tips on her blog post over at Yesterday's Thimble. Make sure you give it a read!
2. Thoughtfully-Spaced Floor Plan
In her hilarious blog post, Melissa explains why the sewing room is the most important room in the house.
After outlining the five things that make a lousy sewing room, she reveals her renovation floor plans that thoughtfully space (and connect) the elements that make the sewing room.
The cutting table is in the best-lit spot, and the sewing table is right opposite. The desk and storage are in the perfect spots, too!
Talk about ideal lighting for a sewing room – the natural diffused lighting glowing in from the windows is definitely a treat.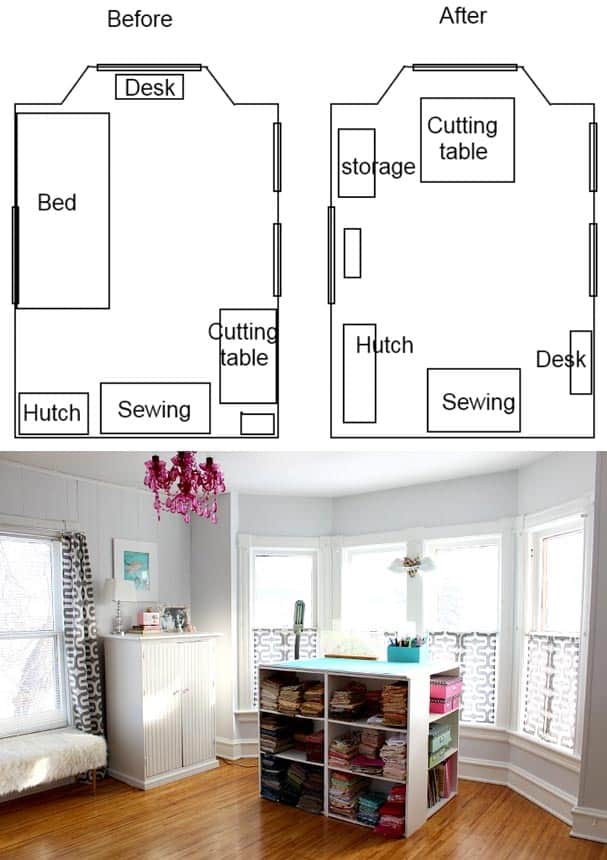 One word: WOW. Make sure you visit Melissa's blog, Cornbread & Beans, to learn more about her makeover project and find more pictures.
3. Spacious 13'x22' Sewing Room Floor Plan
Charity from Vintage Threads wanted to double her sewing room space, and when her husband gladly tore down the wall between her room and his study, she got to making her floor plan right away.
In addition to tons of storage, Charity adds a nice L-shaped machine counter with a fancy swivel bar TV!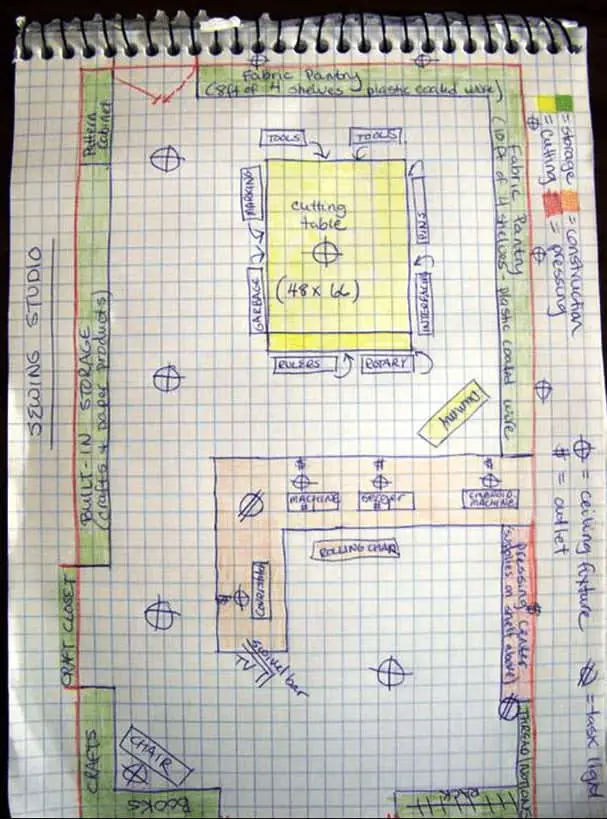 Looks great! She talks more about her arrangement constraints on her post on Vintage Threads.
4. Cozy Sewing Room Floor Plan
This is Lisha Vidler's second entry on this list, but this time, her floor plan makes the sewing workspace a lot cozier.
The cutting table still extends into the room, but the sewing table is right opposite the cutting table, which makes getting a project from start to finish a lot easier.
Also, with a bureau and storage cabinet right next to the sewing table, finding the right piece of fabric will take less work!
While Lisha's floor plan isn't precisely U-shaped, it's perfect for a smaller room. She talks more about organizing sewing rooms the right way on Yesterday's Thimble.
5. All-Inclusive Sewing Room
There are many reasons why Nancy's floor plan is one of the internet's best sewing room floor plans:
The U-shaped workspace will undoubtedly make sewing a lot more comfortable, and the shelf enclosure will allow you to organize your fabrics, patterns, and scraps smartly.
But the best part is that the plan includes space for a washer and dryer – you can create, wash, and press everything you make in one dedicated room!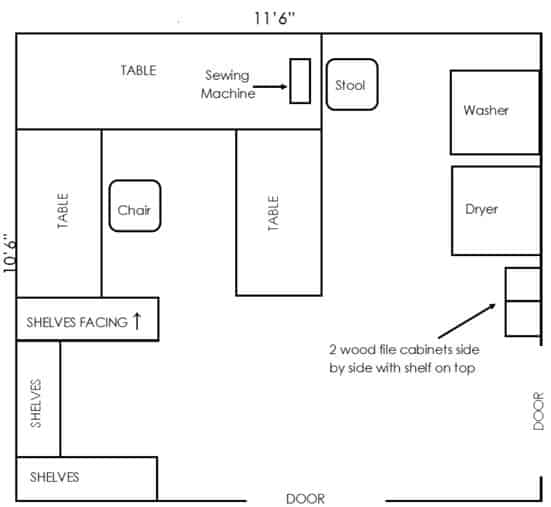 In the same post on Craft Your Happiness, Nancy also shares ways you can optimize your storage. Make sure you check it out!
6. Comfortable Sewing Room with Computer Desk
It was important to Amanda to have a sewing room that allows her to sew efficiently. However, she also likes to listen to music when sewing.
Strategically placing the computer desk allowed her to control her music with greater ease and also enabled her to read and follow along with tutorials on her computer.
The light from the window naturally illuminates her room, and her design makes excellent use of this advantage!
Remember to take a peek at Amanda's philosophy behind the room's design over at 3and3quarters.
7. Sewing Room Based on Work Triangle Principle
Susan understands that designing a room around its purpose can make things easier.
The principle is formally known as the work triangle, and her floor plan incorporates it beautifully.
Her U-shaped workspace starts with cutting mats, tapers into the cutting area, and finishes boldly with the sewing area.
The fold-out ironing table is a sweet touch!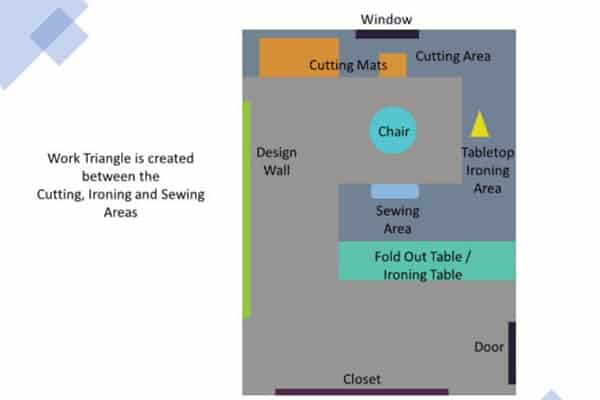 The coherence of Susan's plan makes it super functional. She goes into great detail about her plan with illustrations on her blog, My Quilting Space.
8. Excellently Sectioned Sewing Room
Sylvia makes excellent use of her large sewing room by sectioning off the cutting space and the sewing space.
A sewing desk separates the two, and she has a Sweet 16 set up right next to her sewing table.
The rest of the room has tastefully scattered storage cabinets, and the excellent lighting and décor make the divide apparent, giving the space a snug feel.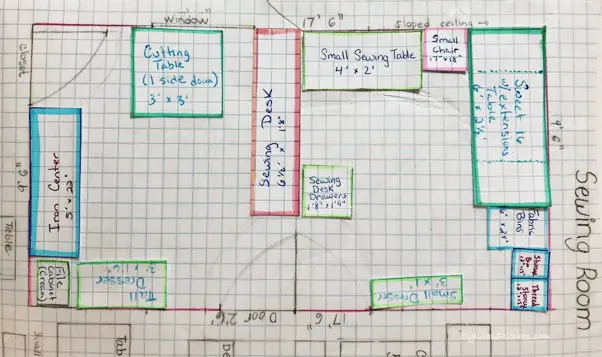 Sylvia's floor plan is world-class. She shares more pictures and details on her blog post on Sylvia Stitches.
9. Sewing Room with Office
Blogger Purple Hippo Creations lives in a two-bedroom apartment, which means the second bedroom had to be turned into a sewing room-cum-office.
While the computer desk is sectioned off nicely, most of the room is occupied by sewing tools and storage.
But, considering the limited space, the design is nothing short of impressive.
You can find pictures of the executed floor plans on the Purple Hippo Creations blog.
10. Practical Design for Spacious Room
Brooke's optimizes her sewing room for maximum functionality and storage – even her IKEA desk is hacked to hold her supplies!
The cutting table extends into the room, which I like, and the window wall is left alone completely to let the light in.
The perfectly placed sewing table is right opposite the cutting table and allows easy access to the closet.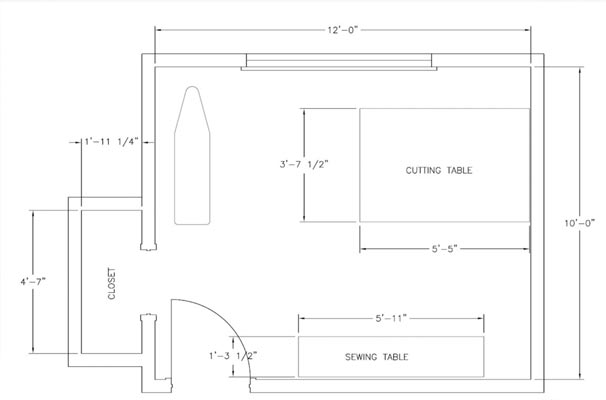 Brooke has got STYLE. Not just when it comes to laying out floor plans, but also when decorating. Make sure you check out her blog, Custom Style.
—
I hope my list of sewing room floor plans got you feeling inspired and had your creative juices flowing!
Piecing together your own floor plan should be a breeze now!
(Visited 4,661 times, 8 visits today)