While the dining table works well for occasional sewing, it's just not enough for serious sewing enthusiasts.
You'd think that most expert sewers and seamstresses have MASSIVE rooms to store all their patterns, fabrics, unfinished projects, tools, and other bits and bobs.
But trust me when I tell you that MOST sewing masters work out of small rooms.
You're already skilled at making use of margins and leeways when you sew.
It's just a matter of applying your mastery in physical spaces to make the most of your small room!
Worried? Don't be! I'll show you some of the best ways you can do this.
Here's a hand-curated list of some of the internet's best small sewing room ideas:
1. Vibrant Sewing Room
Carrisa's sewing room strikes the perfect balance between serviceability and charisma.
Her workspace is very vibrant – the black-and-white patterns on her table and chair contrast beautifully with the bright-colored containers around them.
She makes good use of vertical space by adding a cute, easy-to-reach spice rack and screwing in a spool holder on the wall beside her "Be Creative" sign.
The vibrancy extends to the wall on the left.
Her bookshelves-turned-supplies-cabinets are loaded with plastic containers of different colors.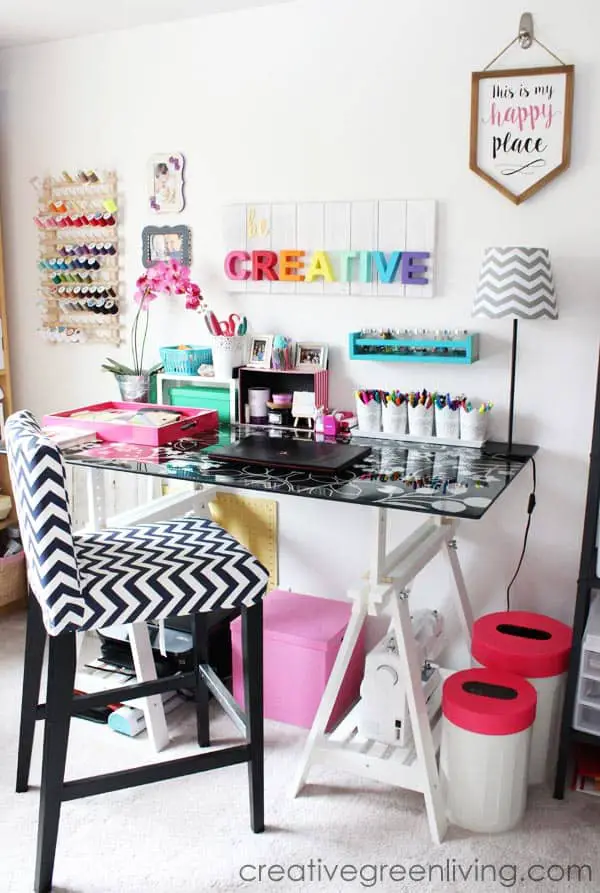 I bet it's SO easy for Carrisa to get in her creative zone in her color-filled sewing room! Find out how she put it together on her blog Creative Green Living.
2. Pink-And-White Theme Sewing Room
It's a well-known fact that painting a room with pastel colors makes it feel bigger than it really is.
And the illusion works wonders for Sprouting Jube Jube's pink-and-white room.
She makes judicious use of vertical space, filling floating shelves with containers that could store a healthy stockpile of fabric.
Her table also has storage, and enough from for both her regular sewing machine and a smaller, less expensive sewing machine.
The other side of the room is lined with aptly-sized shelves.
But everything is immaculately organized – there's a lot of stuff, but it never looks even a tiny bit untidy.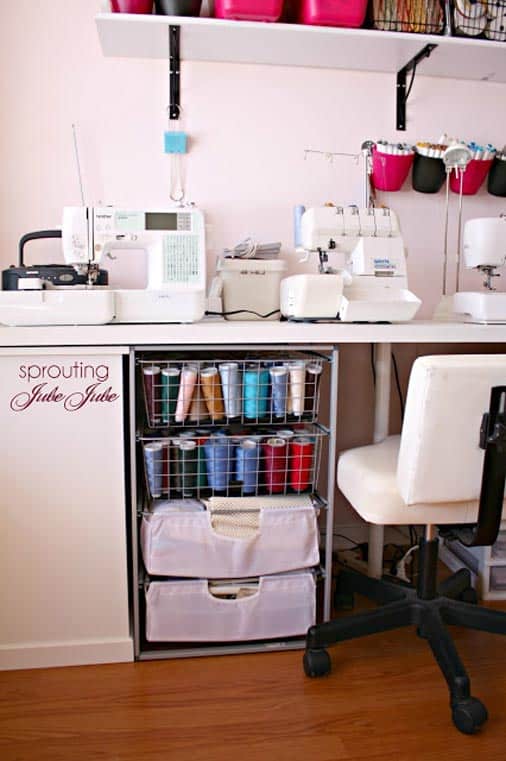 Adorable, no? Learn how she put it together over at Sprouting Jube Jube.
3. 100% IKEA Bedroom/Sewing Studio
Gabriella, on her YouTube channel Pour La Victoire, explains how she fits all of her sewing supplies, projects, patterns, scraps, and also her historical footwear and bonnets in her small New York City bedroom.
She does it all for just $350 – but the secret behind the efficiency is her intricate method of arranging her desk and storage.
4. 30 Square Foot Sewing Space
Instead of plainly placing a large shelf next to her desk, Bonnie uses a smaller IKEA shelf as her primary storage.
This allows her to place a small ironing board on top of it and hang some baskets from a strip of wood screwed above it.
The spool board, the handle in front of the desk with baskets for tools, and the sneaky space for the blocking board behind the table are only some of the many hacks she uses.
Bonnie goes into detail about how she put the workspace together on the Bonnie & Blithe blog.
5. Elegant 3'x6' Sewing Space
Kelly's already small room only had enough space left to fit a table.
But she found a great way to make the most of it.
She attached floating shelves and put pretty containers on them for her patterns and cloth.
She also screwed in some rails and hung cups on them to store her tools.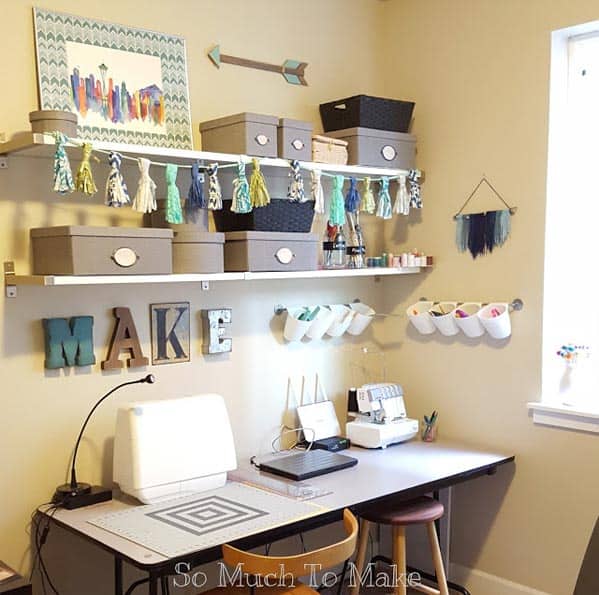 It's pretty and functional! Visit Kelly's blog So Much To Make to see the difference her excellent DIYing skills made!
6. Neat Sewing/Craft Room
The three floating shelves give Jessica all the storage space she needs for her supplies.
The pegboard makes for easy access to tools, spools, and ribbons. She attaches a decorative-lined floating shelf to the pegboard to give the space more character.
But she also has a crafts/homework table for her daughter in the room, which is very thoughtful.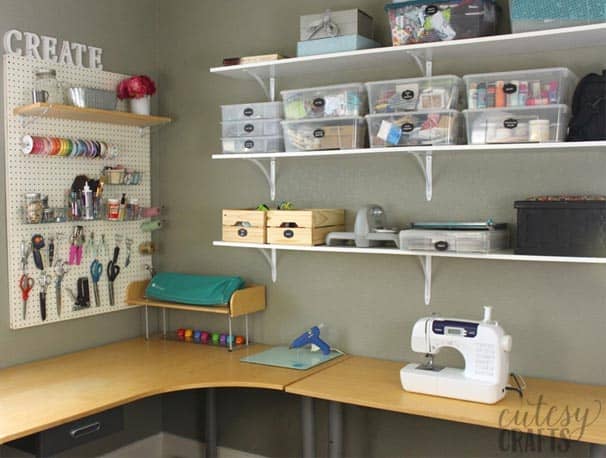 Find out how Jessica made her sewing room look so neat on her blog Cutesy Crafts.
7. 5' x 3' Sewing Room
Patty explains that a 5' x 3' room can also make a great sewing space on her YouTube channel Pattymac Makes.
Patty enthusiastically says that having a place to put her sewing machine and her necessary sewing supplies keeps her room neat.
Her setup is simple: she uses her old garage table as her desk, a pegboard from IKEA for her tools, and a craft table to put away fabric.
8. Elegant Hyper-Optimized Sewing Room
While Suzie's room is a little larger at roughly 6' x 8', she can teach you a thing or two about how to organize a small sewing room.
On her YouTube channel Threadquarters, she gives viewers a tour of her sewing room that is hyper-optimized for her needs.
The sizeable folding table makes use of almost the full length of the room, and she uses everything from the little panel behind the door and also the door itself for storing her supplies.
Impressive!
9. Lovely Cozy Sewing Room
Kim Connelly makes excellent use of her tiny room by storing all her tools and spools on a pegboard right in front of her table.
Everything she needs is at arms' reach, making it one of my favorite small sewing room ideas!
The shelving unit next to her table is only slightly larger than the table, which reveals more of the wall and makes the room feel bigger.
Additionally, she has some plastic containers under her table, which gives her more storage while keeping the room uncluttered.
The other corner of her room has some box shelves, which seals the cozy, frill-free look.
Kim talks more about what makes her sewing room cozy on her blog Milkybeer.
—
And that concludes my list of sewing room ideas for small spaces!
Now that you're acquainted with some of the internet's best small sewing room ideas setting up your own sewing room is no longer a distant dream!
Don't be afraid to take inspiration from different ideas and mix up different layouts to create a space that caters to your unique sewing needs.
Isn't that precisely what DIYing is about, after all?
(Visited 1,223 times, 1 visits today)