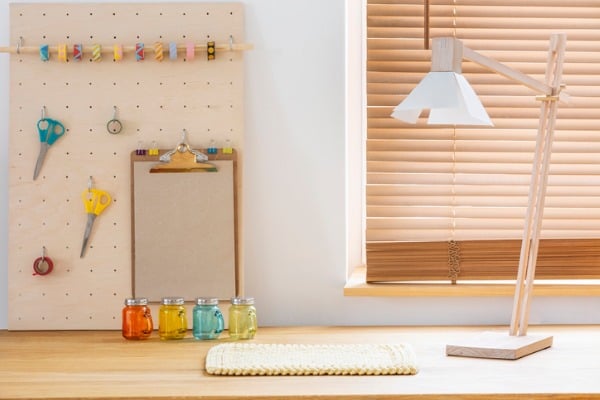 Here are some effects bad lighting has on your sewing:
You can't see your seam properly – causing needless anxiety.
You can't tell the subtle differences in color – leading you to sew with the wrong spool.
Your eyes are strained continuously – causing temporary and possibly even permanent damage to your eyes.
But I'm here to tell you that it's easy to get the lighting gods back on your side – in the name of easy sewing!
Here's a list of some of the best sewing room lighting ideas that will make sewing stress- and strain-free again!
1. LED Table Lamps
Sewing requires you to focus on one area for a long time. Getting an LED table lamp will help brighten up the space for you.
These lamps come in different shapes and sizes, so it'll be easy to find one perfect for your sewing table.
You can also adjust the brightness in many modern LED lamps, and of course, these are movable so that you can use one on any desk in your sewing room.
The TaoTronics Desk Lamp features five color modes, seven brightness modes, an adjustable head, and even a charging port for your phone!
No products found.
No products found.
2. Overhead Lighting
Overhead lighting brightens up a general area for you really well.
But it's important to remember that by nature, this lighting solution is going to be more diffused.
Meaning, it will brighten up your sewing table, but may not illuminate the sewing machine area well enough.
In face it may cause shadows that make your tasks more difficult; so it's a good idea to use overhead lighting along with more direct task lighting options.
However, they do give you the flexibility other solutions don't. You can install overhead lighting in the form of simple bulbs, flush mount ceilings, or even use a light pendant if you want to get fancy.
Check out these attractive pendants in this magnificent sewing room over at America's Patchwork & Quilting.
3. Plug-In Light Fixture
These have become a sewing hobbyist's favorite because they don't require any wiring to work.
Plug-in light fixtures, well, just need to be plugged into a regular wall socket.
Newer ones can be linked to each other, and some are even waterproof!
But the best thing about these is you won't see any flickering or hear any humming – nothing will obstruct your creativity!
Airand plug-in fixtures are both linkable and waterproof and also come with a three-year warranty.
4. Use A Powerful Light Fixture
These are different from plug-in light fixtures in many ways. In addition to being brighter, they must be controlled by DMX controllers, which are industry-grade controllers.
You cannot simply plug one into the wall.
Using these in a small sewing room isn't the right way to go – setup is just too much of a hassle for a smaller space.
In a larger sewing room with little to no light, however, DMX-controlled light fixtures work beautifully.
This video by House of Hacks will show you just how big an improvement these fixtures can make:
5. Sewing Machine LED Block
If you have a newer sewing machine, it has small light built into it.
That's not what I'm talking about.
An LED block is very easy to find online and will illuminate your sewing space up brilliantly.
You must stick the block on the underside of your sewing machine's arm, a little away from the presser foot lever.
These are cheap and typically come with a dimmer switch attached to help adjust the light's brightness.
I can recommend the SEWTCO block. Besides the robust dimmer, it also comes with clips to help keep the cord out of your way.
6. Bendable Machine Light
Bendable machine lights have flexible heads, allowing you to focus high-intensity light on precise spots.
These come with a bracket. You must attach the bracket at the end of your machine's arm, and then attach the light to the bracket.
If you have more than one machine, you can stick another bracket on it and use the removable light with it.
The REX bendable machine light comes with 33 powerful LEDs and a three-year warranty.
7. String Lights
Why not add a little creativity with your craft room lights. That's what did when she string some bulbs above her work area.
This is not something you would normally think of but a lighting idea so simple can have such a positive effect to your space!
These would work great in a small sewing space to make it pop with character and enliven your work "cave".
Check out Heidi's entire sewing room at her blog Handmade Frenzy.
8. LED Floor Light
LED floor lights are essentially souped-up versions of LED table lamps. These also have adjustable heads, and most floor lights come with brightness controls.
But the best thing about them is that they supply bright, non-straining, focused light that illuminates your whole sewing table.
They are also easy to move, which means if you're working on, say, the cutting table, you could use the same light.
The sleek LED floor lamp by Daylight Company features four levels of brightness and comes with a two-year guarantee.
9. LED Strip
Unlike the LED blocks, LED strips offer diffused light.
So, in addition to brightening up the needle plate, it will also illuminate your sewing desk.
These also must be glued to the machine arm's underside, typically with the double-sided tape that comes incorporated.
The WENICE LED strip has a cold white 6500K tone, which ensures that the lighting doesn't affect your perception of color.
The touch dimming switch and the clips ensure that the strip enhances your sewing and never obstructs it.
9. Magnifying Lamp
Magnifying lamps a popular choice among seamstresses because they make intricate tasks like tracking individual threads when sewing easy.
The Brightech LightView Pro is one of the better-known lamps for a good reason:
It's cheap, comes in 3 and 5 Diopter variants, and has 9W, 540-lumen lights that can brighten up a significant chunk of a sewing table.
Of course, the head of the lamp is adjustable, which makes focusing on different areas easy.
But the best part about it is that the company promises a 20-year LED life. It's excellent value for money!
—
And with that, you're well-acquainted with the best sewing room lighting ideas!
But the trick to easy sewing is to get a mix of diffused and focused lights to illuminate your whole room.
You're bound to get up from your sewing table to get a tool, spool, or cloth at some point. You don't want your eyes readjusting to the different intensities of light in your room repeatedly – it will cause needless strain.
Pick any two or three solutions from my list, and I PROMISE you it'll make stitching a lot easier!
(Visited 781 times, 1 visits today)