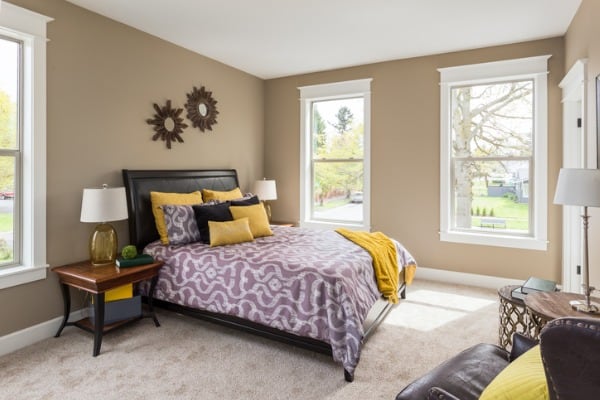 Have you decided that it is time for a room makeover? Whether you live in a small apartment or a family home, there's always room for improvement!
No matter its purpose, a room should always be comfortable, aesthetically pleasing, and conducive to productivity and relaxation.
While a design overhaul might sound like a costly undertaking, there are plenty of inexpensive ways to modernize your space and freshen it up.
In that spirit, we've compiled 9 quick and easy tips to enhance the practicality, comfort, and style of any room.
1. Declutter Your Space
To give your room the makeover it deserves, begin with a thorough declutter. Are there any furniture pieces, items, or accessories that you no longer have a use for?
These not only take up space and gather dust, but they can hinder the look of your space significantly. So, make an inventory of everything in there and only keep things that serve a purpose.
Minimalism is the new trend! It may also be a good idea to look into smart storage solutions to give the room a clean, tidy, and seamless atmosphere.
2. Rearrange the Furniture
Think of your room's layout.
At times, all you need is to find a new configuration to completely transform the look of it. While you may be used to a specific arrangement, you'll be surprised at how moving things around can embellish the space.
Before you attempt anything, it's advised to take some accurate measurements (square footage, sofa, bed, dresser, desk, appliances) and pen down some sketches of what things could possibly look like.
With some imagination and someone to help you move stuff around, you're bound to find an ideal layout for optimal access and practicality.
3. Give the Room a Paint Job
The paint on your walls is the foundation of your room's color scheme. If you've grown tired of your plain beige walls, perhaps it's time to switch things up!
To achieve that fresh, modern vibe, it's best to opt for a toned-down shade; this could be eggshell, a soft grey or blue, or a bright yet discreet pastel color.
Once the selection is made, it's time to roll up your sleeves and tackle the job.
If you've never painted a room before, the experts from DIYPaintingTips.com recommend consulting online guides before proceeding.
Specialized guides will help you nail the technique, select the right brushes and tools, and ensure impeccable results.
4. Put Up Some Wallpaper
Wallpapers are coming back in full force, especially in modern and eclectic spaces. Patterns, geometric, or jungle, the selection is virtually endless, and they're cheap as anything can be.
Wallpaper is a statement that will impart a sense of depth and personality to any room around the house. Now, if you're going for this option, pick a design that resonates with your personal aesthetic and that will blend well with the rest of the space.
Again, no need to be an expert; some quick research and a visit to your local hardware store will have you all set up for this easy project.
5. Optimize the Lighting
Not everybody's lucky enough to enjoy plenty of natural sunlight. Along with the color scheme and choice of furniture, lighting plays a crucial role in furnishing a room.
Lighting does more than just illuminate your home so you can see and do tasks better. Lighting can also be used to highlight decorative and architectural elements in your home to enhance its aesthetic.
Statement lighting fixtures can add a touch of glamour, an ultramodern flair, or a nautical, rustic vibe, depending on the style of the lighting fixtures you use. In short, lighting is both a functional and decorative element in your home.
In fact, one of the reasons why it may look outdated has to do with poor or inadequate lighting. Old fixtures will inhibit the natural charm of the space, making it feel murky and unflattering.
Thankfully, there are plenty of remedies. For example, you could bet on a combination of ceiling fixtures, floor lamps, and bedside table lamps to promote coziness and visual comfort. Scour the web for inspiration.
6. Adorn Your Walls
What would a room be without artwork? Pretty bland, unless you're going for a minimalist, ultra-contemporary vibe.
Basically, anything that adds an artistic touch will translate into higher aesthetic value for the living room, study, bedroom, or bathroom.
Think framed photographs, paintings, posters, records, neon signs, or even tapestries. A quick internet search will point you towards countless options that will cater to your taste.
In case you have existing artwork, try finding a new arrangement to better showcase it.
7. Hang a Mirror
Mirrors work particularly well for small spaces with limited access to sunlight. By hanging a mirror, you not only add aesthetic value to your room, but you also make it seem larger and brighter.
Simply make sure to choose a high-quality mirror with the right size and shape and keep it spotless at all times.
You'll find a variety of options on shopping platforms or by paying a visit to the nearest décor shop. An absolute must for the selfie lovers out there!
8. Put Down a Rug
High-quality rugs tend to be quite expensive, costing anywhere between a couple hundred and several thousand dollars.
That said, it's a necessary investment to add structure and pull your room's design together.
It provides texture, warmth, and makes the whole space markedly more inviting. To select an appropriate area rug for your room, choose a durable material (wool, cotton, jute, synthetic blends), a seamless design, and make sure it's just the right size.
There are plenty of online guides on how to choose a rug for all rooms around the house.
9. Add Green Plants
Lastly, plenty of homeowners or tenants often ask themselves how to impart fresh, organic vibes into their interiors. What better way to do so than by bringing in a house plant?
These add a nice pop of color, help purify the air, and are a beautiful and relaxing sight. Aloe, pothos, rubber plants, or dragon trees are some of the most popular options.
Before you settle on one, make sure you select a variety that aligns with your space and lifestyle (size, amount of interior sunlight, watering frequency, etc.).
At the end of the day, there's no need to spend a small fortune or hire experts to revamp your interior and give it a whole new vibe.
It all comes down to identifying what a specific room needs and making smart choices and purchases accordingly.
Hopefully, these tips and tricks will help you put together an elegant and refreshed space for the ultimate living experience at home!
(Visited 22 times, 1 visits today)