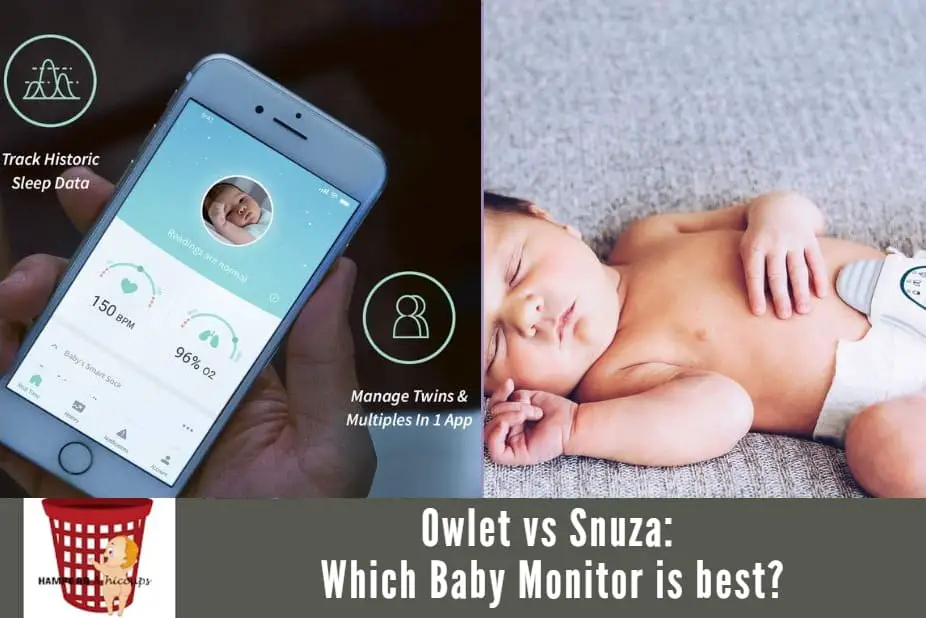 Life comes at you fast when you have a newborn. First child, or not, there is that constant anxiety which makes you count their fingers and toes every time you set eyes on them. Although some mothers experience intense Post-Partum Anxiety (PPA), the feeling is not entirely misplaced without a proper basis for reasoning.
Sudden Infant Death Syndrome (SIDS) is the sudden and unexplained death of a child younger than one-year-old. It is a condition that is also referred to as cot death, and it usually occurs during sleep. Therefore, it is sensible that most parents find it difficult to sleep through the night without getting up at intervals to check if the baby is still breathing.
The fact is, a regular baby monitor can show you that your baby is safe, and help you know when he/she is crying, but with the increase in SIDS rates, more sophisticated baby monitors have been designed to give parents peace of mind, regarding movement and the baby's vital levels (oxygen, heart rate, etc.) to alert you when your baby is at risk of any health challenge.
We understand the importance of good health, and the anxiety that accompanies caring for a newborn, so we have reviewed two ultramodern baby monitors, the Owlet Baby Monitor and the Snuza Baby Monitor, to help you find the best pick for your baby's care and protection.
Main Differences between Owlet vs Snuza
These products have been designed for the ease of childcare, with advanced technology that does more than let you listen for any activity in the nursery, or watch your baby sleep. They provide digital information that alerts you about the risk of any health challenge. Despite these similarities, there are some categorical differences that separate one product from the other.
Usability: Like most modern technology products, they have been designed for ease of adaptation. The Owlet Smart Sock Baby Monitor is worn as a sock on one of the baby's feet, while the Snuza Hero SE Baby Monitor is clipped on the baby's diaper to be close to the belly.
Level of technology: The Snuza monitor does not have Wi-Fi or Bluetooth connection, and it consists of only one device that alerts you from the baby's room. The Owlet Baby Monitor, on the other hand, can send information through Bluetooth between two devices.
Additional features: The Snuza monitor includes a movement alarm, but the Owlet Baby Monitor tracks your baby's heart rate and oxygen level. Also, the Snuza monitor has a vibration feature that rouses your baby if he/she is too still, which can be a cause for alarm.
We have two products that have been designed to serve the same purpose of letting you know your baby is safe and alerting you of any health comprises. We must be explicit in details while reviewing the two, to be able to objectively decide which product is the best pick.
---
Comparison of Owlet vs Snuza Baby Monitor
| | | |
| --- | --- | --- |
| Details | No products found. | Snuza |
| Item Weight | 1pound | 0.64ounces |
| Dimensions | 3.5 x 3.5 x 0.7 inches | 1.8 x 1.6 x 2.8 inches |
| Power source | Battery | Rechargeable Battery |
| Batteries required | Yes | No |
| Batteries (included) | 1 Lithium Metal battery | 1 Lithium Metal battery |
| Target gender | Unisex | Unisex |
| Alert type | Lights, Sound | Lights, Sound |
| Sensor technology | Low oxygen level, High/Low blood pressure | No movement/ Abdominal movement/ Response to stimuli |
| Product type | Oximeter, Sock and Base station | Motion sensor device |
No products found.
No products found.
No products found.
This smart sock baby monitor help assures you about your baby's health by using clinically-proven technology to track their heart rate and oxygen levels. These vitals are recorded with an oximeter that is placed in the Smart Sock and sends information to a base station, designed to notify you with lights and sounds if something appears to be wrong.
The signals go off when oxygen saturation levels drop below 80% or if the heart rate goes either below 60 or above 220 bpm. The oximeter gets the vitals of your baby through a painless and non-invasive process: A beam of light is shone through the skin and the oximeter detects how much red light and infra-red light is absorbed under the skin, therefore calculating the amount of oxygen in the bloodstream as well as identifying the number of heartbeat per minute to ensure standard of healthiness is achieved.
This device is very easy to use and helps the parent to rest better while keeping an eye on the child.
Features
It is a painless, non-invasive device.
It is ideal for children between 0-18 months or 6-25 pounds, with 3 different sock sizes for continued use with growth.
The sock is made of cotton and can be washed after the oximeter has been removed.
The base gives notifications with four lights: Green- perfect working order. Yellow- incorrect placement. Blue- loss of connection between sock and base. Red- vitals are out of safety parameters (too high or too low).
It sends alerts through sounds: An audible lullaby when the light is Yellow, Soothing lullaby when it is Blue, and a loud siren when it is Red.
You can download a mobile app to monitor your baby's stats in real-time and to receive alerts for abnormal readings.
Pros
The device monitors both oxygen saturation and heart rate.
The package comes with 3 socks in 3 different sizes.
You get real-time feedback with the mobile application.
It is completely wireless.
It uses effective Wi-Fi and Bluetooth connection for alerts.
It is a somewhat portable device.
Cons
The extra cost for access to the latest app.
Customer service is poor.
Cell phone syncing is unreliable.
Customer sentiments
Reviews of this product are centered on the peace of mind that it brings and the strength of the Bluetooth connection with immediate alerts when anything at all is off, according to the lights and sound configuration.
No products found.
---
Snuza Baby Monitor Review
This is a portable device that can be clipped on your baby's diaper to track the abdominal movement. The focus of the motion sensor is on the abdomen because babies are belly breathers and so, it would be quick to notice any abnormalities in their breathing from the abdominal area.
The top of the device rests lightly on the stomach and monitors motion. If there is no movement during 15 seconds, the monitor vibrates to rouse your baby in a bid to cause movement. If there is still no movement after 20 seconds, an alarm goes off. However, if the baby sleeps restlessly and the monitor comes undone, it will let off a loud alarm because movement will not be detected.
The motion feature may lead to several false alarms but, that only alludes to how precise the device has been designed to be.
Features
It can be used for children between 0-12months.
It has a vibration feature that rouses the child to respond to stimuli.
It is a wireless device
It has a loud alarm which goes as high as 80 decibels.
It is wearable with no cords or sensor pads, just clip to the diaper.
It has a 1-year warranty.
It emits a vibration after 15 seconds without abdominal movement.
Pros
It is completely wireless, so nothing for baby to get tangled/strangled in.
There are no radio waves.
It very portable and easy to use; clipped on the diaper, under clothing.
Cons
It can give too many false alarms.
It causes blisters on some children.
It is best paired with a sound monitor, which means extra cost.
It cannot be used in a rocker or car seat because of the motion sensor.
It does not send alerts to your phone or any external device.
Customer sentiments
Most of the reviews about the product commended its precision in reading the baby's breath and some mentioned how the vibration-rousing feature had helped their baby to continue breathing while asleep.
---
FAQs on Baby Monitors
Are baby monitors approved by the FDA?
The baby monitors we reviewed are not approved by the FDA. However, they remain extensively recognized as helpful and beneficial to health because they can prevent SIDS and they have all the notifications that make it easy for parents to know their baby is okay.
When should I turn on my baby monitor?
Usually, the baby monitors are needed more at night because during the day someone always has an eye on the baby. Also, battery life is important. However, you can get a sound-only baby monitor to use during the day.
What are the risk factors of SIDS?
While the syndrome is largely unexplained, some identified risk factors indicate a higher probability of SIDS in a baby. These risk factors are; low birth weight, brain abnormalities, respiratory infection, too many blankets/soft mattresses in the crib. Also, if the mother used drugs or smoked during pregnancy and poor prenatal care during pregnancy.
However, this doesn't mean that babies who do not have any of these risk factors are clear from SIDS, it just means the chances are not as high.
---
Verdict: Snuza vs Owlet?
These baby monitors have been designed with the practical use that is required for childcare products. With due credit to the advanced technology used in making these monitors, they are easy-to-use and so beneficial for both the baby and parent's health and peace of mind.
The Owlet baby monitor is a sophisticated technological development that uses a portable oximeter, placed in a sock, that reads your baby's oxygen and blood vitals and sends information to a wireless base with alerts for when the oxygen is too low or the blood pressure is too low/high. Its color-coded sounds also help you keep the noise level at a minimum. Although the app for mobile monitoring comes at a cost, it is reviewed to be highly effective.
The Snuza baby monitor, on the other side of the review, is a clip-on movement monitor that also takes breath measurements and has a vibrating feature to ensure that your child is responding to stimuli, even while asleep. This product is completely wireless, but that means it is only one device and all alerts and alarms sound in your baby's room so if you are too far away, you may not hear. It is a decent purchase, regardless of its tendency for false alarms.
After our review and comparisons of these sophisticated baby monitors, we can conclude that, despite its customer service flaw and other minor lapses, the Owlet Baby Monitor is the best option for you and your baby.
(Visited 708 times, 1 visits today)